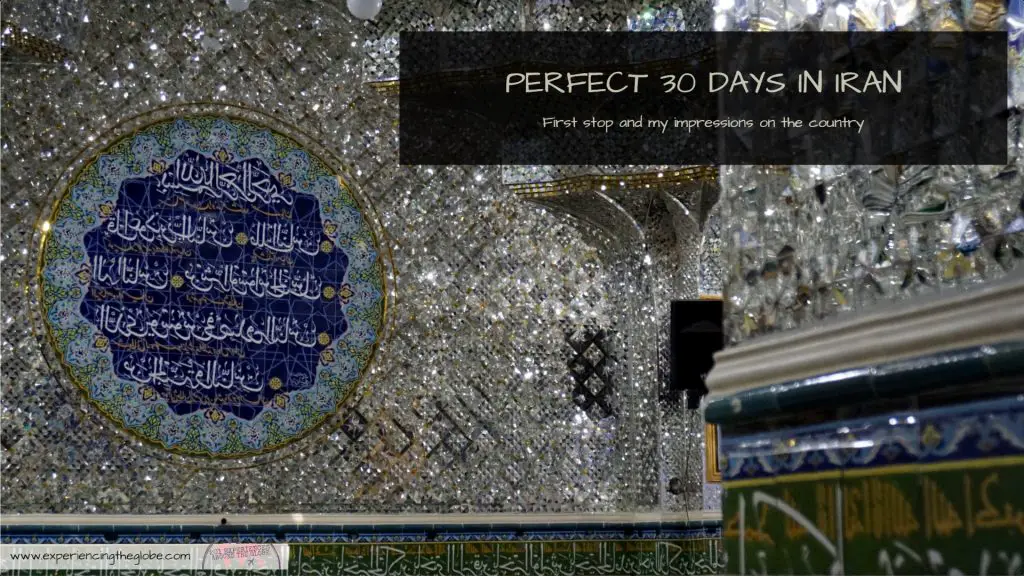 I spent the most perfect 30 days in Iran, exploring this sub-continent as a solo female traveler, seeing breathtaking sights and meeting the most hospitable people I have ever encountered in all my years of traveling. Here's my Iran itinerary, my insights on the country, and the first stop, Tehran.
Preparing for the trip I got my hands in 'Revolutionary Iran' by Michael Axworthy. The one sentence that stayed with me was "Iran is less a country than a continent, more a civilization than a nation". My Iran itinerary ended up being a month of exploring off the beaten path destinations -all worthy of a bucket list, meeting amazing people, and getting impressed by the culture, history, nature and architecture. So, after 30 days in Iran I can say without a doubt that Axworthy was right.
The place in huge, way more than I thought. Every interest point is 500 km away (give or take a hundred or two). Whoever you meet will tell you that the country has 4 seasons all the time, which is true because of its diversity. At the Achaemenid Empire's peak it ruled over 44% of the world's population, the highest figure for any empire in history (this is the Persian Empire, if you were wondering).
Imagine all of the history, all the influences from so many different cultures mixed into one. From the Assyrians to the Aryans to the Persians, the personality of this great country was forged. Then the invasions by Alexander the Great, the Arabs and the Mongols added many of today's Iranians characteristics. Then centuries of reigning dynasties, going from religious to secular, finish settling the idea of Iran as a royal country, one destined to be great. The 1979 revolution and the rule of Ayatollah Khomeini gave the finish touch to understand today's Islamic Republic of Iran.
Solo female traveling and backpacking in Iran
Let me tell you, I was just as excited as I was nervous about visiting Iran. Western media doesn't do any justice to the country. And that gets into people's heads. From my boyfriend to my mom, everyone told me I was crazy to want to go alone to such a place. However, in retrospect, I'm happy to say I was right. Being a solo female traveler in Iran is an incredible experience. Really, nothing short of amazing. I never felt unsafe. Quite to the contrary, everyone is extremely respectful, especially of women and even more so if they're foreigners.
Backpacking in Iran is also great! It gives you the opportunity to go even more off the beaten path, meet other cool travelers, and amazing locals. In fact, since this is not a country you visit among your first trips, the travelers you meet are quite seasoned, so full of stories. As for locals, the further away you go from tourist attractions, the nicer the people are. Which is a lot to say considering how incredibly nice everyone is. People in the small villages are not used to visitors, so they will go out of their way to communicate with you and make you feel at home.
If backpacking is not your thing, don't worry! There're plenty of hotels, with as many stars as you want, to satisfy every need –at least in the bigger cities.
My insights on Iran
The people
I met tons of people. Some that opened their homes to me, some that took the time to show me their city, some that were at the same restaurant or tea house and approached me for a quick chat, some that randomly stopped me in the street to take a photo with me, or because they were curious about the 'khaareji', the crazy foreigner that was wandering around their country.
They all made me see that Iranian people are special. In the best meaning of the word. While their government –for lack of a better word– sucks, they're kind and proud. Some of the things you hear in the West about the government might be true, but the people are completely different. Even though a lot of young people want to leave the country, you can feel how everyone is proud of it. The best thing you can tell an Iranian is that their country is beautiful and that the people are amazing. Every time I said "I love it here" I got the most genuine smile.
I heard a story of a blogger stating that they got 200+ free cups of tea during their trip to Iran. Even though I didn't count mine, after 30 days in this incredible country I could guess that I easily got as many. I kept refusing them at the beginning, saying it wasn't necessary, until someone told me "it's part of my culture". Then it hit me, they're not being polite, they actually want to talk to me over a hot cup of delicious black tea. So I started leaving time in my Iran itinerary to sit down for a tea pretty much everywhere!
The religion
One of the things that caught my attention from the get-go was the cult of personality. The Khomeinis seem to be bigger than god. Their photo is everywhere. At the entrance of every public building and mosque, in all the rial notes, in billboards on the streets, somewhere in a desk or wall in every place that is open for visitors (including stores and hotels). For a religion that doesn't venerate images, this is remarkable. The first big double standard I came across. With only a few hours there, you realize you're in the country of Ayatollahs and men.
The imposition of religion is palpable. Even though a big percentage of the population is Muslim, there're tons that are not. Probably many are atheist, looking with nostalgia to the times where the country was secular. But there's one thing that brings agreement: almost no one likes the hijab. Most girls wear it really loosely, only in case there's a policeman around, but you can see everyone's hair (it's worth mentioning that clothing in Iran, for tourists, is less a challenge than you might think).
What are you waiting for, I asked a local, when is the next revolution coming? "People are afraid to be the next Syria, Iraq or Yemen", he said, "and the government is feeding those fears". People know that there will be a blood shed, and no one wants it. Another local told me that "you need to crash eggs to make an omelet, and some people will have to be the eggs". What a scary thought! From all I heard, I think people are waiting for the current Khomeini to die. There's no designated successor, and the hope of the people is that the fight over power will destroy the government from within. I sincerely hope they are right!
A local I met (whose name I won't publish for obvious reasons) told me that the prophet Mohammed was a sick man full of mental problems, a sex addict, and a rapist. Another one, agreeing on how sex-oriented the Quran is, pointed to all the wonderful things you can learn from the sacred book. Iran is full of contrasts, and that's amazing! It's also much more tolerant than you can imagine –Iran has the largest Jewish population in the Middle East outside Israel, and has representatives of non-Muslim religious minorities in Parliament.
Iranians traits
You have to adapt to the crazy traffic (in Tehran, trying to cross a street, a girl grabbed my hand and got me to the other side –without her I would still, to this day, be waiting to cross), and you definitely need to adjust to being asked personal questions. Even people that speak no English will be able to say, in an inquisitive tone, country, age, job and married. If you say you're single, prepare yourself for pity looks.
The way people eat also told me a lot about their worldview. Individualism is a foreign concept in Iran, what counts is community. When you go to a restaurant most of the time different food will be order for the table, not for each person, that way they can all share. Even if you ask for your own dish, everyone will take a bite, without asking. It felt invasive at first, but then I realized it's the best way. Why would your family or friends would have to ask to take a spoonful of your food? You're there to share!
This might apply to every country, but it's still worth mentioning –if you want to please locals, learn few basic words. Usually I go for hello, thank you, goodbye, please, yes, no, cheers, and nice to meet you. Here I added 'very beautiful' to be able to reply to the ubiquitous question 'what do you think of Iran?'.
Being a vegetarian in Iran
Being a vegetarian in Iran can seem daunting, but if you like eggplant, you'll be fine. Look for koshke bademjan, kookoo sabzi, ash reshteh, kalam polo, mirza ghasemi, sabzijat, dopiazeh aloo or chelo fassenjan. If none of them are available, you'll always find tahdig, the famous crispy Persian rice. You'll also see shirini everywhere –Iranians are sweet-obsessed!
Iran itinerary
Here (and in the other 3 parts of this post) I'll share my journal on how I spent 30 wonderful days in this sub-continent, with the most hospitable people I've ever encounter in all my years of traveling.
Overview of my Iran itinerary
Days 1 – 4: Tehran
Days 5 – 6: Yazd
Days 7 – 11: Kerman (plus an overnight in the Lut desert, and a day trip to Bam, Rayen castle and Mahan)
Days 12 – 15: Persian Gulf islands: Hormuz and Qeshm
Days 16 – 19: Shiraz (plus a day trip to Persepolis)
Days 20 – 24: Isfahan (plus an overnight in the Varzaneh desert)
Days 25 – 27: Sanandaj (plus a day trip to Palangan)
Days 28 – 30: Tabriz (plus a day trip to Kandovan)

———————————————
Trip statistics
Perfect 30 days in Iran
More than 5700 km on motorways (yes, it's a huge country!)
12.4 km average daily walk (according to Health iPhone app)
7 cities and 9 small towns/villages
Countless strangers that helped me out somehow, with a handful of them becoming good friends
1 wedding attended
1 family that adopted me
Over 100 cups of tea for free (it's impossible to count, but I'm sure I'm not exaggerating, actually I might be underdoing it)
———————————————
Read the other parts of my Iran itinerary and see some beautiful pictures of Iran here:
Part 2: The breathtaking nature
Part 3: The picture-perfect architecture
Part 4: Iran's greatest treasure, its people
Tehran
Arriving to Iran
Just after Nowruz –the Persian new year that started year 1398 in Iran– I arrived to a clear, non-polluted Tehran. I landed in Imam Khomeini airport, put my hijab on, adjusted my clock to +2:30 (what's with the half an hour, guys?), and headed to get my visa. I read so much online about how hard it is, how much they question you, even about the possibility of getting rejected and deported. But for me it couldn't have been easier.
I filled in a form online 10 days before my flight and that made the difference. At the airport I showed my passport and insurance policy (my 'worldwide' insurance was enough), they asked me to pay (the crazy amount of 120€ for Chilean citizens!), and that was all. 30 days visa to visit beautiful Iran, without a stamp in the passport. I actually asked the officer at border control to stamp it, but he said they don't want to get their visitors in trouble if they go to some complicated Western countries. Could they be any nicer? 15 minutes in the country and I already knew I was going to love it.
Iranian money
While waiting for the visa I met Judit from Spain, another crazy solo female traveler, with whom I ended up sightseeing Tehran. I exchanged money at the airport because the rate was better than what I was told it was in the city. For a few hundred euros I got many many millions of rials. So much that I couldn't fit them in my bag. Official exchange rate tells you that 1 euro is around 50.000 rials, but in reality I got over 150.000 rials for each euro (check the real rate here).
The other important thing to know about Iranian money is that even though the official currency is rials, all the prices are in toman. I know, this sounds silly, but bear with me. A toman is a rial with one less zero. So 100.000 rials are 10.000 toman, which you might hear or see written as simply 10. Mind that numbers in Farsi are written differently than 'English' numbers, and learning them will be super helpful. The last advice is to take cash for the whole trip, ideally euros or American dollars. Your cards will not work in Iran. Seriously, cash the only option to have money in the country.
| | | | | | | | | | | |
| --- | --- | --- | --- | --- | --- | --- | --- | --- | --- | --- |
| 0 | 1 | 2 | 3 | 4 | 5 | 6 | 7 | 8 | 9 | 10 |
| ۰ | ۱ | ۲ | ۳ | ۴ | ۵ | ۶ | ۷ | ۸ | ۹ | ۱۰ |
| sefr | yek | do | se | chahâr | panj | šeš | haft | hašt | noh | dah |
Useful tips
There's a convenient metro station at the airport, so getting to the center is quite straightforward (if you're taking it, check the schedule because it doesn't run constantly, though). All the signs are both in Farsi and English, which makes the city super easy to navigate. In the metro and in public buses you'll see places for women only. Most people don't care about them, but if you're traveling in Iran with a man you can play it safe and get on the mixed area.
For visas purposes I booked the first few nights in a hostel, since you must have an address in Iran. It ended up being a great hostel (and for only around 5€ a night, which later I discover is the standard in the country). To make my life easier I got a SIM card (800.000 rials for 10GB, valid for 30 days) and before the trip I downloaded a VPN. A lot of websites and apps are banned in Iran, so a VPN is your way to stay connected with the rest of the world. The 2 apps that are lifesavers are maps.me and Snapp (Iranian version of Uber, the most convenient way to move within cities, and really cheap to boot! – Download it here: Android or iOS).
Exploring Tehran
Tehran was supposed to be ugly and dirty, and traffic was supposed to scare the life out of you. But going right after Nowruz is wonderful. Most Tehranis were on vacation somewhere else in the country, so traffic was reasonable (still crazy, but you get use to it). It rained the day before my arrival, so the skies were clear. I encountered a vibrant, lovely city. My initial plan of staying for 2 days doubled.
In 4 days in the capital I visited all the must see: the Grand Bazaar, the Golestan Palace, the Azadi tower, the Tajriish square, the Sa'dabad Palace, the former US Embassy (today the 'US den of espionage museum'), many many mosques… and I left time to get lost, to drink tea and discover the hidden corners of the capital.
Most importantly, I met amazing people. The Facebook group See you in Iran and Couchsurfing were amazing platforms to meet locals. Shahnaz took me for a stroll around the Baazar, Arezou showed me how the Shah lived, Meshkot and Samir embarked on a quest to find me vegetarian food. Such lovely people! I have no words to tell them how much meeting them meant to me. They made my stay in Tehran exactly what I wanted the trip to be. I left with the highest hopes for the rest of my Iran itinerary!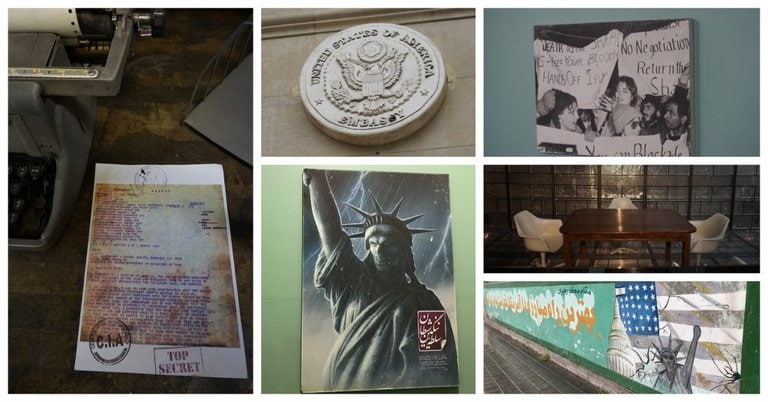 Liked it? Want to read it later? Pin it!

Did you like what you read? You can show your appreciation by buying me a coffee 🙂
Your support will ensure I keep bringing you stories and insights from around the world! Thanks so much!