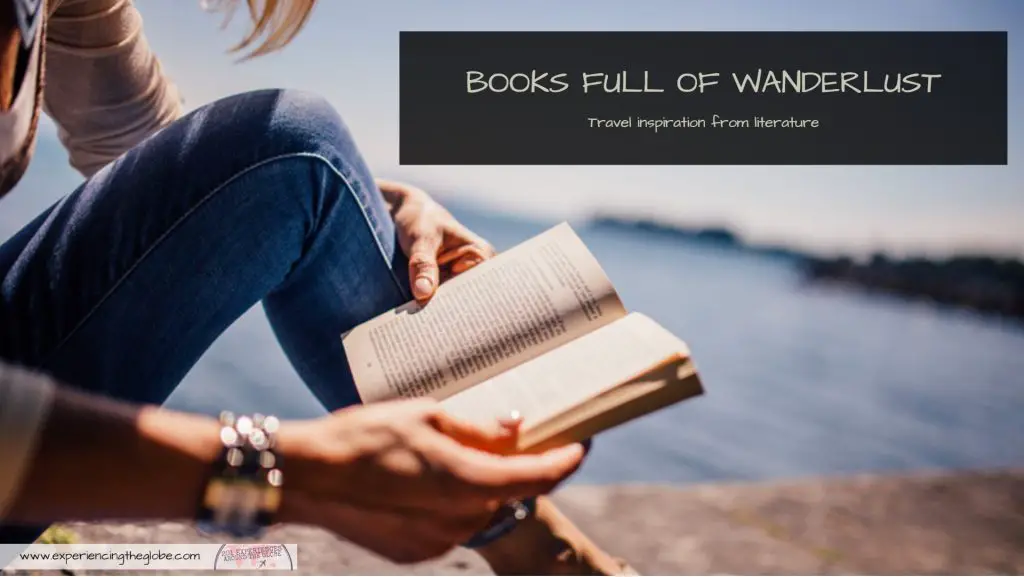 I can't imagine life without books. They take me through time and space to realities I never thought possible, they allow me to travel when I'm home, they inspire me to see more of the world, and they keep me entertained during long rides. How could they not be a big part of my life, especially the books full of wanderlust?
I was lucky enough to be brought up surrounded by books, so I found a liking in reading since I was little. Even if this is not your case, there are stories that will make you fall in love with books. Those are the ones you'll get in this list of my favorite travel-inspired literature.
Pro tip: Invest on a kindle. If you like to read while on the road (and who doesn't?), you'll save tons of space, you'll carry less weight, and you'll get plenty of options to read according to your mood. Even your travel guides can be fit in the amazing gadget. And the battery lasts for so long that you might not need to charge it before you go back home. This is the one I have, and it's always with me while I travel!
Books Full of Wanderlust: travel inspiration from literature
Jamie Maslin starts his journey in Tasmania hoping to hitchhike all the way back home to London. After passing through the weather of four seasons, more than 800 rides, 18,000 miles (30.000 km), and 19 countries in three continents, he gets there. The magic is on all the adventures he has on the way, though. They're funny, enlightening, endearing, and full of learning experiences. You get to see the best of mankind through the people he meets on the road… what's more stimulating than that to follow his footsteps?
He also gives us some perspective in the politics of some of the places he visits. I read some reviews of people criticizing him for it, but, in my opinion, it only makes the tale richer.
The coolest thing is that every country featured in this well written, informative and inspiring book is on my list 🙂
The name caught my attention before I read a single review. And it paid off. Kristin Newman walk us through her full-of-wanderlust life. Was she feeling blue? She booked a ticket. Was she trying to get over a breakup? She booked a ticket. Was she celebrating a promotion? She booked a ticket. You get the idea, right? Her adventures are funny, sexy, empowering, candid and sweet. Especially the women that are reading this, get this book! It might be a bit to graphic for some, but I can actually relate to parts of it, so it was great form me to read.

For the series-lovers out there, Kristin is a sitcom writer. Remember in HIMYM when Robin went to Argentina and came back with Enrique Iglesias? Can you guess who wrote it?

I could have recommended pretty much anything from Bill Bryson, because you can't go wrong with any of his books, but I chose A Walk in the Woods because I found it particularly inspiring. He was well into his forties when he decided to hike the Appalachian trail -the 2.200 miles (3.500 km) long path that goes from Georgia to Maine. He takes his not experienced (nor fit, but witty) friend with him, giving us an entertaining tale, accompanied with some lesson about the history of the trail, its flora and fauna, and the strength of the human spirit.
If the great outdoors are not your thing, you can go for his journey through the Old Continent in Neither Here nor There: Travels in Europe, or his account on the history of the entire universe in A Short History of Nearly Everything. He was awarded an honorary Officer of the Order of the British Empire (one of the highest honors in the UK) for his contribution to literature. So it's not just me recommending him!
For all of you who are wondering if the grass is greener on the other side, Steven Primrose-Smith has the answer. He biked through 22,000 miles (35.400 km) trying to see all the capitals in Europe (even though he has a weird way to count them). He experiences first-hand how people, food, roads and bureaucracy work around the continent, telling us all about it with a colorful and sarcastic sense of humor. His trip is hard and fun at the same time, like most things in life. There's a lot to learn about oneself reading about his journey.

If you like his voice, there's plenty more. He also wrote Hungry for Miles, where he tells us about how he lived with only £1 a day on the road; and Biking Broken Europe, the story of his tour around 39 breakaway territories in Europe, including some destinations I've already visited, like Nagorno Karabakh. They're both witty and beautifully written.

I have mixed feeling with this epic, semi autobiographic novel by Gregory David Roberts. He takes us in a journey through the back streets of Mumbai, where he finds love and heartbreak, freedom and captivity, friendship and treason, and more self discovery than he ever thought possible. In a world of beggars and gangsters, where in one minute he's on top and in the next he's struggling to survive, he'll reveal how he falls in love with India. And even if you haven't been there, you start falling too.
Between deadly wars and Bollywood films, you go from loving the book to an agonizing read-with-one-eye-closed state. If you have thick skin, for sure you'll enjoy it. If not, maybe find something better to do than suffer through this almost thousand pages long bundle of emotions.

Anything you would recommend? I'd love to hear about what you're reading. And please let me know if you liked these books!
Please note that some of the links above are affiliate links. This means that at no additional cost to you, I will earn a small commission if you make a purchase through the link on my website. Using these links will help me keep my website going. It is important to me to only recommend companies or products that I've used personally. You can read more about this in my disclaimer.

Like this post? Pin it!