There's a little country in the Caucasus that's known because it was the first in the world to embrace Christianity. This left legendary monasteries that make any trip worth it. They are in the most breathtaking locations, so much that every photo you take ends up looking like a postcard. Add tons of history, from ancient to recent, and you'll have every reason to consider this destination for your next trip. Here is the Best of Armenia, everything you shouldn't miss.
Best of Armenia
One second in Armenia and I was already in love with the people! The border control officers are the nicest I've ever encountered (which is a lot to say after a wonderful experience in Georgia). With a big smile on their faces, they welcomed me to Armenia even before looking at my passport, which people should do because they're being humans before workers. Even with broken English they assisted me in every step of the process of getting my visa on arrival and exchanging money to pay for it (and with a good rate to boot!). They politely asked why I was in Azerbaijan, and a simple 'tourism' was reason enough. They were really curious about Chile, and about how I ended up in the Ninotsminda-Bavra border crossing. Also, they were quite curious about why a lawyer is traveling in a marshrutka and with a backpack! After wishing me a nice stay in their country and welcoming me again, we said goodbye. The whole process (including getting the visa printed and pasted in my passport) didn't take more than 20 minutes. I was loving Armenia already!
Yerevan
I dropped my backpack in the hostel and off I went to explore. Since Armenia was my last stop before going back home, I decided to get a SIM card to have internet available and optimize time. For 2600 dram I got 5 GB. The whole process took under 10 minutes. On the first day I only had time (and energy) for a quick stroll around Republic square, and a bite of local food. I didn't find the incredible variety of vegetarian dishes that Georgia offers, but I was quite happy with the options. I wasn't gonna starve 🙂
What not to miss in Yerevan
I started next day walking to the Cafesjian Center for the Arts. I didn't go in the museum, but the sculptures outside are great. It's a perfect place to spend a while wandering, discovering new artists, and running into quite famous ones. Go up the stairs as you contemplate the art. From the top you'll get good views of the city if you're lucky –like me!– to go in a clear day when it's not too polluted. Walk to Victoria park to say hello to Mother Armenia, the 51 meters tall statue that houses a Military Museum in her base, devoted to the Artsakh War of 1988 to 1994.
Walk back down to Freedom square and head to the Holy Mother of God Kathoghike Church. This is the last remaining church from the 13th century, the one that got away from the ubiquitous Bolshevik destruction. It's overshadowed by a bigger complex built next to it, but Armenians say it's a nice way to witness how the old and the new live together.
Walk to Republic square to discover why Yerevan is called the Pink City and admire the stonework. Continue to Vernissage if you want to get souvenirs or knickknacks, especially from Soviet times. From there you're around the corner from Saint Gregory The Illuminator Cathedral. In spite of being the capital's main church, it's only a big-ass building, with nothing special to it. Head to the Gum market, where you'll find a cute display of nuts and sweets, followed by a green market. The grannies selling their products are nice but pushy, be prepared for negotiations because the starting prices are high.
I woke up super early, so I got all that done in a day. After a quick late lunch I went to the Genocide museum. Stupid me. I arrived there with only 40 minutes to see the museum before it closed, so I had to rush. Shame, because there's a lot to read and learn. I'd recommend going earlier and take your time. The place is sad and you'll be overwhelmed, so is better to be relaxed. After visiting the museum, wander around the monument and the forest that's being built with trees donated from different embassies and people to commemorate the tragic event.
My impressions about Yerevan
Yerevan looks nothing like I expected. I thought it'd look Soviet, but it looks more like straight out of the Russian empire. In a good way. The city wants to be grand but makes no efforts. Nothing is new and shine. Again, in a good way. It's a good mix of 18th century architecture with trendy truck cafés and fancy restaurants. No street food, no litter on the floor, rarely a stray animal… But still you can see the Soviet influence, and how isolated the country is today. "We're surrounded by Muslims" a lady told me in a public bus, "and that's terrible" she continued. They don't like the Turks (and it's more than understandable after the genocide), but with more than half its borders with them (between Turkey and Azerbaijan), and with the rest divided between Iran and Georgia, countries with whom there're no issues, but an inexplicable distrust, it's easy to grasp why the Russian influence is still ever-present. Everyone speaks Russian, the supermarkets are filled with Russian products, most of the tourist you encounter are Russians. You get the point, right?
To makes matters worse, there's a constant reminder of the nasty history with the Turks. Mount Ararat is sacred for Armenians. It's where Noah's Ark (allegedly) landed, and this is really important to them, especially considering it was the first county in the world to embrace Christianity. Ararat is the name of a bank, a distillery, a brand of cigarettes, half a dozen restaurants… it's even in their coat of arms, and it frames Yerevan, yet the mount is in bloody Turkey! Add to this the horrible war they had with Azerbaijan in the '90s over Nagorno-Karabakh/Artsakh. How can they feel different about the Turks?
Tip for solo female travelers: you'll get a lot of unwanted attention. Only once I felt a guy was a menace, but I threated to call the police and he went away immediately. The mentality of many men in Armenia seems to be stuck a few centuries back, but don't let that discourage you from visiting. Be assertive when you're uncomfortable. A loud 'no' tends to be enough.
If you want to learn more about this interesting country, I recommend to read this History of Armenia. Another great resource for a trip is the classic, Lonely Planet.
Sevan Lake
An easy day trip from Yerevan is to gorgeous Sevan lake. From the northern station you'll find marshrutkas throughout the day (they leave when full, 500 dram to Sevan, another 500 to the lake).
If you want to optimize your time, I suggest you take this tour that goes to Sevan Lake and Dilijan from Yerevan.
The lake and its surrounding landscape are beautiful, but the constructions around it, and the whole vibe of the place is, in lack of a better way to put it, very Soviet. I visited in shoulder season and it was very quiet (most businesses were closed), but you immediately can picture the place's former glory and current lack of glamour. Ironically, for me it was perfect. Enjoy the sight of the ever-changing colors of the lake. From blue to turquoise to green, and lots of shades in between, you can spend a long while just admiring it.
And then head to the main attraction, Sevanavank, the monastery overlooking the lake. Just wow. Once a pagan temple, in the 4th century a church was built. Two more were erected in the 9th century. The buildings are pretty, but the lake in the background makes them a postcard.
Anastasia, a Russian girl I met in the hostel, came with me to Sevan. She told me she had never hitchhiked, so I thought to spread the knowledge. Four different rides brought us back to Yerevan, and she seemed happy. So was I after a lovely day in the countryside with great company!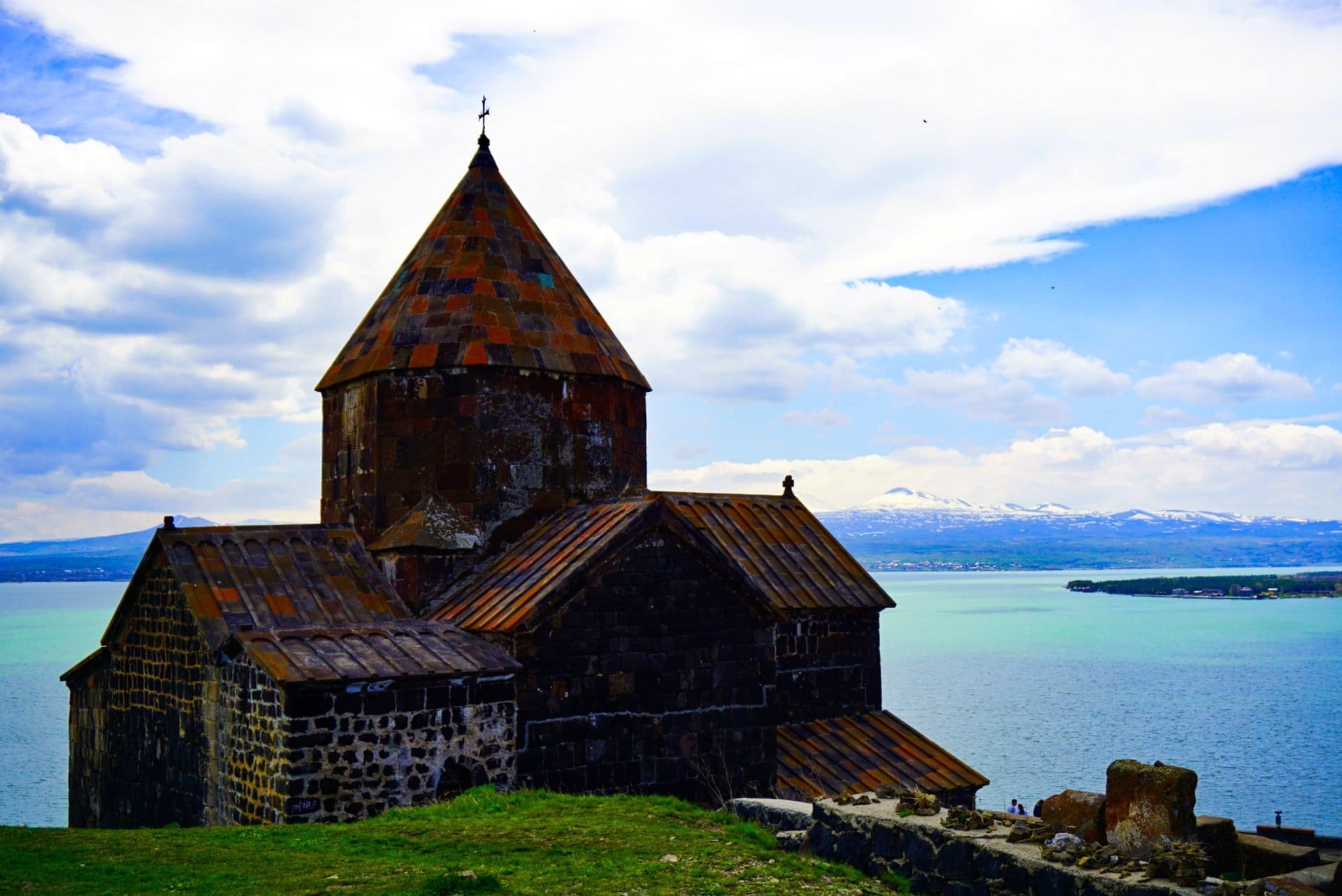 Adventuring to Artsakh
As I explained on my first post on the Caucasus, the region is a jigsaw and navigating it is not easy. Although Artsakh/Nagorno Karabagh is internationally recognized as part of Azerbaijan, the district declared its independence in 1991, and in practice is controlled by Armenia. I'm not making a political statement by including it in the post on Armenia. It's here only for practical purposes, because the only way to reach it is through Armenia.
From Yerevan's central station at 8 AM a marshrutka departed towards Stepanakert (5000 dram, 7 and ½ hours). Mount Ararat is on your left side, standing tall, reminding everyone that rides in the main road of the country that Armenia's symbol is not in their territory anymore. Well, the whole region is complicated, and everyone has taken a piece that someone else thinks is theirs (I'm especially looking at you, Russia!).
The further away you get from the capital, the worse the pavement gets. In less than an hour it goes from a very smooth ride to a bumpy one. Then the valley narrows, until the motorway is only a rural road alongside the river Arpa. The valley suddenly opens and as we get closer to Goris the road becomes potholes surrounded by a bit of pavement. There were some works being done as I passed (May 2019), so maybe when you go it'll be better (fingers crossed!). The road continues downhill to the bottom of the valley as its condition improves significantly. A green, serene meadow is all around you.
Border control is a breeze. A nice officer that actually spoke a bit of English handed me a form to fill, which I returned back with my passport. Five minutes later he handed my passport back and two documents. One is a paper you must return when you leave the country, and the other is the sticker with the visa. You don't need to paste it to your passport because it might invalidate it, considering this "country" is a breakaway region recognized by no one, so with no rights to stamp your official travel document. Actually, Artsakh is recognized by Abkhazia, South Ossetia and Transnistria –not the best friends to have to be taken seriously… Anyhow, every report I read online stated that you must go to the Ministry of Foreign Affairs in Stepanakert to pay for the visa but I was told this is not necessary anymore. The visa was free, and hassle free. Welcome to Artsakh!

Stepanakert
For an unrecognized place torn by war, Artsakh seems absolutely normal. Stepanakert is an ordinary city. It's green, children happily play in the parks, it looks like it's trying to be modern, even though you can see Soviet leftovers in every corner. It's a mix of crumbling down buildings and new cafes and restaurants. Soldiers are everywhere, but they're not carrying any intimidating weapon. Ladas roll between new SUVs. Like in every former USSR country. Considering its self-declared independence status, I have to say it looks a lot like Armenia. Same language, same currency, same amount of Mercedes Benz on the street. Still, it's an interesting place.
Its main landmark is "We Are Our Mountains", a sculpture that symbolizes the country's Armenian heritage. It's also known as "Tatik-Papik", a grandma and grandpa being born from the mountains, and being part of them.
Its farmer's market was my favorite place. Vendors are delighted to see tourists and are happy to offer you a taste of the many goods they have for sale. I tried a pancake-like dough filled with greens, and wander the aisles where the coke bottles are filled with fruit syrup and the water ones, with vodka so strong that can clean your whole system just smelling it.

Around Goris
From Artsakh I was planning to go Goris and use it as a base to visit Tatev monastery and the old Khndzoresk cave village. I was lucky enough to meet a lovely Russian couple that had an extra place in their rented car and was planning to visit these places too.
Most visitors go to Tatev as a long day trip from Yerevan, especially if they're skipping Artsakh. This tour adds a stop in Noravank and Khor Virap monasteries, so it's a great option if you're short on time.
The old Khndzoresk cave village
One amazing thing in the Caucasus is how medieval man intervention in the mountains made a spectacular sight. After exploring Davit Gareji and Vardzia in Georgia, I was looking forward to Khondzoresk. Not often one runs into natural places that are more stunning after human intervention, right?
Until the mid 1950's these natural and manmade caves were inhabited by up to 15,000 people. The whole community was connected by a system of ropes and ladders, developing into a town with churches and schools. The dwellers had to leave when Soviet officials stated that the caves were "unfit and uncivilized", to a new village, in the other side of the gorge –New Khndzoresk. Today the two are connected by a shaky 160-meter long suspension bridge.

Tatev monastery
Tatev was constructed between the 9th and the 13th centuries (although the oldest parts of the church date back to the 6th century) on a cliff overlooking the right bank of the Vorotan River. The world's longest reversible cable car was built in 2010 to reach the monastery, which was historically isolated due to its location. The Wings of Tatev runs for almost 6 km from Halidzor, getting to the monastery in about 15 minutes (7000 dram return ticket). The trip goes above a green lush valley, going up a steep hill, overlooking the old long winding road.
The monastery and its surroundings will take at least a couple of hours to visit. There's a viewpoint only a few hundred meters above the church, with the most spectacular vistas of the monastery and the gorge underneath it. Leave a bit of time to chat with the monks –they speak broken English, but are happy to answer your questions.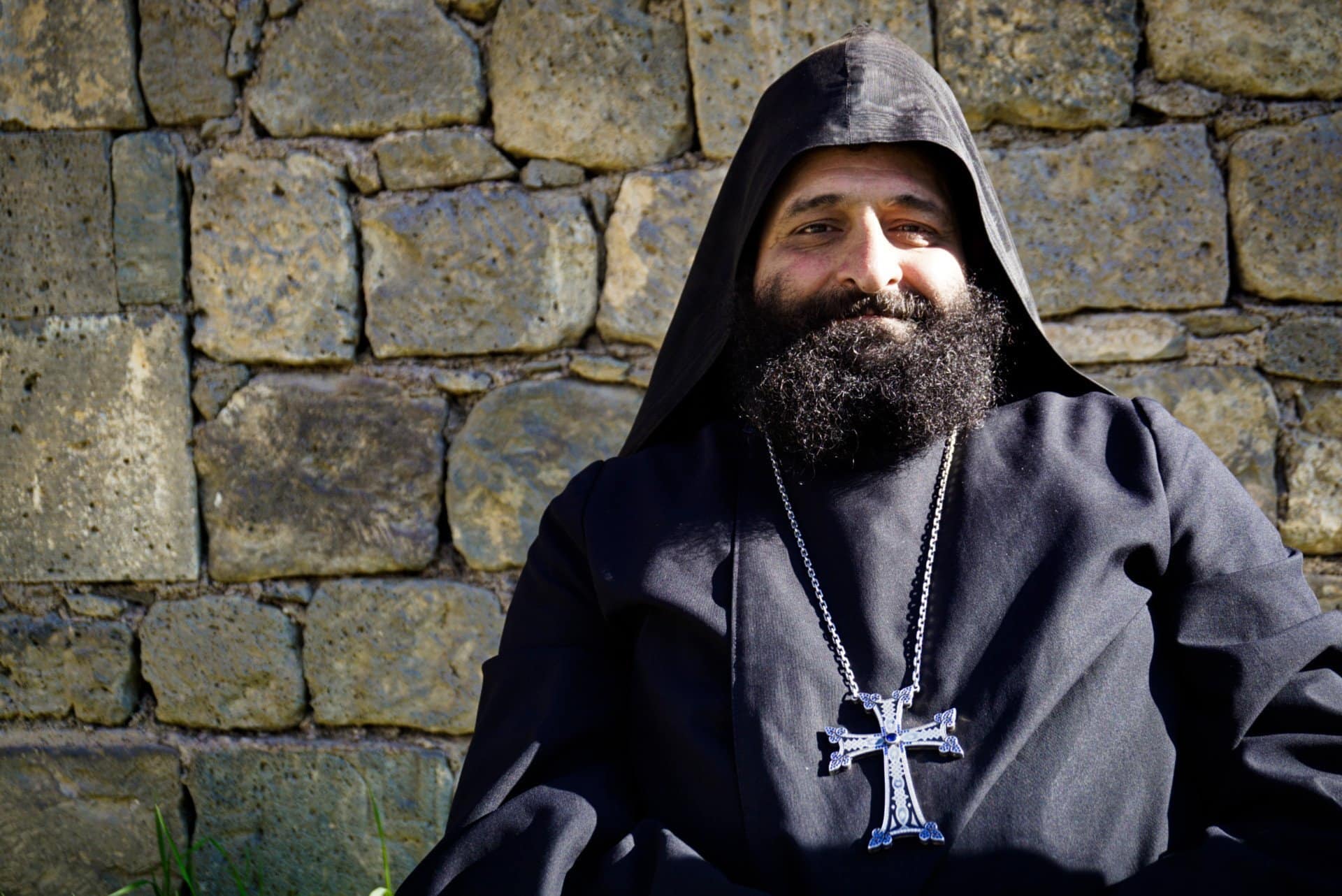 Back to Yerevan for some more day trips!
I came back from Goris tired of planning, of marshrutkas, of waking up early and walking endlessly. I decided to do nothing for the rest of the day, so I sat in one of the many cafes in Freedom square, and spend hours reading. And thinking. For the first time in the years I've been traveling, I was actually happy I was going back home in a few days. What a bittersweet feeling! I'll blame it on my boyfriend. It wasn't my apartment what I was missing, nor any of my belongings, it was just him…
I still had some must-see places to visit, so I put my planning hat back on, and I got organized.
Garni Temple and Geghard Monastery
The easiest way to see these two places is to book an organized tour from Yerevan. But if, like me, you prefer to go on your own, from the city center take bus number 44 to Masevi shuka, where the Mercedes Benz dealer is. From there take marshrutka 266 (all day around, they leave when they're full, 250 dram, 40 minutes). It'll leave you in Goght or the village of Geghard, not the monastery. From there you can take a taxi. I hitchhiked.
Geghard monastery is a Unesco World Heritage site, founded in the 4th century, even though its oldest surviving chapel dates back to the 12th century. It's a well-preserved church, where, amazingly, I saw more pilgrims than tourists. There's a viewpoint a few hundred meters up the hill that oversees the monastery across the river, from where you'll get the best photo opportunities. On the way there you'll pass through a curious sight. Strips of fabric are knotted onto trees and bushes. People do so while asking for a wish. You gotta love when religion meets paganism, right? As if that was not enough, in an opening among the trees there're hundreds of cairns, pilled there for good luck.  

After wandering around Geghard, I hitchhiked to Garni temple. It was built in the 1st century for Mihr, the god of sun, and it was the only one that survived the destruction of the pagan temples after Armenia's conversion to Christianity in the 4th century. The temple collapsed because of an earthquake in 1679. It was reconstructed between 1969-1975. The entrance fee is 1500 dram, but you can get great views if you walk around the hill.

The main advantage of going by yourself, is that you'll have time to see a special place where the tours don't take you: Symphony of Stones. From Garni walk for about 20 minutes down to the gorge, where the river runs. Turn left and look up. You'll encounter a sort of upside down Ireland's Giant's Causeway, a formation on the cliff where hexagonal columns make a suspended organ-like silhouette. In all honesty, I enjoyed this more than the temple. Definitely recommended!

From Garni you can take a marshrutka back to Yerevan.
Khor Virap
My last day on the country was going to be spent admiring one of its most iconic sights: Khor Virap. From Sasuntsi David Metro Station take a marshrutka to Ararat (9 AM, 11 AM and 14 PM, 400 dram). Ask the driver to stop in Pork Vedi for Khor Virap. From there you can grab a taxi, or walk for about 5 km, like I did. The best views of the monastery are about 500 meters before reaching it, so it's not a bad idea to stretch your legs to get there.
You can also get there, hassle free, with an organized tour, I recommend this one.
Khor Virap was initially a castle, centuries before Christianity. The tale states that King Trdat III imprisoned St. Gregory the Illuminator here for over a decade. Today, pilgrims queue to see the little dungeon –a bit more than a hole in the floor, certainly not a place where you'd like to be kept. The king was cursed by madness after the treatment he gave to the saint, but Gregory performed a miracle and cured Trdat. The king was converted to Christianity and the saint became the first Catholicos of the Armenian Apostolic Church. As a monastery, Khor Virap was established in 642, and its main church dates from the 17th century.
Although the architecture of the monastery is noteworthy, its main feature is its background, Mount Ararat. Given its location right in the border with Turkey, in a clear day you can see the stunning postcard that the monastery and mount form together –one of the most recognizable images of Armenia. The perfect way to say goodbye to the country.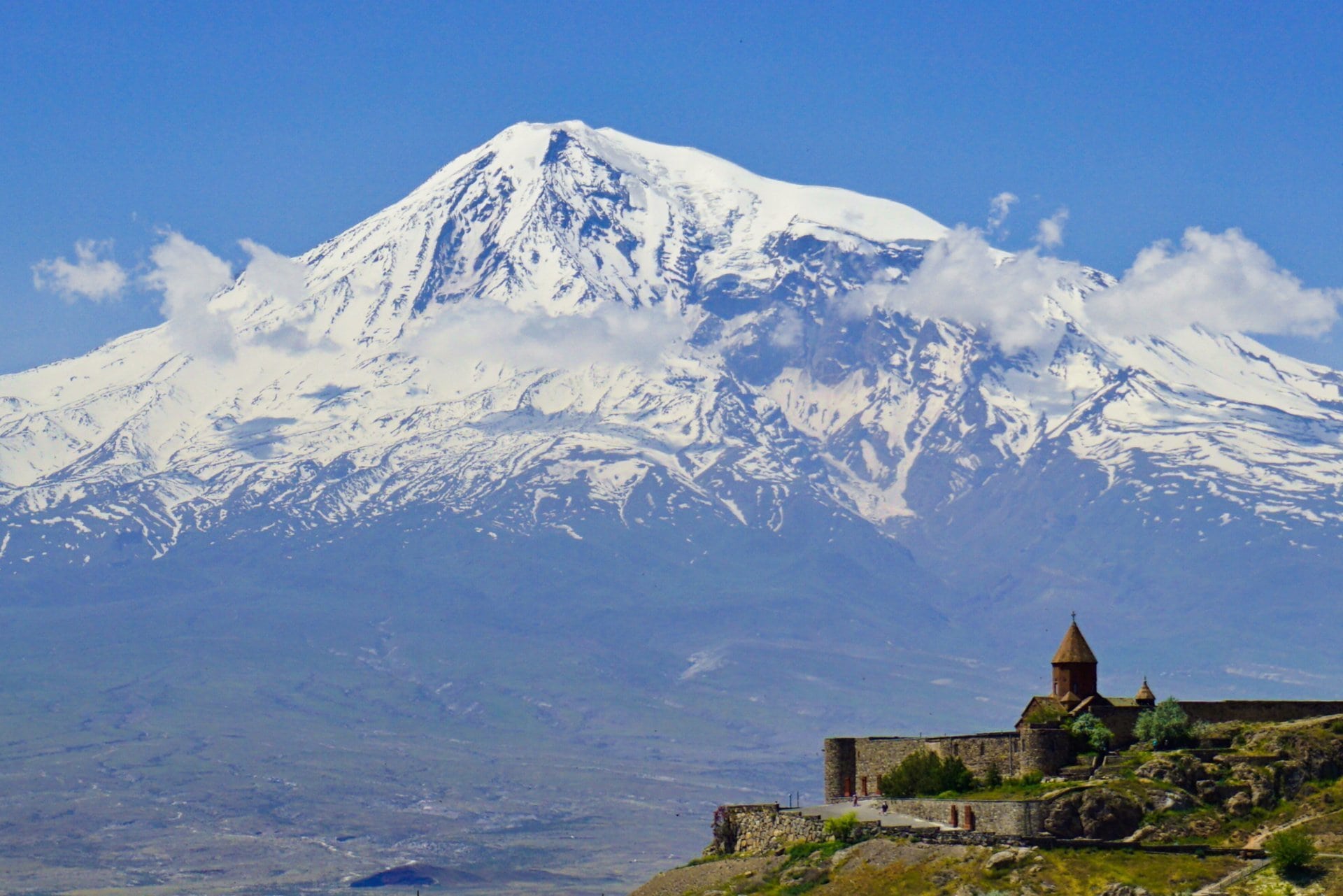 When I was going to start waking back, a vendor asked me if I needed a cab. I told him I'd walk. An American tourist with his Armenian guide overheard and offered to drive me. Thanks to Danny and Gor for the ride, straight back to the capital!
Back to Yerevan I put my backpack on once more and headed to the airport. Four countries and two months later, I was going back home… To see my boyfriend and to start planning the next trip! ❤️
Where to stay in Armenia?
In this trip I stayed only in hostels, B&Bs and Couchsurfing, and I booked as I went because I wanted flexibility. It turned out great! But if you go in peak season, I recommend to book in advance, especially in Yerevan. Check these offers, and browse booking.com even when looking for hostels, as many times they have cheaper prices than if you walk in.
Liked it? Want to read it later? Pin it!

Did you like what you read? You can show your appreciation by buying me a coffee 🙂
Your support will ensure I keep bringing you stories and insights from around the world! Thanks so much!