There's nothing like other travelers' tales to get inspiration. When you are home longing to be on the road, or when you are on a journey wondering why you left the comfort of your house, submerge into these life-changing travel experience stories, beautiful tales of how a trip can alter the trajectory of your life.
I'm sure my regular readers are used to me talking about travel experiences. But for those who are discovering this little window to my soul called Experiencing the Globe, you can see that it all started with a bucket list of all the –surprise, surprise– travel experiences I want to have around the world.
The list is my goal in life, so I'm spending as much time as I can on the road. But when I'm home in between trips I seek inspiration in other travelers' tales. I've read as many books about exciting journeys as I could put my hands on. And recently I got a hold of Lonely Planet's Travel Goals: Inspiring Experiences to Transform Your Life.
It got me thinking of my own life-changing travel experiences. Like my transformation into a sustainable traveler after fully grasping what that meant for the planet and all the life in it. I have a trip to the Caribbean to thank for that. The first trip I took alone, when I was starting to test my boundaries, empowered me as a solo female traveler, and opened my eyes to a new world of possibilities! I'm so thankful I chose Italy, an amazing destination to explore on your own! I reaffirmed my faith in human kindness after spending a month in Iran, meeting the loveliest people I've ever encountered.  And the most literal life-changing travel experience, moving to Croatia after meeting the love of my life in this beautiful country that now I call home.
The book also encouraged me to ask other travelers if they had a story in their own travels that changed their lives in one way or another. I was overwhelmed with the beautiful tales… some of the best life-changing stories that'll inspire you to travel!
Life-changing travel experience stories that'll inspire you to travel
Collecting memories, not counting countries
I want to start this series of tales with my own. As I told you, many aspects of my life have changed over the years due to a travel experience, but the one I want to elaborate on is the one that defined what my life would be. Traveling hasn't changed me, it has made me. It's who I am. Several trips to the south of Chile showed me where I was going. This is the story of how I became the person I am today:
My parents took me camping to the Chilean Lake District every summer while growing up. This was in the dark age, before the internet. Back then we had to rely on maps and guidebooks. So through the endless hours of our road trips, I kept myself entertained glancing at a map, reading about the small towns we passed, and convincing my folks to take a detour to visit some place that caught my attention.
During one trip I told them that I have decided I wanted to go everywhere in the world. After a few laughs, my dad told me about the Travelers' Century Club (TCC), a group for people who have visited 100 or more of the world's countries and territories. My eyes sparkled with the thought of being a member, and I made it my goal.
Obviously, I started asking to go to another country instead of the same National Park we always visited. They laughed again –conscious of the monster they have created– and offered a compromise: they'd take me to our neighbor Argentina, my first trip abroad, but I had to see more of my own country before I embarked on my adventure of visiting another hundred. I happily accepted.
See, what I immediately realized is that –as much as I wanted to be part of the TCC– the main reasons to travel should revolve around what I'll get out of a trip –whether that's meeting locals, tasting the typical cuisine, exploring nature, or adventuring into an activity– it shouldn't be just to count countries. I know the "why you should travel" is super personal, but ticking countries off a list only because you put your feet there feels meaningless to me.
Why do people travel? Well, there are as many reasons as people traveling, but even if it is to get a tan while you're permanently sipping from a cocktail, that trip will always be part of your story, so you should make the most of it.
After visiting every region in Chile, I started to go abroad. Nowadays, with about 60 countries and territories of the TCC list properly visited, what I knew instinctively, transformed into lessons I learnt during my travels… What inspires me the most to hit the road is experiences, because they feed my adventurous soul –the TCC list (and my own bucket list) became the means to guide my journey, not an end themselves.
Spreading the word about the truth of traveling
Claudia's life story is remarkably similar to my own. Being avid travelers changed the way we perceive a destination, and the story that should be told about it. We both left behind an academic career and repurposed our research abilities towards travel writing. Now we both blog from a distinct point of view. This is the story of how in a visit to Cuba she found her true calling:
"Cuba changed my life because it was nothing like I had expected it to be –quite the opposite, in fact. You see, being the avid traveler that I am, before my trip to Cuba I spent months reading just about anything I could put my hands on. If it talked about Cuba, I had to read it. Everything made it sound like traveling to Cuba would be easy, and locals would be generous and welcoming.
My time in Cuba was less than fabulous. Don't get me wrong, it is a gorgeous country and now, a few years later, with much more traveling experience and understanding, I am ready to go again. But back then, it was awful. My 23 days there were a constant challenge to avoid scams –a challenge that a few times saw me succeed but that other times saw me fail miserably. It was frustrating. I felt I could not trust anybody. Where were the lovely Cubans everyone talked about in their blogs?
Cuba taught me that people lie, even (or especially) online. Because nobody really wants to say they have had a bad experience, and nobody is really interested in reading about others' bad experiences –but is that really the case?
I decided there and then to be different. I decided that I had to warn others, tell them the truth, let them know what they should expect and what they should do to avoid scams. That's why I opened my blog. It was just a pastime at the beginning.
Fast-forward 2 years and I realized that I did want to make an effort to make it work out. After all, what did I have to lose? My contract as a research fellow at the university had expired and I had no real prospect if not a series of menial short-term teaching jobs I was less than interested in. So, I gave blogging my heart and soul. And it worked. I'm a much happier person now. I love what I am doing. I wake up in the morning to face a long list of to-do things and I read it with a smile on my face, which is priceless.
Cuba changed my life. And despite all the frustration I felt back when I was there, it changed it for the best."
RELATED POSTS:
Encountering wildlife to find yourself
Camilla was looking for something, but she wasn't sure what it was. Her heart lead her to India, and after that trip her life would never be the same. Animals can have different impacts in our life, but for this former vegan chef, one particular big cat meant more than anything. This is her story:
"January 2017. That's the date I first arrived in India. By that time, I used to work as a freelance vegan chef in the hustling city of Paris. Having attended a 4-weeks course on yoga and Ayurveda, I had planned to spend the following month exploring this amazing country.
Little did I know that a special encounter would change my life forever.
Always an animal lover, over the years I had developed a passion for the most majestic of big cats: the tiger. The striped animal had somehow summoned me. To what reason and to convey what message I do not know, but to such a call one can hardly resist.
India is home to more than 60% of the world's remaining wild tigers. The critically endangered species is highly protected, and the country has given to many of its national parks the status of Tiger Reserve.
It was time for me to see my first one in the wild.
With zero safari experience and many hours of research, I booked 4 drives in Ranthambhore, one of India's most famous Tiger Reserves.
I will always remember the excitement before that first drive in the jungle, and I will never forget the distress of realizing that finding the elusive cat is no easy task. 
But all of a sudden, there it was. Glorious in its fierce black striped orange coat, a killer look and an attitude to die for. My first wild tiger.
That fleeting moment was enough to make me want more. Today, I have moved to Central India, prime tiger landscape of the world, and I have seen 103 different individuals. But every time I see those eyes, I feel the same excitement that I felt as a total beginner that day in Ranthambhore."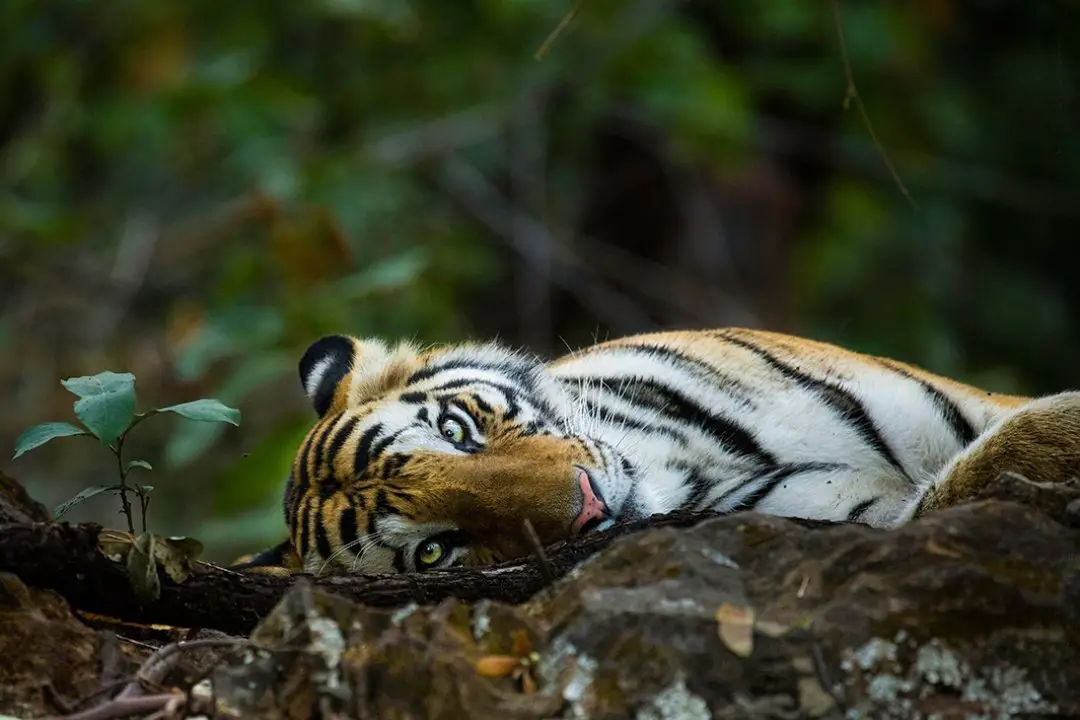 Finding love in an unexpected place
Traveling is full of surprises. A spontaneous detour can change your life forever. Don't I know it! A quick, unplanned stop in Split after exploring Dubrovnik ended up seeing me move continents for love. A simple recommendation of a town in The Philippines had the same in store for Alya. This is the tale of the trip that lead her to her husband:
"Meeting my future husband was definitely one of the most life-changing travel experiences I've ever had. We met 6 years ago in the Philippines. I was traveling alone around Southeast Asia for a couple of months. After completing my dive course in Gili Air Island in Indonesia and didn't know where to go next. I was looking for a good place to learn to surf. My dive instructor told me about San Fernando, a small town on Luzon Island in the Philippines. It sounded like the perfect place for me. I bought a plane ticket immediately and two days later arrived in San Fernando.
The hostel I stayed at had a big dormitory with many beds. I met many travelers including Campbell. In fact, we had neighboring beds in the dormitory. He traveled alone as well and we liked each other, so we started going together to the beach, surfing and going out at night. By chance we had very similar travel plans and decided to continue our trip together.
We both like doing the same things, like surfing, diving and hiking. We left San Fernando and traveled around the Philippines together for 2 months. From there we went to Singapore. Unfortunately, I had to go back home, my 4-month holiday was over. We arranged to meet up again two months later in Nepal since we both had trekking to Everest Base Camp on our bucket list. So we did, it was our first multi-day trek together.
We met up a couple of times on the road again in different countries. After 6 months of on and off I decided to quit my job and join Campbell on his around the world adventure. Three years later we got married and decided to start a travel blog. In the last 6 years we've done hundreds of hikes, spent a year hitchhiking through Latin America, drove thousands of kilometers across Africa and walked seven Camino de Santiago routes.
Now I can't imagine how my life would look like if I hadn't gone to that place in the Philippines and had never met my husband."
Giving is better than having
A trip to South East Asia gave Corritta's life a whole new meaning. Possessions are overrated, true happiness comes from giving. She and her family left a comfortable life in the United States behind to fill their souls while making the world a better place. This is the tale of their journey:
"My life changing experience prompted me to sell our house, car and possessions to take off on a journey to see the world. That may seem a little extreme but let me explain. My first international trip was to Bangkok in 2018. I thought this trip would be a great way to get away from the stress in my life. It turned out to be a life altering experience that made me realize I was existing, not living. 
While in Bangkok we took a day trip to Wildlife Friends Foundation Thailand and it changed my life. We learned how cruel animal tourism is and how we, as tourists, are unwitting accomplices. We support illegal pouching and animal cruelty by taking part in animal tourism. This includes taking pictures with large cats or monkeys and riding elephants. When we do these things, we are not only hurting the animals, we are ensuring things will never get better. I must admit I was never an animal lover but being up close and personal with elephants changed something within me. It made me want to give back.  
So, two years later, with my partner and our one-year old baby boy, decided to take off for a family gap year.  We sold everything and left San Diego to live a life of service. We will use this time to give back to those less fortunate. 
When I left Thailand my definition of happiness changed. It was no longer associated with material possessions, but by the quality of life I wanted to live. I realized what truly matters is the love of your family. The Thai people with their families were happier than most Americans. So I decided to take back one of the most invaluable things in the world, time. Never forget, all the money in the world can't buy you more time." 
Small changes can make the world a better place
A trip to Australia developed plastic-issue awareness in Simona. Seeing how the tides brought tons of plastic to the shores made her change her approach to traveling. From carrying her own grocery bags and water bottle, little adjustments made her a much more responsible traveler. This is how her journey towards sustainability started:
"The first time ever I realized that plastic was a serious matter for our planet was during a road trip in Western Australia, almost 12 years ago.
We stopped at a supermarket along the Coral Bay coast to buy some groceries and the lady at the counter told us they didn't sell any shopping bags to prevent plastic in the ocean and to help preserving the endangered turtles living in that area. After a first reaction of surprise, we gathered all our shopping in our arms and left, reflecting on what we had been told.
This was just one of the many experiences I've lived that made me more conscious about my impact and pushed me to adopt various habits to live and travel more sustainably. For example, after that trip, I am always carrying a cotton bag when I go shopping.
Our eco-honeymoon to Borneo was another life-changing experience that has strengthened my resolution to turn to a zero-waste lifestyle. I selected three ecotourism projects to visit. In Asia finding safe drinkable water is always a challenge, but we traveled with our water bottle, and we chose the right service providers engaged in sustainable travel so, with a little effort, we managed to avoid almost entirely the use of plastic during our trip.
However, we were seriously struck by our stay on Libaran Island, where a sustainable and turtle conservation project was launched 10 years ago. Despite the big efforts carried out by the project and the community in cleaning up the beaches and creatively re-use plastic, the shore is washed daily with tons of plastic coming from the tides. Walking on a carpet of plastic that almost prevented us from seeing the beach underneath was quite shocking.
Facing this global issue in person, raised in me a contrasting feeling of sadness and anger that soon turned into determination: to do as much as possible to reduce plastic in our life. Sometimes we may feel helpless in front of big problems, but we should be aware that small changes can actually make a difference!"
RELATED POSTS:
Discovering happiness in simplicity
When her career and personal relations were failing, Soujanya decided to retreat to the mountains. The Himalayas were the perfect setting to get away from everything and regain perspective. In a small village she discovered that technology is overrated, and that what counts are real connections. This is how a trip to India changed her take on life:
"Back in mid-2019 I wasn't in a good place in life. I was getting out of a serious relationship, I was burn out at my job, I had problems within my family, and the ever-increasing sense of loneliness had thrown me into a pit of depression. During that time, I turned to the only positive thing I had going on for myself, which was travel and blogging.
After some contemplation, I decided to quit my job to travel. I had saved up enough money that would last me 8-10 months so I didn't give it much thought because I knew it was the only thing that would keep me from tipping over the edge.
The first thing I did after leaving my job was to head to the Himalayas in India. I spent a month in the Kinnaur and Spiti valleys in the state of Himachal Pradesh. The Kinnaur district was a breath of fresh air. The snow-clad mountain range in the distance, the lush green vegetation all around, the sparse population and the friendly people spoke to my soul.
There was one village called Chitkul, which lies on the Indo-Tibet border and has no cell connectivity, that helped heal me the most. A remote village with a population of less than a thousand people and only a handful of tourists, with nothing around it for many miles.
I spent my days sitting by the river, hiking to the nearby hills and walking through meadows. Just being there surrounded by the Himalayas, without any social media due to lack of connectivity, and making real connections with other travelers and the villagers had some sort of magical effect on me. Not only I have the best travel experience of my life, but the place also healed my mind. I came back happier than ever, with a renewed spirit, ready to enjoy everything that life had to offer."
Uncovering a braver version of yourself
We all have that one thing we'd love to do but we're too scared to try. A trip to Thailand taught Allison that life is what we made of it. Pushing her boundaries not only allowed her to have a ton of fun, but also gave her a new path, one in which she gets to do what she loves. This is her story, an encouragement for you to get out of you comfort zone too:
"Shortly after I graduated from college, I moved to a new state to start a full-time job. One day at work, I found myself wanting to go traveling. As I didn't have any friends there, I decided it was the perfect opportunity to go on my first ever solo trip. So I quickly started doing research on where I'd like to go.
I had never traveled alone before, especially overseas, so I decided to sign up for a guided group that was going rock climbing in Thailand. This gave me a sense of security, being new to solo traveling. It felt like a great way to dip my toes into being alone and meeting strangers, but also doing something that sounded really fun and engaging for 2 weeks.
The entire Thailand trip forced me out of so many comfort zones that ended up being one of the big turning points of my life. The time I spent in Thailand navigating airports and taxis alone, meeting a group of complete strangers, and spending 2 weeks climbing with them in often remote parts of the country, ended up being one of the greatest experiences of my life. Up until this point I had always considered myself a 'shy' and 'cautious' kind of person, but this travel experience lit me up to become different. It showed me a brave, strong, and self-sufficient side of myself that went on to influence my life in dramatic ways when I returned home.
When I got back, I pretty much dedicated my life to spending as much time as possible outdoors whether that be climbing, hiking, or backpacking… essentially doing things that I once thought I wasn't 'capable of' or was 'too scared of'. Today, roughly 6 years later, I'm an outdoor empowerment coach and backpacking educator.
My trip to Thailand was the spark that I needed to make that change. It showed me what was possible. I don't know if it was the people I met, the experiences I had, or the beauty of traveling in Thailand – likely a bit of all of it– but whatever it was, it changed the trajectory of my life, and I'll forever hold Thailand (and all the people I met) in a special place in my heart."
A leap of faith towards a new life
Getting to visit a new place after a business trip is nothing out of the ordinary. For most people. For Derek and Mike it was literally life-changing. After a quick trip to Copenhagen, they packed up and started a new chapter of their lives as expats in a different continent. This is the tale of their journey:
"In November 2016 we had a life-changing travel experience in Copenhagen, Denmark. My partner Mike was asked to make an unexpected business trip to the city to help with a project. His company had recently acquired another company in Denmark, and he was asked to help with the integration. He flew there from our hometown, Philadelphia, with only a few days' notice, and on his first day in the office they asked if he would stay a few weeks longer. He agreed but asked for time off during the American Thanksgiving so that I could fly to Denmark and take advantage of the opportunity to enjoy a cheap trip to Europe with no-cost lodging and some meals expensed.
We loved getting to check out a city that we didn't have on our travel bucket list before this opportunity came about. We did a few tours, visited the Christmas markets and dined out. At one restaurant we got to try the traditional Danish Christmas meal. I enjoyed Copenhagen for 5 days and Mike remained there for work until the end of November.
On his last night in Denmark, he had dinner at his boss' home. They shared a meal with a lot of wine and then Mike called me when he got back to his hotel. I could hear the excitement in his voice. He asked if I liked Copenhagen, which seemed odd because he knew I enjoyed myself when I was there. Then he asked if I liked it enough to move there, because on that final night, his boss asked if we would take an expat assignment in Denmark.
We didn't hesitate to accept and our life abroad began almost right away. That trip to Copenhagen was certainly life-changing!"
Learning to fully appreciate what's in front you
No matter how much you have traveled, there are places that will bring up the best of you. No matter how much there is still to see, some places will take your breath away and will forever stay in your heart. A trip to Antarctica transformed Wendy into a student. She acquired as much information as she could to fully absorb the beauty that she was about to witness. And now she is longing to go back. This is her story:
"Before my cruise from Ushuaia to Antarctica, I was already quite well-traveled. I had visited about 75 countries and seen plenty of natural beauty before. But all of that paled in comparison to the White Continent. The Perito Moreno glacier in Argentina had mesmerized me just days earlier, but now I was seeing dozens, even hundreds, of sparkling white glaciers practically everywhere I looked. These landscapes were so different from anything I'd ever seen that it felt like I'd traveled to another planet.
On the times when the weather was bad, and on the long days of crossing the Drake Passage between Tierra del Fuego and Antarctica, I soaked up every bit of knowledge that I could about this snow-and-ice-covered land. Our ship, the MV Ushuaia, was manned by a full staff of scientists and lecturers who were experts in a number of relevant topics, from geology to ornithology. When we were out on the high seas with nothing to do, these experts held lectures on the flora, fauna, history and geology of Antarctica, and I attended every single one.
When we stopped at the British base at Port Lockroy on Goudier Island, I grilled the staff there with questions about how I too could go live and work on the island. And while that dream never materialized, my memories of Antarctica are still sharp in my mind 11 years later, and I still dream of returning one day.
Such an expensive voyage would normally be the trip of a lifetime, not a return destination. But if you're willing to try your luck, sharply discounted last-minute deals can be found at the port in Ushuaia a day or two before departure. In recent years, these huge discounts have become few and far between, as most ships fill up months in advance. But still I'm thinking of a return trip to Antarctica for some more adventure!"
No matter where you go, every single place in the world has the potential to change your life!
Tell me in the comments if you've had any life-changing travel experiences!
Liked it? Want to read it later? Pin it!

Did you like what you read? You can show your appreciation by buying me a coffee 🙂
Your support will ensure I keep bringing you stories and insights from around the world! Thanks so much!