I felt that six weeks went by way too fast, and I could have easily spent a few more exploring the country, but whether you have only a week or a full couple of months, here you'll find all the info you need to plan what to see and do in Egypt, with an overview of the main destinations to get your own custom-made Egyptian itinerary.
If you look at an Egyptian map you'll realize that you don't have many options for exploring the country. Take into account that some of the few roads you see are not open (like the one connecting Cairo to Siwa through Bahariya –it's in bad shape and can only be navigated in a four-wheel drive vehicle).
So your itinerary will most likely be north-south, plus a trip or a few to east and/or west. The good news is that the whole length of the country is well connected through reliable trains that follow the course of the Nile. And you can also add a cruise through the river.
Most likely you'll fly into Cairo, but I'd suggest going straight to the south. Either take a long but cheap train ride, or a more costly but fast flight to Aswan. It's an easier introduction to the country, since it's small, simple to navigate, and way less chaotic than the capital. And then slowly work your way up north.
Make sure you check my Egypt travel guide for the best tips and insights to plan your visit.
Egyptian itinerary
Aswan
Stay there for a few days to explore the city and the stunning temples around it. I spent four nights, and I would have liked to have at least one more. If you want peace and quiet, I suggest booking accommodation in Elephantine island. Any guest house will provide a humble room, a plentiful breakfast, and a friendly Nubian owner that will be happy to show you around. I stayed in Bayt Zaina, and the kind-hearted owner plus the roof top views are well worth a recommendation.
From Aswan the absolute must is a day trip to Abu Simbel. The stunning temples will be one of the highlights of your visit to Egypt (more on this on another post).
In Aswan also go to Abo Elhawa for incredible vistas of the Nile from the top of a hill, plus the interesting Tomb of the Nobles. Wander around the souk for souvenirs, cheap (yet delicious) street food, and grab a glass of sugarcane juice. Other sights in/around Aswan include the unfinished obelisk, the Nubian village, the Philae temple.
From there you can take a felucca or a cruise to Luxor. If you do this, you'll stop along the way in Kom Ombo and Edfu temples. I don't have personal experience on it, but I heard it's wonderful. If you're either short on time or on money, take a train. On the way you can stop in either of those temples, or visit them as a day trip from Aswan (Kom Ombo) or from Luxor (Edfu).
I skipped Edfu, but I did stop in Kom Ombo because of the uniqueness of the temple, dedicated to two deities: Sobek, the crocodile god, and Harwer, the falcon god.
The Nile 
The longest river in Africa, historically considered the longest in the world, flows for 6,650 km through 11 different countries in East and North Africa.
It not only crosses the whole length of Egypt, but it defines it. Without the Nile the country wouldn't be. The Nile is life. Not only now. It was the lifeline of the Egyptian civilization, playing a crucial role in its development. The Greek historian Herodotus wrote that "Egypt was the gift of the Nile". And I couldn't be more grateful to have the opportunity to explore this gift.
But not only it's useful, the Nile is a beauty. I was told in Aswan that there is where the river is the most beautiful, and I completely agree.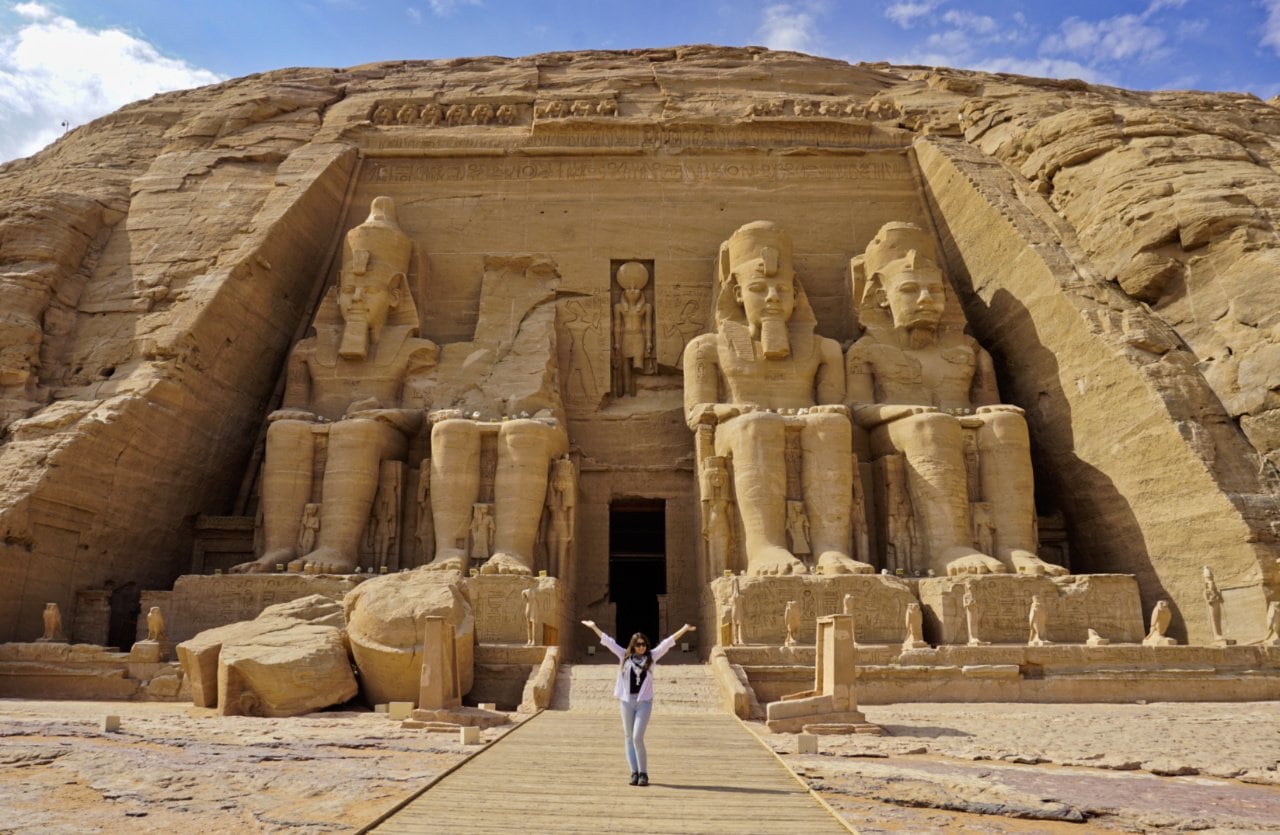 Luxor
Brace yourself. You're in for a ride here. This is one of the most overwhelming cities I've ever visited. Every single person you see on the streets will offer you some product or service, and no matter how many times you say no, they won't take it. They're relentless! Taxis, horse carriages, tour guides, souvenirs vendors, felucca captains… you name it and there will be a guy in Luxor offering it. Just wear a poker face, say 'la shukran', and continue walking. It feels really rude to ignore people, but there's no other way!
If you want to make your visit more bearable (maybe even enjoyable), try to meet a local. Platforms like Couchsurfing are amazing for this. There's always someone that will want to meet a foreigner or practice their English, and you'll be hassled a lot less.
Depending on how fast you get templed-out (when you feel you've seen enough temples), I suggest two to four days there. At least leave one day to see the east bank and one for the west one. On the east bank spend a day visiting Luxor temple, Karnak temple, and the Luxor museum. Karnak is huge, so you can spend a whole morning roaming around. For Luxor temple allocate an hour or two. Same goes for the museum, which is much smaller than I expected (because most of the treasures that should have been there are divided between the Egyptian Museum in Cairo and the British Museum in London).
On the West Bank you can spend a lifetime seeing tombs. The most important site is the Valley of the Kings. The entrance ticket will allow you to see three tombs. I chose Ramses I, Ramses II, and the unusual double tomb of Tausert and Setnakht. An additional ticket is needed for those of Tutankhamon and Ramses VI. My next stop was the Valley of the Queens, which is wonderful because it's not touristy, so there will be no/less crowds, but it's not even close to how impressive the tombs in the King's Valley are. Your last stops, if you only have a day, should be the Valley of the Nobles and the Mortuary Temple of Hatshepsut –plus a few-minute stop on the side of the road to see the Colossi of Memnon.
One activity that has been gaining popularity is a ride in a Hot Air balloon. I didn't do it, and I actually regret it. The panorama of the valleys from above must be incredible!
Cairo
Depending on how long you have you can either fly to the capital, take an overnight sleeper train, or a much cheaper day train that will take a whole day, but will allow you to see the Nile Valley in the way. Regarding how long to stay will depend on your interests. I ended up spending about ten days in Cairo, but I met tons of people, so I spent more time socializing than sightseeing. If time is limited, allow at least three to four full days there.
My first stop (and base) in the city was the downtown area. The architecture screams that Cairo once was an opulent Paris-inspired city ('Paris on the Nile', they say), but it has fallen on sadly disheveled. Its forlorn glory is found in glimpses, so pay attention to the architecture. Visit Tahrir square, the main stage of the 2011 revolution, aimlessly walk around the lively streets, stop for a drink in the famous Al Horreya café, for koshery in Abu Tarek, and for sweets in El Abd. Visit the Egyptian museum (before it changes to its brand-new location in Giza), and cross to the hipster Zamalek, where you can go up the Cairo Tower, the tallest structure in North Africa.
Leave a day to explore Islamic Cairo, a neighborhood featuring dozens of mosques, madrasas, and medieval buildings. My personal favorite visit was to the Qalawun Complex. If you want to see the area from above, give some backsheesh to whomever is at the door of a mosque and ask to climb the minaret.
At the end of the main street you'll get to Khan el-Kalili souk. In this market you'll find everything you might want, from souvenirs to spices. People are quite relentless here too, but more respectful than in Luxor. While I was just numbingly saying 'la shukran' to the countless vendors inviting me into their shops, one cheerily asked: "how I can take your money?". I had to stop to laugh and congratulate him on his creativity, and honesty!
Among many more mosques on the way, continue to the Al Azhar park and finish the day on the Citadel.
The last must-see area in the city is Old Cairo, where you'll find Christian Coptic churches and a Jewish Synagogue. The most famous sight is the Hanging Church, and the holiest is the Church of Abu Serga, where the holy family sought refuge when they fled to Egypt. If you want to see more of Christian Cairo, venture into Mokattam, a neighborhood known as the Trash City, to see St. Simon "the tanner" Monastery.
Where to stay?
I stayed in different places every time I passed through Cairo, but always in the Downtown area, which is excellently connected with everywhere you might want to go, and where you'll have plenty of options for food and drinks. For a budget, yet comfortable and clean stay, I can recommend Cairo International Hostel Downtown, or Tahrir Plaza Suites if you want to splurge a tiny bit. If you have limited time or just want to visit Cairo as a day trip, then you might prefer to stay in Giza to wake up to the pyramids. A lovely inexpensive alternative is the Pyramids Eyes Hotel.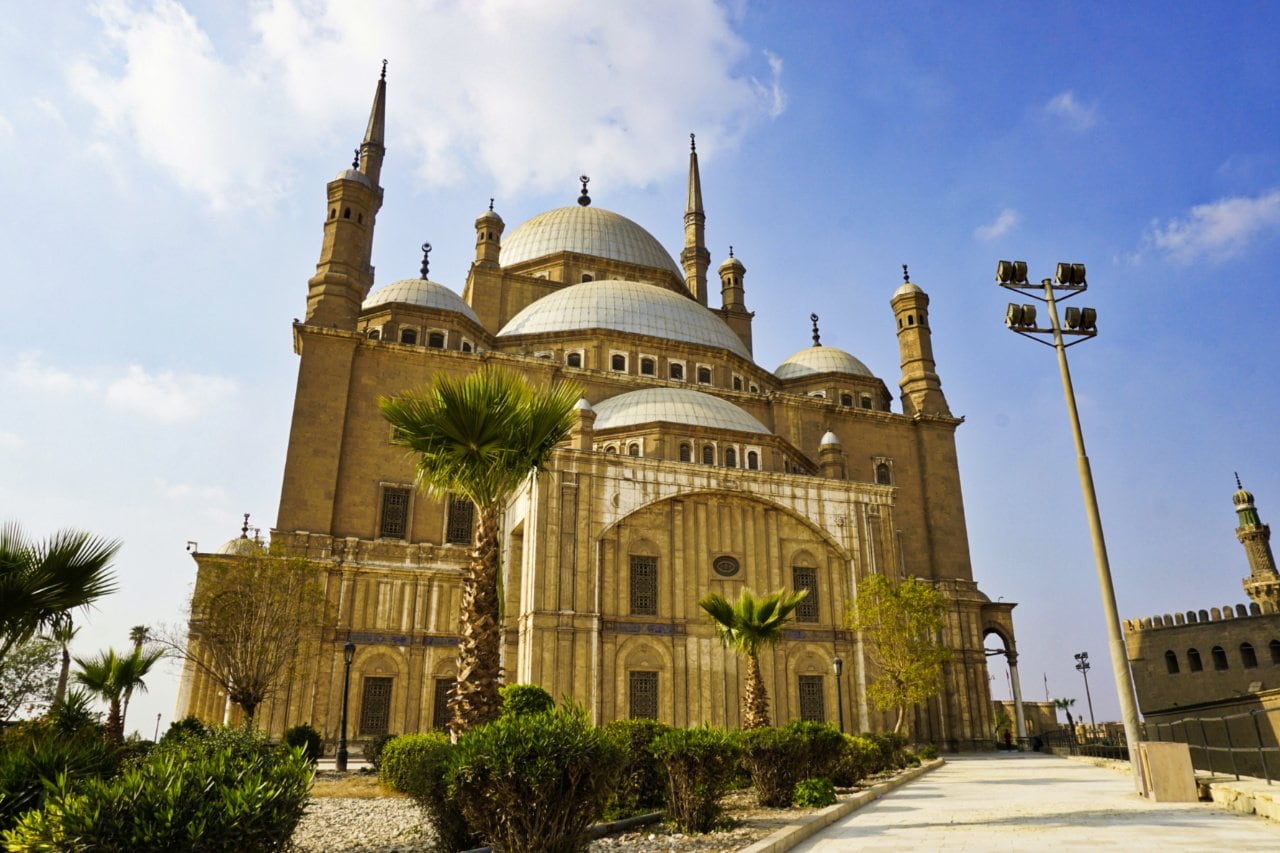 Giza and Saqqara
The pyramids are the reason most people visit Egypt, and I have to say they're as stunning as you imagine them to be. However, Giza is super overwhelming if you visit independently. I strongly suggest going with a local. My friend Hossam is a photographer, and he offers an Airbnb experience doing a photo shoot in the complex, which is a super fun way to get a local with you while getting great pictures taken. In any case, leave a whole morning to explore the site.
Don't forget about Saqqara! Often overlooked by iconic Giza, the main necropolis of Memphis is even older! If you have limited time, squeeze in Saqqara during the same day you visit Giza. If you have a guide with a car is perfectly doable. If time is not tight, leave a whole day. Every guide I read suggested to get a tour guide, mostly so he can drive you around, since the site is huge. I personally visited independently. I didn't see everything and I walked A LOT, but I loved being able to stroll peacefully in the desert among pyramids.
Typical scam in Saqqara: a random person (that you'll think works there) will ask for your ticket, only to grab it and force you to go after him, since you'll need it to enter the other sights. He'll hand it back only when you agree to hire him as a guide.  So, if someone asks to see your ticket, show it without handing it.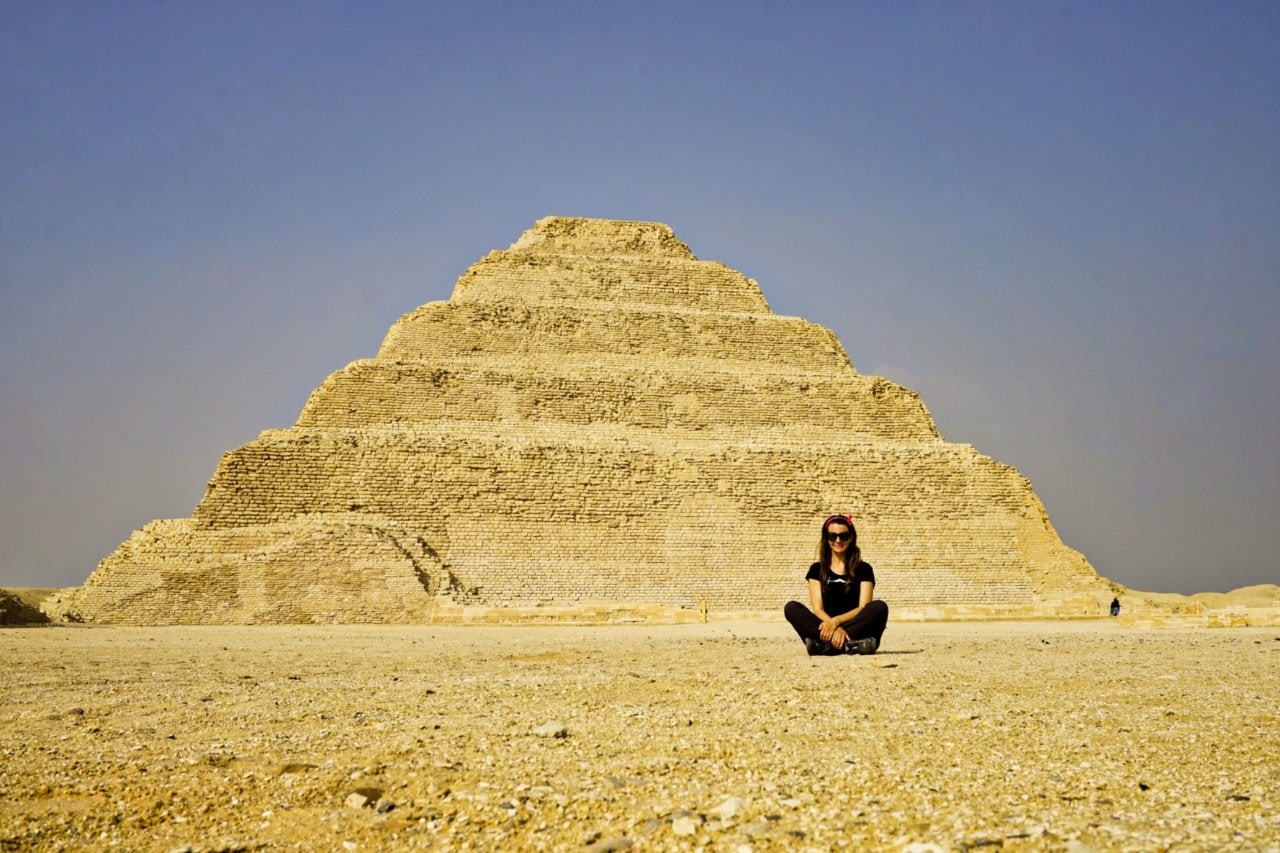 Alexandria
I'm sure you've heard about the library and the lighthouse of Alexandria. These ancient classics put the city in the map, and through them it got the layers of history it shows today. A few-hour train ride (between 2.5 and 3.5) will get you from Cairo up north to Alexandria hassle free, pretty much at any time of day. If you're extremely tight on time you can visit the city as a day trip, but I recommend staying over, for at least one night.
The historical library was replaced by a modern one, while in the site of the lighthouse a fortress was built in the 15th century. But you can still see the coolest mix of ancient Egyptian influenced by the Greeks and the Romans. The fact that it lays in the Mediterranean coast also gives Alexandria a special character. I got subtle reminders of Morocco, especially of Essaouira, as well as of Turkey.
A perfect day in the city starts with a visit to the Library, followed by a long walk to the Citadel through the Corniche (the seaside promenade) with a few stops to see marvelous mosques (don't miss the Qaaed Ibrahim Basha Mosque and the Sidi Abo El Abbas El Morsi Mosque). Then jump to the Catacombs of Kom el Shoqafa, continue to the Pompey's Pillar, and finish sightseeing in the Roman Amphitheater. From there you're close to the downtown area to reward yourself with a nice dinner. If you have more time, next day visit the Montaza Palace, that sits just outside of town –it makes a great spot for a picnic.
The oases in the Western Desert region
Siwa Oasis
You can get there by bus from either Cairo or Alexandria, through Marsa Matruh. It'll take anywhere from 8 to 12 hours, and there are options to do it during the day or overnight.
Siwa is not your typical postcard oasis, with a small water hole surrounded by a few palm trees. Yet, it's one of Egypt's more special places. There's not much that makes it distinctive from other oases when you describe it, but the vibe of the place is unique. It's only 50 km (30 mi) from the Libyan border, making it one of the country's most isolated settlements –the closest Egyptian town is Marsa Matruh, 305 km (190 mi) away. Its inhabitants are not Bedouins, but Berbers, who have their own culture and language. It's always people who make or break a place, and in Siwa they are fantastic! You can rush through it in two days, but I's suggest at least three –even though I could have stayed a week without getting bored!
If you have limited time, focus on stuffing your face and treating your body to some serious relaxing time. The dates are the best I've had anywhere in the world. They sell them stuffed with nuts and covered with chocolate, and they're dirt cheap. Stock up for the perfect snack during your stay in the country! And then divide your time between floating in the turquoise salt lakes and soaking in a hot spring.
If you have a day to explore, start by getting lost around the mud-brick houses of the 12th century old town (fortress) of Shali. Then head to Gabal al-Mawta, the Mountain of the Dead, to see rock cut tombs dating back to the 3rd century BC, where ancient Egypt meets Greek and Roman influences; to the 6th century BC Temple of the Oracle, allegedly visited by Alexander the Great; to the 4th century BC Temple of Amun / Temple of Om Obaidah; to the natural spring made into a rock pond called Cleopatra's pool; and to Dakrour mountain, the oasis highest point, for a stunning panorama.
An extra day will allow you to go on a 'desert safari'. The name made me giggle, but the experience is some serious fun! A 4WD car takes you to the Great Sand Sea, where you'll do dune bashing and sand boarding, stop in a few small oases, and finish the day with a cup of tea around a bonfire in the middle of nowhere to watch the sunset. It's simply perfect!
Where to stay?
I wholeheartedly recommend staying in Ali Khaled Mountain Camp, where you'll feel like you landed in Alice in Wonderland's world, and you'll be welcomed by the nicest, most hospitable staff in Egypt.
Bahariya oasis – White and Black Deserts
Sadly, Bahariya is not connected to Siwa, even though the map shows a road. This means that if you want to visit both oases you'll need to return to Cairo and head west again.
Since most likely you'll be visiting Bahariya to go to the White and Black deserts, you can either get to the oasis and find a tour from there, or simply book one from Cairo. Keep in mind that you'll need to hire a 4WD car and a guide to go into the White Desert, so the only way to make it within a budget is to jump into a group tour.
I had a three-day trip with the owners of Ahmed Safari Camp. I jumped in a bus from Cairo to Bawati, where they were waiting for me, and I joined a group tour with some fantastic people that quickly became friends. The first day was spent around the oasis, visiting the Bahariya lake, doing some dune bashing and sand boarding, and hiking around the Pyramid and the English mountains.
The next day was the reserved for the highlights of the adventure. First stop was the Black Desert, an area of volcano-shaped mounds capped by basalt sills –from a black volcanic dolerite eruption during the Jurassic period, 180 million years ago, which give them the characteristic black color.
The second was the stunning White Desert. At the entrance of it we stopped in the Valley of Agabat, probably (for me anyways) the most beautiful place in the country. Then we continued to see the most recognizable spots of the desert –the big chalk rock formations created over millions of years through erosion by wind and sand. The local Bedouins see different shapes: a mushroom, a bunny, ice-cream cones, tents… That night we camped in the desert and woke up to witness a spectacular sunrise.
The third day we explored a bit more of the White Desert for a few hours. The last stop was by the Crystal mountain, a ridge made from calcite crystal, which is actually quartz polished during millions of years to look shiny, like crystal. There's an arch that made the place popular, that now has nothing to see because people took all the rocks. I really wish everyone would understand that we should take nothing but memories and leave nothing but footprints.
RELATED POSTS:
· The Ultimate Guide to Sustainable Travel
· Sustainable Travel Photography
· Eco-friendly hiking: sustainable tips and packing guide
Sinai and the Red Sea
The easiest way to reach the Sinai Peninsula is flying from Cairo to Sharm el-Sheikh. If you have time and you're in a budget, you can also take a bus from the capital to Sharm or Dahab (even the direct bus that offers to arrive in 6 hours will take at least 8, so allow the whole day for the trip, or do it overnight). Some guides still show a ferry between Hurghada and Sharm, but it no longer exists.
Sharm el-Sheikh
The most known destination is Sharm el-Sheikh. The town is resort after resort, with little soul. Everything is made to cater tourists. Shopping malls, restaurants, cafes, ATMs all over, pharmacies displaying only sunscreen. There's even a long bikeway, which I didn't see anywhere else in the country. It's all new, clean and tacky. Exactly the place a typical posh British would choose for their vacation. A place any backpacker would avoid. You might enjoy it only if you're there to dive or to get pampered for a few days in an all-inclusive hotel with a spa.
If you happen to stop by, I have two recommendations. Go to the Gold beach in Hadaba (and skip Naama bay). It's ideal for snorkeling and diving –you can see the reefs from the coast! And while you're in the neighborhood, go grab a drink in Farsha. They describe themselves as a "mountain lounge", which already sounds cool, but the place is even cooler than you can imagine.
Dahab
The runner-up when it comes to popularity is Dahab. The town is the perfect destination for Egyptian. You'll hear everyone you meet recommending it you go. And I understand why. It has such a chill vibe to it, that it's the perfect escape from the craziness of big cities. For a foreigner, though, it shouldn't be that attractive. Don't get me wrong, it's THE place to base yourself during you visit to Sinai. There're hundreds of activities to do around. And it's a good break from the big cities for us visitors too. But there's no authenticity. Everything is in English and every place is prepared for digital nomads. Dahab went from a fishermen's village, to a hippie hangout, to the hipster place for foreigners to base themselves for months to claim they lived in Egypt.
Although I don't share the admiration Egyptians have of Dahab (probably because I live in Croatia, so I have the same vibe at home), there are tons of activities around the town, so I'd suggest allowing at least four days there to scratch the surface of all there is to do. The town itself is all about water sports. The main thing is scuba diving, since there are coral reefs reachable from the shore. It's the perfect place in the Red Sea for a discovery dive. There's also kite surfing, snorkeling, rock climbing, quad biking, and hiking. Don't miss the White Canyon, the walk between the Blue Hole and Abu Galum, and the famous trek of the peninsula, to the summit of Mt Sinai (Jabal Musa) from St Catherine's Monastery.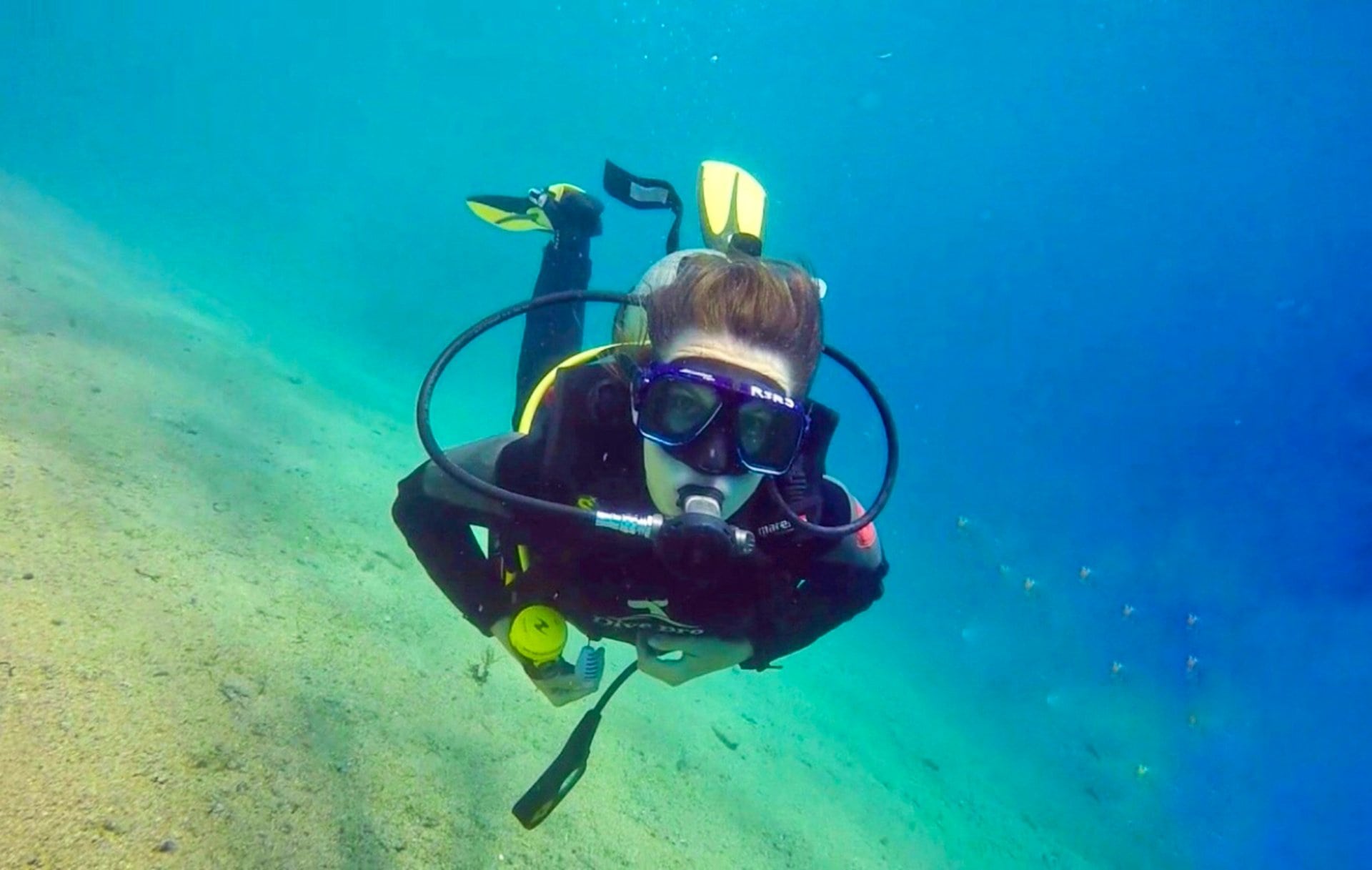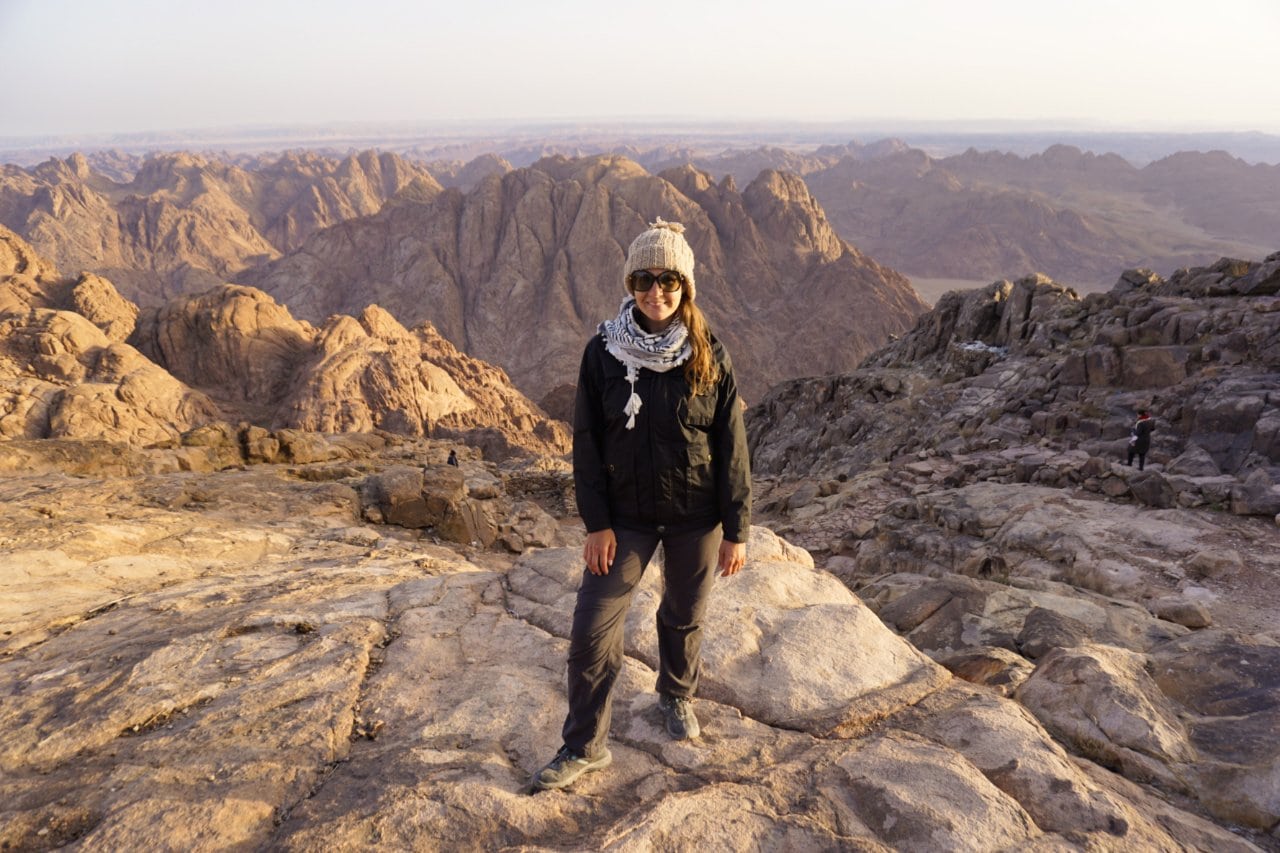 Have more time?
If diving is your thing, then add Hurghada and Marsa Alam to the list.
If you're interested in modern history, visit Port Said or Ismailia to see the Suez Canal.
If you want more of the desert, include a trip to the Faiyum oasis and visit the Wadi Hitan National Park.
If you'd like to experience rural Egypt, stop in Asyut, Sohag or Qena.
As I said at the beginning, Egypt can keep you entertained for several weeks, but whether you have one or ten, you can make the most out of your visit by planning ahead and organizing your time. I'm sure this overview of the main cities, plus some off the beaten path destinations, will help you arrange your own Egyptian itinerary and guide you through what to see and do in Egypt. If you have any questions or want to dig deeper into any of these places, don't hesitate to ask me in the comments!
Liked it? Want to read it later? Pin it!

Did you like what you read? You can show your appreciation by buying me a coffee 🙂
Your support will ensure I keep bringing you stories and insights from around the world! Thanks so much!