If you're going to take a trip, do it thoughtfully, carefully, and respectfully, as you should always do, regardless of COVID. Seems simple, but virtual stones are being thrown at those of us who dare to travel. Should we stay home? I'm here to argue that the responsible thing to do is to support the travel industry at its toughest crisis, if you safely can. Just keep hygiene front and center and enjoy your journey. Travel shaming must stop!
Probably the most common hashtag during 2020 was #StayHome. We all decided to take refuge in our own places to see from afar how the pandemic developed. All of us went through lockdowns in fear, not knowing how long it would take to go back to 'normal'. But when regulations were loosened, we started to dream of traveling again. Personally, when cases dropped to zero in Croatia, I took a few a few trips around the country, taking advantage of having the sights to myself (can you imagine Dubrovnik with no people whatsoever? It's just as amazing as you think!).
But the second wave hit, and the efforts to make #LocalTourism the predominant hashtag were crashed. The authorities asked us to stay put again. Only this time not everyone was having it. Fear was replaced with rebellion, as more and more people decided that almost a whole year indoors was just too much.
The world split into two team. You would either be condemning the travelers, or you would be doing some traveling of your own. I spent most of 2020 thinking that traveling was a privilege, something we could sacrifice to help stop the awful virus we are living with. But as the months went by, I realized that we are, indeed, living with the virus, so we can't stop living because of it.
Travel shaming or the right to travel?
I wasn't the only one thinking among those lines. But as people started packing up, the new trendy concept was Travel Shaming. All over social media I've read mostly criticism towards those who are traveling, which made me wonder, is it ethical to travel when people are dying and medical workers are struggling to control the infection? Well, I want to advocate for it.
I would never say that we have the right to travel. I think that anyone that's lucky enough to be able to travel must be aware of the huge privilege they have (and that's why it's so important to be sustainable and aware of our destination). But I don't think anyone should do any travel shaming. There's a million reasons people can have for taking a trip, and others should find out why they do before throwing virtual stones.
Traveling through the pandemic
On December 2020 I took my first international trip since the pandemic was declared. While spending almost 72 hours between flights and connections to get from Croatia to Chile, my mind wondered quite a lot. The trip was a surprise to my mom, so only my sister and nieces were in the know. That meant I got no judgment, actually, people were touched by the effort to put a smile in my mom's face over Christmas. But when I decided I was going to do some proper traveling before going back home and spend three weeks in Egypt, the reactions were not that positive. The travel shaming started.
Traveling is not something that's in our DNA. Most of our ancestors stayed put. Only a few daredevils adventured around the world. But nowadays it's something that we feel like we need. So, is it acceptable to travel merely for tourism? Or is it only appropriate if there's a stronger reason? Well, why going to see my family should be less travel shameful than going somewhere new, just to sate my wanderlust? The dichotomy shouldn't be whether we have a right to travel or we should travel shame those who venture into it with no 'justifiable' reason. The only thing that we should care about is whether we're doing it in a responsible way. And we, as travelers, have a responsibility with the travel industry, especially that lead by local communities in the destinations.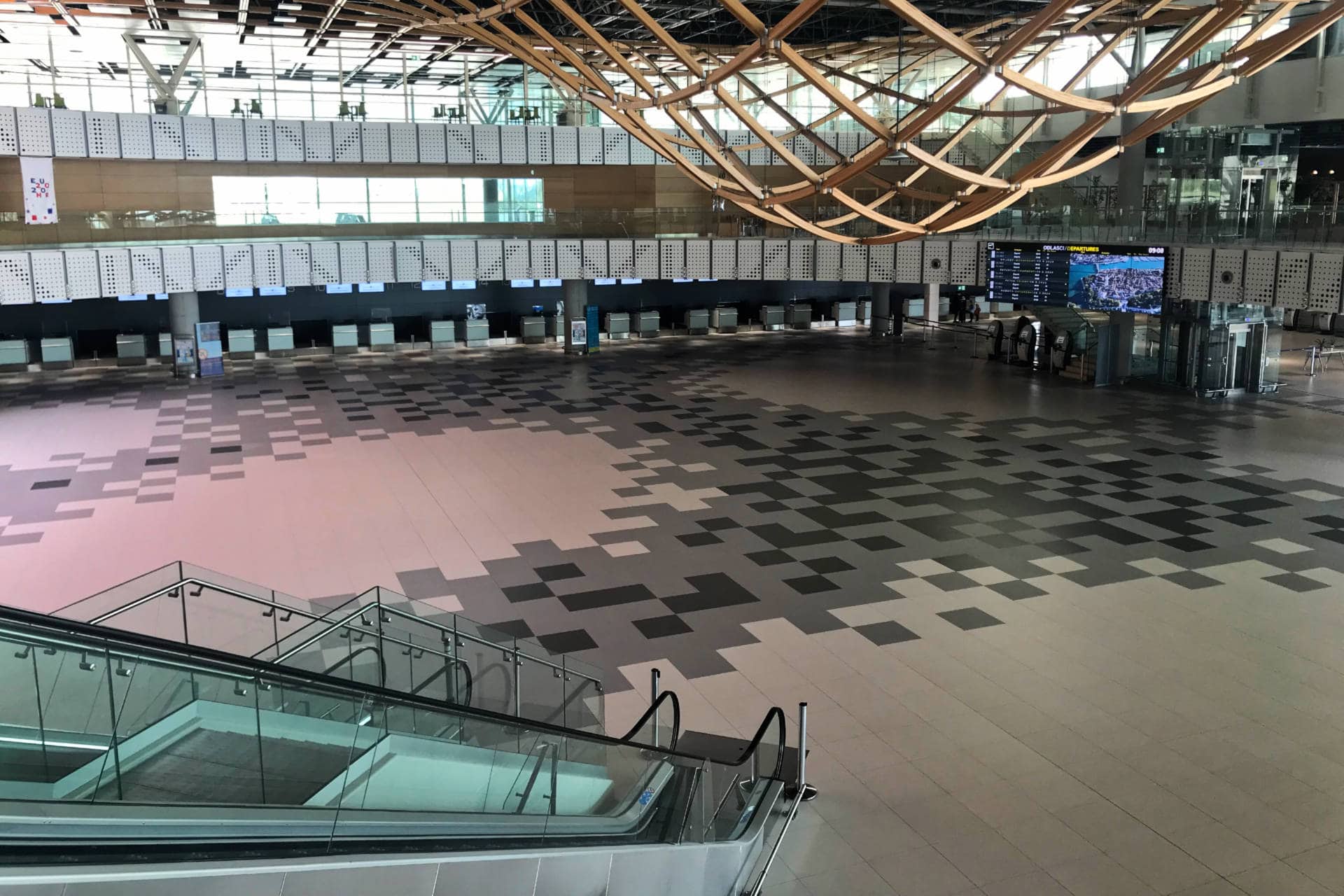 The impact of COVID in tourism
The travel industry is one of the sectors most affected by the pandemic. According to the World Tourism Organization (UNWTO), international tourism had a massive fall of over 70% in 2020, back to the levels of 30 years ago. They estimate that the decline is equivalent to a loss of about 1 billion arrivals and US$ 1.1 trillion in revenues.
According to the International Monetary Fund (IMF), before COVID-19 travel and tourism had become one of the most important sectors in the world's economy, accounting for 10% of global GDP, providing more than 320 million jobs worldwide. So it shouldn't come as a surprise that tourism-dependent economies are among those harmed the most by the pandemic.
The poor are, as always, the ones suffering the most. The IMF estimated that the "real GDP among African countries dependent on tourism will shrink by 12%. Among tourism-dependent Caribbean nations, the decline will also reach 12%. Pacific island nations such as Fiji could see real GDP shrink by a staggering 21% in 2020". To put it in comparison, the same organism assesses that a six-month disruption to activity could directly reduce GDP between 2.5% and 3.5% across all G20 countries.
This same phenomenon applies to private companies. For instance, in May 2020, Norwegian Cruise Line posted a quarterly loss of $1.88 billion, which makes you think about how much small businesses are suffering.
When is tourism going 'back to normal'?
The most optimistic scenarios of the UNWTO point to a rebound in international tourism by the second half of 2021. However, going back to pre-pandemic levels could take 2½ to 4 years. I don't think tourism will ever be the same, but for sure the numbers won't be as high as 2019 before 2023.
Although some countries remain having their borders fully closed, most are slowly easing travel restrictions. The problem now is to balance how to lure back visitors while avoiding new outbreaks of infection. And that's a task that should be shared by the industry and the travelers.
How to travel responsibly during the pandemic
As mentioned before, helping the tourism industry, especially the economy of local communities, is a duty for those of us that can currently travel. Staying put in the comfort of our homes won't help those millions of families around the world that were left without a source of income overnight, and that haven't had one in about a year.
With that said, there are basics you can check to make sure you'll be part of the solution instead of the problem, all the things that scientists have been telling us to do:
Wear a mask (and properly, covering you nose and mouth, not as a chin wrap or a headband),
Wash your hands regularly and carry disinfectant wipes and hand sanitizer with you,
Avoid touching your face and disinfect frequently touched items (like your phone),
Practice social distancing, and
Immediately isolate if you develop any symptoms.
Add to the list the concern about the health infrastructure of the place you're visiting. Will you be contributing to the collapse of the local's health system? Are the number of cases rising? Is it an off the beaten path destination where the virus hasn't arrived? Are you among the people with high risk of developing complications from the virus? If you're putting yourself or the local community in a greater risk, then you should reconsider your trip. But if not, let's say because you already had COVID, or you have a negative PCR test and your destination if officially open for tourism, then what's stopping you?
If you want the TL;DR version, just don't be an asshole. If the destination asks you to quarantine or self-isolate, don't violate the trust they put in you to behave like a reasonable human being. If you feel you can't breathe with a mask, then do us all a favor and stay home.
Common concerns among travelers
Boarding a plane is one of travelers' main concerns. According to Dr. Lin H. Chen, director of Cambridge's Travel Medicine Center at Mount Auburn, if everyone follows the World Health Organization's guidelines, the risk of transmission aboard planes, and anywhere else, is significantly reduced: "data to date suggest only rare possible occurrences of in-flight transmission" of COVID-19, since they use high amounts of clean outdoor air and all recirculated air passes through a HEPA filter.
If your concern is catching it in a hotel, remember that the coronavirus floats in the air only up to three hours, and in any accommodation there will be more time than that between guests. As for touching things, the CDC states that it isn't the main way of contracting COVID. But as it can live on surfaces for two or three days, use your own wipes to give an extra clean to high-touch surfaces, like door knobs.
As for swimming, there's no evidence you can catch the coronavirus from the water.
Now, if you're anxious about other people not wearing masks or respecting social distancing, you can always move away from them, or politely ask them to give you a bit of space or to put their masks on. If this happens on a plane or a hotel, then you can ask manager or flight attendant for help so you don't have to confront strangers.
If you want to be extra safe or if you prefer to travel avoiding uneasy situations, choose road trips, outdoor destinations and accommodation that allows social distancing. Camping in the middle of a National Park that you reached with your own car is as safe as being home. But always be prepared for the worst: don't leave your house without travel insurance that covers COVID-19.
I'm very hopeful that we'll learn many lessons from the pandemic. Let's not get stuck on shaming people just for the sake of it! If you can safely travel, go for it, you'll be helping many families that need your hard-earned dollars while you sate your wanderlust. If you can't, stop with the travel shaming! Just be happy for those who can, and start planning/dreaming of your next trip.
RELATED POSTS:
Liked it? Want to read it later? Pin it!

Did you like what you read? You can show your appreciation by buying me a coffee 🙂
Your support will ensure I keep bringing you stories and insights from around the world! Thanks so much!