This article may contain compensated links. Please read our Privacy Policy & Disclaimer for more info.
No travel required, this is the motto of this guide. It feels off to me as a travel blogger to ask my readers to stay home, but it's what it takes to get pass these crazy times we're living.
How to travel while you're at home? Easy. There's plenty we can do to pass the time during the lockdowns, and to stay sane during the quarantines. Here you'll find the coolest ideas on how to travel from home!
Probably none of us ever thought we'd have to live through a pandemic as dangerous and unknown as COVID-19. This Coronavirus has stopped us from kissing, hugging, going out, and –of course– traveling. For those of us with a heart full of wanderlust, this is hard to handle. I count my blessings knowing I'm healthy and so are my family and friends, but being put into isolating has proven one more time that traveling is what feeds my soul.
Yep, my boyfriend came back from Austria, one of the countries "blacklisted" in Croatia, where we live, so we're looking to 14 days of self-insolation. In all honesty, though, I'd be staying at home even if I didn't have to, something everyone that's able to do should do as well.
So I took a step away from obsessively scrolling through social media (which was much needed), and I compiled a list of the best ways to travel from home, because staying put is the best thing we can do at the moment to stay safe and, especially, to protect others. But we need to stay sane too. Let's turn our quarantines into quarantours!
Just a quick reminder, if you want information on coronavirus, ONLY look for official sources, which means the World Health Organization and your own government's advice.
Coolest ideas on how to travel from home
Reminisce your past travels with the 30 days travel challenge
This cool challenge will have you remembering details of all the trips you've taken and will help you inspire others at the same time. With a wide range of questions that will keep your mind reminiscing, the next 30 days will go by super fast. You can find the instructions of the challenge here.
Tag me (@experiencingtheglobe) or use the hashtag #30DaysTravelChallenge to share your story with me!
Get a few bottles of wines from around the world and have a tasting
Wine tasting is a great experience while traveling. Learning about the varieties and how to pair them is a window to the country's culture and traditions. Why not replicate the experience at home? Sure, you won't get to walk around the vineyard, but you can taste the wine, which –let's face it– it's the best part!
Search the web for a local distributor who does home deliveries or add a few bottles to your shopping list. If your country doesn't offer much of a foreign variety, you can always try different regions of your local wine. Or get spirits instead. The world is your oyster!
Learn to cook something from another country
Now that there's a bit more time to get creative, stay away from the old same same and jump into a culinary adventure. Maybe try an amazing Persian recipe, Georgian traditional khinkalis, some Mexican green rice, a simple Scottish sticky toffee pudding or a traditional Italian dessert. There are SO many delicious dishes from around the world, that you'll never get bored trying something new!
Check my vegan travel guide to get inspired with the most veg friendly destinations from around the globe!
Make your own bucket list
This whole blog started with my travel experiences bucket list, so this sort of list is very close to my heart. Wanting to go everywhere makes it super overwhelming to decide on a destination and leaves us with the sense that we haven't been anywhere, even after traveling a lot. A good way to simplify decisions and keep track of our progress is having specific goals. That's what a bucket list is for me. So go check my list out, and browse through Pinterest or other awesome travel bloggers to get creative.
Get an e-book for inspiration
You need more inspiration? There are many many coffee table books created with the whole purpose of getting you inspired. As you might have realized, my favorite is Lonely Planet. I started getting their destination guides when I started traveling, but nowadays I'm constantly browsing for their latest inspirational book. They cover it all, from a journey through every country in the world, to epic hikes, bike rides and drives of the world, to weekends in wine country, to secrets to happiness from the cultures of the world, so you're bound to find something up your alley.
Plan you next trip
Sure, the foreseeable future doesn't seem to come with travel plans. But eventually the situation will get better. So, it's not only a great pastime, but also wise to start planning now that we have some time in our hands. Besides, travel planning for sure is better than spending hours in social media reading fake news.
Do you know which is your next destination? If not, go one step back and get inspired first. If you do, it's research time! I love to get lost as a first impression in a new place. I feel like a child discovering something around the corner. And I absolutely advocate for everyone to leave time to wander. But I also want to make sure I don't miss out on the must see. So, I always read about a destination, as much as possible, and bookmark in my map the places I want to make sure I'll visit. After that first day of walking aimlessly, I do follow my own research to see all the landmarks, museums, and the quirky things that got my attention.
Also, researching helps to understand the destination better. When you know a bit of the history, read about politics, and familiarize yourself with the traditions and the culture, for sure you'll make a lot more of your trip.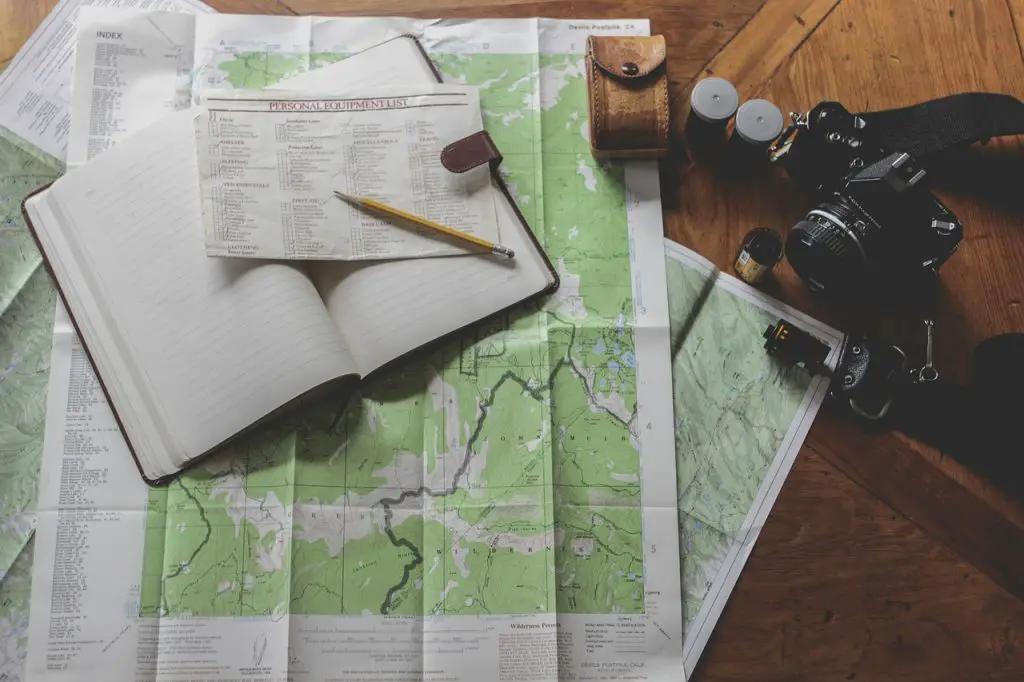 Watch movies or series that take you away
While researching for your next vacation, or while writing down your bucket list, you might want to draw inspiration from movies or series showcasing different parts of the world. Even though by now they are oldies, I love re-watching Departures, a Canadian docu-series of three friends going around the world, and Anthony Bourdain: Parts Unknown. As for movies, my favorites to draw inspiration are Hector and the Search for Happiness, Midnight in Paris and Into the Wild.
Same goes for literature. Books are an amazing way to travel without leaving the comfort of our couch. They transport us in space in time, to the most incredible places someone can imagine. I compiled a list with my favorite travel-inspired literature, and I also asked a group of fellow travel bloggers for theirs. It ended up being an epic list of books full of wanderlust.
Sort out the "boring" part of planning
Nothing sound more boring than something with the word insurance in it, right? Well, one of the lessons of this pandemic is that life is unpredictable, so it's good to be as prepared as you can. Travel insurance is not a sexy topic, but when you get sick away from home, or when your travel plans change, it's great to know the financial burden won't be on you.
Another unexciting thing to do is to check reviews. You need to select a hotel/hostel, and the best way is to shortlist a few within your budget according to what other travelers have to say. I can spend hours in Booking.com or Hostel World just reading comments to make sure I don't find any unpleasant surprises. Same goes for tours and guides. Usually you find the exact same offer, for the same price, and reviews should be the decisive factor. Look at the experiences of other travelers in sites like Get Your Guide, and make an educated choice.
You might also want to use this lockdown time to check if there's any equipment you need to acquire. There's always that old backpack you've been meaning to replace, or that reusable water bottle that you want to get to make your travels more sustainable. No time like now for all these chores.
Visit online museums
How exciting is it to be able to use technology to take a tour of the best museums in the world? Indeed, some of them have opened their virtual doors, and are letting us wander around their treasures, without having to queue at the entrance, nor pay a fee!
You're one click away from Saint Petersburg's Hermitage, Paris' Louvre, China's Forbidden City Palace Museum, or The Vatican Museum. For a updated list of all the dozens of possibilities, visit MCN's official site.
Learn the basics of a language
Google translate is a great free resource to start learning a new language, but if you want to take it up a notch, maybe you could invest in an inexpensive phrasebook, like these ones from Lonely Planet.
Now, if you're serious about learning and making it a memorable experience, you can find a buddy to exchange classes with over the internet. This way you make a new friend from abroad, learn the basics of the language of a place you want to visit, learn a bit about the culture of the destination, and teach someone else in the process. You can find someone in a Facebook group about traveling (if you identify yourself as female, Girls Love Travel and Women Who Travel are great) or you can set it up through Couchsurfing.
→ We're all set now to transform our quarantines into quarantours! Let me know in the comments if you're putting any of these ideas to practice, and if you have something to add to the list.

Like this post? Pin it!