We all know Old World wine is excellent. Its reputation precedes it. But did you know that Georgia and Armenia are the first countries to ever produce it? Or that Croatian wine was chosen for William and Kate's Royal Wedding? That a new trend of cold-weather wine is starting in Denmark? Or that the largest wine cellar in the world is in Moldova? Yes, wine tourism in Europe goes way beyond France and Italy. Let's explore the most underrated wine destinations in Europe –for sure you'll add them to your bucket list!
Wine tourism in Europe
Old world wine is a classic for a reason. Italy, France and Spain are always at the top of the best wine destinations around the world, and centuries of tradition have awarded them those spots. But there are plenty of other destinations in the Old Continent that have an even longer viniculture tradition and amazing quality, but a small quantity of production has prevented them for world fame. Until now. This list was made for them to claim their rightful place among the top destinations for wine tourism in Europe.
I'll be bluntly honest here, the infrastructure might not be as developed as it is in their more famous counterparts, but its compensated by endearing encounters with local producers, and the possibility of tasting labels you most likely won't find outside their country of origin. So, do yourself a favor and venture into the most underrated wine destinations in Europe to be awarded with different varieties, technics and approaches to winemaking. I'm absolutely positive you'll enjoy the journey to each of these countries!
The most underrated wine destinations in Europe
Wine from Croatia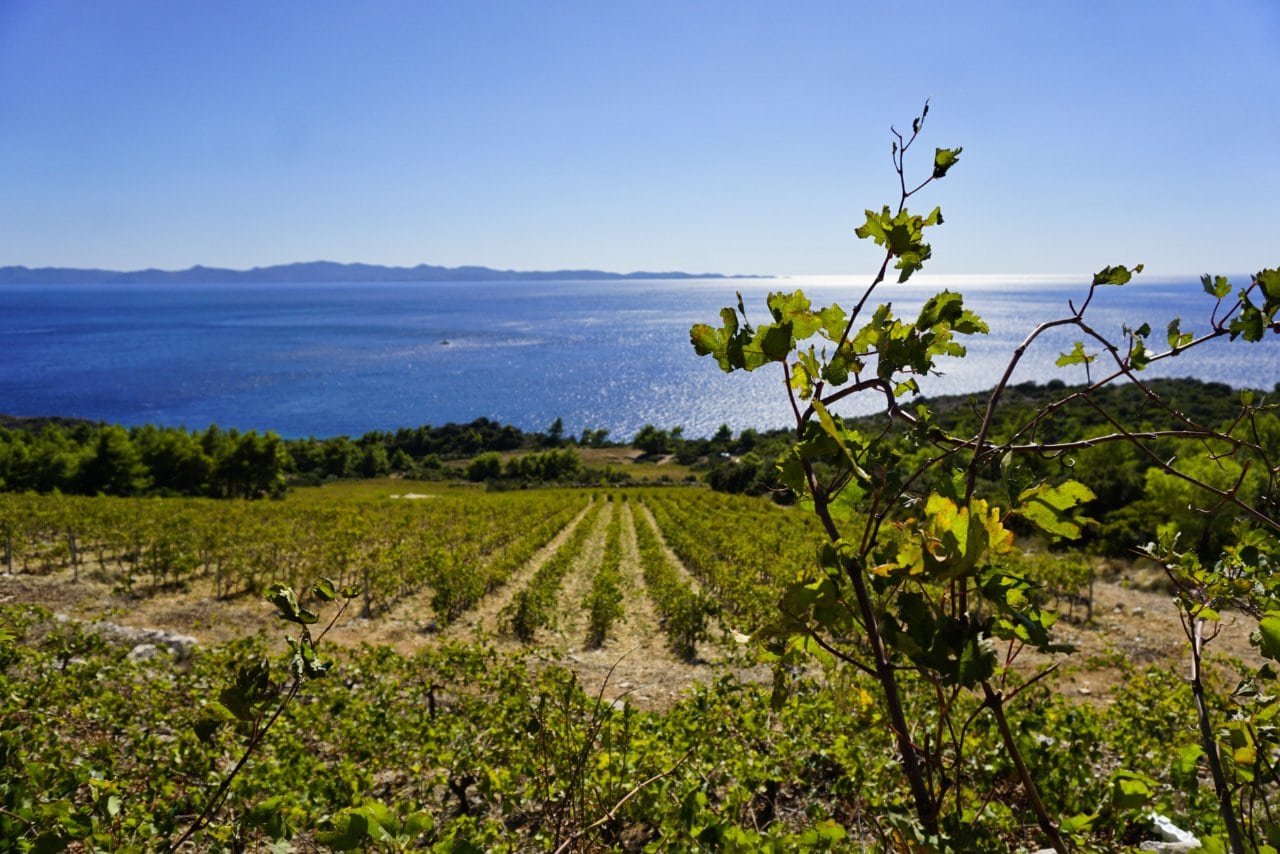 Overview of Croatian wine
Being Chilean my palate got used to full-bodied wines. It's probably why I prefer Italian over French. And it's also why I fell in love with Croatian wine. The strong reds produced from the country's main variety, Plavac Mali, are beautiful. The triple insolation that the vines receive directly from the sun, and from the reflection of it both in the Adriatic Sea and the rugged terrains in the hills overlooking it, stresses the vines so much that the produce a rich complex and well-rounded nectar. This particular set of circumstances gives us the king of Croatian wine: Dingač.
As for whites, the queen is Pošip, although the most grown variety is Malvasia. You'll find bottles that are sweet and oaky, to others that are fresh and crisp, depending on the region where they are grown. For such a small producing country, the range is remarkable. Actually, Croatia has over 130 indigenous grape varieties, with 200 varieties overall growing in the country.
A fun fact, especially for those that like Zinfandel, is that, even though the variety was popularized as American, its origins are in Croatia. Essentially, Zinfandel is genetically equivalent to the Croatian indigenous variety Crljenak Kaštelanski. So, if you enjoy Old World wine or New World one, you'll find something in Croatia that will be up your alley.
If you visit during the peak season, even in shoulder season, most vineyards that offer tastings and tours will be open. If you go to Croatia in winter, then make sure you call ahead to let them know you're planning to visit them –most wineries will be happy to accommodate to your schedule.
Best regions and wineries in Croatia
I'm not exaggerating if I told you that you can spend months exploring the different wine producing areas of Croatia. As probably you won't have that much time, your best bet is to choose a region.
The moderate Mediterranean climate of the Istrian peninsula makes it ideal for a large array of varieties, but the star is Malvasia. I personally had a lovely experience in Vina Matošević. Stay in any of the picturesque towns of the region, like Rovinj, Pula or Poreč, and either have your own wheels to move around, or take a tour like this one.
In the Dalmatia region you'll find the finest of Croatian red wines. Many islands grow top quality grapes, but the best place for wine tourism is in the Pelješac peninsula. The whole finger of land is covered by vineyards and wineries, most of them family-run, my personal favorites being Vina Miloš y Vina Grgić. Stay in Trstenik, Orebić, or any of the pretty small coastal town to mix wine with beach time. If you want to squeeze in a visit from a stay in Dubrovnik, then opt for a tour like this one.
The least visited region in the country, Slavonia, offers the finest Graševina in the world. Base yourself in an idyllic setting, enclosed by the Danube, Drava and Sava rivers, in the small town of Kutjevo. There're plenty of wineries just a stone's throw away. My recommendation in the area goes to Vinarija Krauthaker.
Croatian wines to try
If you can spurge a bit, go for a Dingač –you can't go wrong with any label, but my personal favorite is Grgić.
For more budget options that are still delicious and great representatives of quality Croatian wine, go for Miloš's Plavac Mali, Antunović's Postup or Krauthaker's Graševina.
RELATED POSTS:

– Croatia travel tips (from a local)
– Visit Croatia in winter
– Dubrovnik travel guide: places to visit and how to be sustainable
Wine from Georgia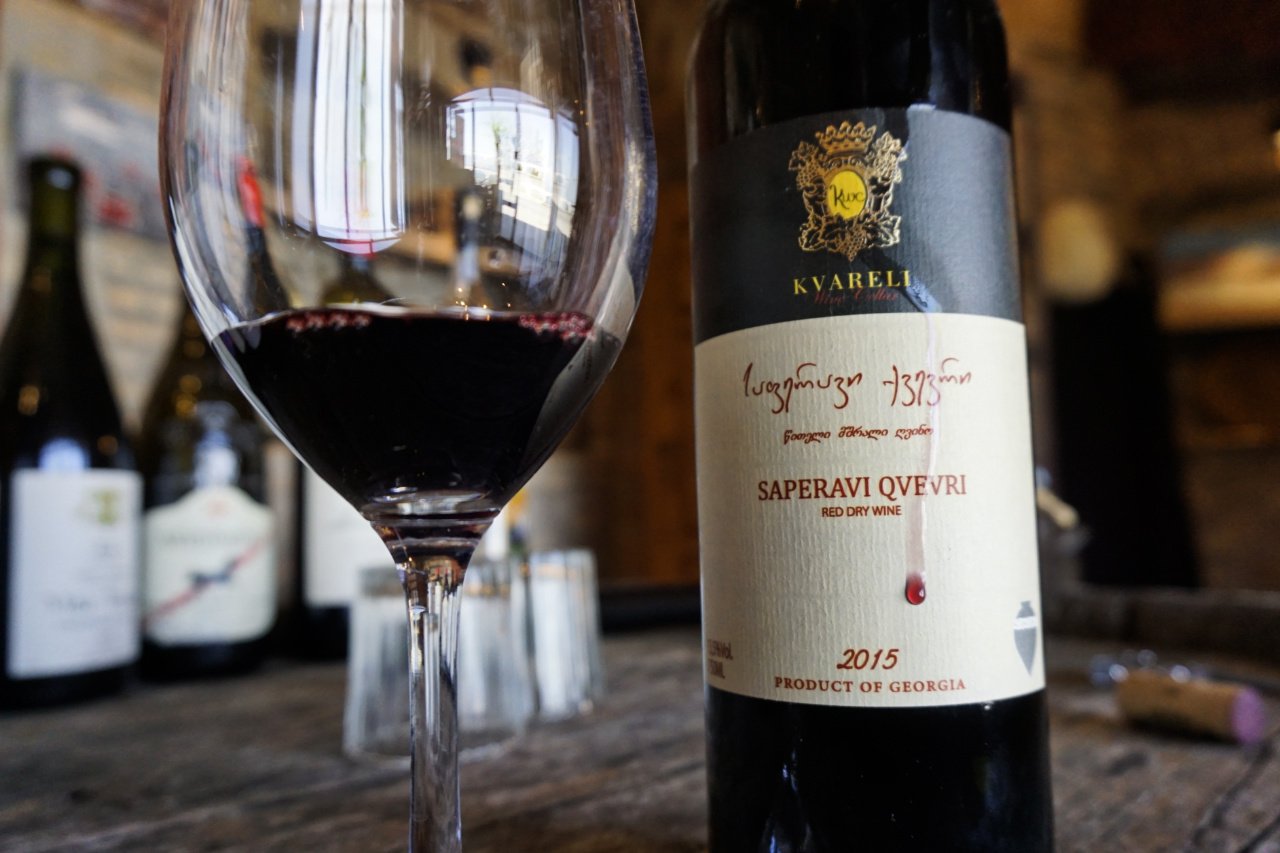 Overview of Georgian wine
Known as the cradle of wine, Georgia has been producing it since 6000 BC, when they discovered that grape juice would be turn into wine after spending a winter buried in a shallow pit. This process of winemaking is still in use today. The vessels buried are called qvevris, and they're made out of clay.
Another Georgian classic tradition is amber wine, a technique of making white wine with skin maceration for a more tannic result.
With about 400 varieties (although only 38 grown for commercial viticulture), wine production in the country increased exponentially during Soviet times, and reduced after independence due to political issues with its main consumers. Nowadays it's steadily growing again and slowly gaining international recognition.
A terroir full of minerals and underground springs, plus a moderate climate misted by the Black Sea, make ideal conditions for vines to thrive. Any Georgian you meet will tell you that God blessed them with the best country, and they might as well be right, especially when it comes to wine!
An important part of wine drinking in Georgia is toasting. You first toast to God, then for the country, and then for those who are no longer with us. Then every time you want to take a sip you need to toast for something or someone else. It's probably a way to stop you from getting drunk too fast.
Best regions and wineries in Georgia
The country has five regions of viniculture: Kakheti, Kartli, Imereti, Adjara and Racha-Lechkhumi and Kvemo Svaneti.
Kakheti is the most important one, producing 70% of Georgia's wine, and it has two subdivisions, Kvareli and Telavi. It also has five appellations of origin: Tsinandali (dry whites from Rkatsiteli and Mtsvane grapes); Mukuzani (dry reds from Saperavi grape); Kindzmarauli (dry and semisweet Saperavi); Akhasheni (dry Saperavi); and Napareuli (whites and Saperavi).
There are two easy ways to explore Kakheti, Georgia's wine country: stay in Tbilisi, the capital city, and take a full-day tour, like this one; or base yourself in Sighnaghi and get your own wheels to go around wineries. There're plenty to choose from, but I recommend Khareba, Teliani Valley, Shumi and Rostomaant Marani. Staying in this beautiful town, will also give you the possibility of wine tasting in the town itself. Pheasant's Tears and Okro's are great wine bars. While in Sighnaghi, don't miss the Wine Museum –it's a bar more than anything, but it features an exhibition of the winemaking process, and the owner is happy to answer all your questions.
Another great spot for wine tourism in Georgia is to base yourself in Kutaisi (with an airport receiving low-cost flights from all over Europe) to explore the Imereti region. The best-known wineries in the region are Baia and Vine Bridge.
Georgian wines to try
Don't leave Georgia without trying the classics: a kvevri Saperavi (Papari Valley's is a great alternative) and a kvevri Rkatsiteli-Mtsvane blend (Chona's Marani makes a great one).
A pleasant surprise was a Shavkapito –a more obscure variety that not many winemakers are bottling. I tried Alapiani's Maroni in Vino Underground, a wine bar in Tbilisi, where I strongly recommend you to go if you want to get a better grasp of what's happening with the wines of Georgia.
RELATED POST: Georgia travel guide: Mountains, Monasteries and Wine
Wine from Moldova
Overview of Moldovan wine
Moldova produces a vast amount of wine from the nearly 112,000 hectares of vines spread throughout the country, exporting as much as 67,000 bottles a year to countries like Germany, China, Japan and Ukraine. It wasn't until 2013, when export to Russia restarted –once the almost sole importer of Moldova's wine– that the quality began to improve.
The country produces a high volume of international varieties like Merlot, Cabernet Sauvignon and Chardonnay, but they also have unique local varietals like Feteasca Alba, Feteasca Neagra, and Rara Neagra, which you can only get in Moldova, so make sure you add it to your itinerary of wine tourism in Europe.
Best regions and wineries in Moldova
There are five wine regions in Moldova: Cordu (the largest), Stefan Voda (ideal for white varietals), Valul lui Traian, and the smaller Balti region.
In Cordu, nearest to the capital city of Chișinău, wine tourists can visit the vast underground cellars of some of the major producers, like Chateau Vartely, Milestii Mici with the largest wine cellar in the world, and Cricova, which is known for its massive underground "wine city" that has over 120 kilometers of subterranean roads. 
To visit these wineries, it's best to stay in Chișinău and hire a driver to take you, each between 20-40 minutes away. The other regions are farther away, up to a 2-hour drive from the capital. You'll always need an appointment.
Moldovan wines to try
While the wine quality is improving every year, there are a few standout examples of Moldovan wine to keep an eye out for Chateau Vartely's Rara Neagra, Syrah, and IGP Cabernet Sauvignon. Also look for Et Cetera Winery's premium Chardonnay and Serendipity blend, Cricova's Viorica, and Salcuta's Pinot Gris.
Laura of Savored Sips has spent the last 10 years diligently discovering wine regions around the world and thoroughly enjoyed the uniqueness of Moldova's wine and determination of its wine makers.
Wine from Denmark
Overview of Danish wine
Denmark is far from the first place you would think of for wine production or wine tourism, so the Nordics are the definition of underrated wine destinations in Europe. The emerging cold-weather wine scene in Denmark produces crisp white wines and rosés. This is because the region can grow solaris grapes which are fast-growing and tolerant to cold nights.
Best regions and wineries in Denmark
The largest region for wine production in Denmark is the Røsnæs peninsula on the west coast of Zealand. There are also vineyards on the island of Samsøe and on the east coast of Jutland, mainland Denmark.
This arc of locations forms a small micro-climate with a longer summer and more sunny days on average. In these regions, the soil is especially suited for grape production due to the sandy sediment left from receding glaciers millions of years ago. The fjords and seas around these coastal region's moderate temperatures, and with the assistance of specialty grapes and higher global temperatures, the wine is flowing in Denmark.
The easiest way to discover Danish wine is to base yourself in Copenhagen and take a day trip like this one.
Danish wines to try
The largest vineyard in Denmark is Dyrehøj, on the Røsnæs peninsula. You can't go wrong with any of their labels, but our personal favorites are Ros and Souvignier Gris.
Derek and Mike from Robe Trotting recently started experiencing Danish wine, with a visit to Dyrehøj winery. They loved them so much that they brought some wine home to continue with the tasting.
Wine from Armenia
Overview of Armenian wine
Armenia is known to be one of the world's oldest wine producers, with winemaking traditions dating back over 6000 years. The wine traditionally was fermented and stored in large clay pots, called 'karases' in Armenian. This form of wine production formed the basis of winemaking as we know it today. 
For most of Armenia's history, wine production remained in a bubble along at a low-level producing wine for use within the region. However, when the Soviets took control, they realized the potential of Armenia's wine and production increased dramatically. Sadly, in more recent years, vineyard owners have started producing more brandy due to its profitability in foreign markets. But Armenian wine has been starting to regain its reputation back in recent years, making it a great destination for wine tourism in Europe.
Best regions and wineries in Armenia
There are several wine-producing regions in the country and even though some of them are known for specific grape varieties, there are no protections in place, meaning that each of the regions tends to grow a wide variety of grapes.
While there are over 400 grape varieties indigenous to the country, there are a few main grapes used in wine production. For red wine, the most popular grape variety is the Areni which is seen as the king of all the Armenian grapes. It's a hardy and versatile grape that thrives throughout Armenia while producing incredible and complex wines that are both delicate and full of bold flavors. 
For white wines, there are fantastic wines made from Kangun and Voskehat grapes –the latter leading the pack, producing many of the country's best whites. 
The Armavir province is the largest in terms of quantity of wine produced. It does have some fantastic winemakers such as Karas Wines, who grows both local and international grape varieties.
Vayots Dzor is one of the most important wine regions in Armenia as its fertile soils are the native homeland to the countries to most important grape varieties, Areni and Voskhat. Zorah Winery is a fantastic vineyard, located next door to the ancient Areni Winery that dates backs to over 6100 years ago (the world's oldest winery!). Alternatively, Old Bridge Winery produces both delectable red wines and stunning whites from the region's native species.
In the Vayots Dzor region, you will also find the Areni Wine Festival, an annual celebration of Armenian wine that attracts visitors and wine connoisseurs from all over the world, since it's held at the famous Noravank Monastery. 
The easiest way to discover Armenian wine is to base yourself in Yerevan and take a day trip like this one.
Armenian wines to try
I recommend trying Karas Wines' Areni and any label from Old Bridge Winery.
Megan from Meganstarr fell in love with Armenian wine many years ago and has since moved to the country and loves discovering the region's delicious wine and beverages. For her one of the best things to do in Yerevan is to grab a glass of Armenian wine in Saryan Street, otherwise known as the city's 'wine street'. 
RELATED POST: Best of Armenia, from the Pink City to stunning monasteries
Wine from Czech Republic
Overview of Czech wine
Wine growing arrived at the Czech Republic most likely during a Roman occupation in 2nd century AD. However, it's mainly from the 9th century on when wine established a firm position in the Czech culture.
Grape varieties have come mostly from France and Germany. There're over 50 wine varieties in the Czech Republic – quite a lot for such a small country! A few of them are unique to the region too and cannot be found elsewhere, making it a great excuse for venturing into the country while doing wine tourism in Europe.
The most grown white wine varieties are Pinot Gris, Riesling, Chardonnay, Sauvignon Blanc, Traminer, Grüner Veltliner, Müller Thurgau, and the indigenous Palava and Moravian Muscat. When it comes to red wines, most widespread are Pinot noir, Blaufränkisch, Zweigelt, Saint Laurent, Cabernet Sauvignon and the local Cabernet Moravia.
Best regions and wineries in Czech Republic
Czech wine is often referred to as Moravian wine, since most of the vineyards can be found in Moravia, in the Southeast of the country. 96% of all vineyards in the Czech Republic are located there. If you care about wine, a trip to South Moravia will definitely tickle your fancy. You can base yourself in Mikulov, an absolutely lovely town (I can recommend to stay at the Volarik Hotel). From there you can take trips to the countryside –renting a car is ideal.
In Moravia there are many winemaking subregions. The Znojmo subregion, surrounding the town of Znojmo, has ideal conditions to produce Riesling, Grüner Veltliner and Blaufränkisch. The Mikulov subregion is home to Mikulov, one of the most famous towns in Moravia. People from all over the country flock the area in search of the best wine experiences. Grapes prospering there are Welschriesling, Pinot Blanc, Chardonnay, Müller Thurgau, Riesling and the local Palava. On the other hand, the Velké Pavlovice subregion features several villages but no major town, and it's rich in Grüner Veltliner, Pinot Gris, Traminer, Palava, Moravian Muscat and Müller Thurgau. Finally, in the Slovácko subregion, on the border with Slovakia, the main grows are Riesling, Pinot Blanc, Pinot Gris, Blaufränkisch, Zweigeltrebe and local Cabernet Moravia.
In Bohemia, the region forming the bigger western half of the Czech Republic, vineyards are more scattered around. The main areas producing wine are the Litoměřice subregion, located in the northwest of the country near the border with Germany, that produces excellent Riesling, Pinot Blanc and Gris, as well as Müller Thurgau; and the Mělník subregion, which includes vineyards in Prague, the city of Mělník and around. Nowadays the most widespread grape variety in this area is Müller Thurgau.
If you don't have your own wheel to explore, you can take a full-day trip from Prague, like this one.
Czech wines to try
I personally like to drink a variety of wines, usually going for those from Moravia. I like Pinot Gris and the Palava variety. When it comes to brands, I can highly recommend Sonberk from the Mikulov subregion specializing in Riesling, Tramin and Palava grapes.
Veronika Primm is from the Czech Republic and even though she grew up in Central Moravia (known for beer-making), she still loves her country's wine tradition, which she very much enjoys to explore.
Wine from Serbia
Overview of Serbian wine
Serbia, like most of the Balkans, has been cultivating wine since at least the Ancient Roman Empire and potentially even further back in parts of the country. While they are not famous for their wine outside of their borders, they have some notable labels to try. Bermet, a secret spice wine blend that comes from the Serbian Village of Sremski Karlovski, was so famous at the beginning of the twentieth century that it was served on the Titanic!
Best regions and wineries in Serbia
There are nine distinct Serbian wine regions that are divided up into twenty-two distinct microclimates, so unless you plan to stay for weeks it would be almost impossible to visit every wine region in the country.
The most important, must-visit Serbian wine regions are three. The first is the area of Fruska Gora between Belgrade and Novi Sad. This is where Bermet originated, and it's one of the most popular places to go for a wine tour from Serbia's two largest cities. The other two are the Subotica-Horgos region near the Hungarian border, and the Timok Valley. 
For most wine tourism in northern Serbia, stay in Novi Sad or Belgrade for easy access. Note that the blood alcohol limit for driving in Serbia is very low. Do not even think of going on a wine tasting and drive! It's much safer in these situations to hire a private driver for the day or go on a prearranged tour, like this one or this one.
Serbian wines to try
You absolutely must try a Bermet. Podrum Probus is a great winery to visit on a trip as well as for bringing back their wines as a souvenir. Some of the best bottles of Serbian wine won't even break the bank. You can try Portogizer from Mačkov Podrum Winery for about five Euros a bottle, while another great choice, the Tri Roze Koze Rose from Erdevik Winery is only eight euros a bottle.
Stephanie Craig is a Balkan Travel Expert who has covered Serbian wine at the Balkan Wine Festival and loves winery hopping around the region.
Have you visited any of these destinations? Did you try the wine? Which one is the next on your list to do wine tourism in Europe? Let me know in the comments!
WHAT TO READ NEXT?
Liked it? Want to read it later? Pin it!

Did you like what you read? You can show your appreciation by buying me a coffee 🙂
Your support will ensure I keep bringing you stories and insights from around the world! Thanks so much!