Italy is full of places you didn't know existed –hidden gems waiting to be discovered! I compiled a list of my favorite unknown places in Italy, and asked a few fellow travelers for theirs. The list turned out to be a great resource if you're looking to explore the country where the crowds don't go, and experience it at its best. These are some of the most amazing destinations in Italy off the beaten path!
Of course every Italian itinerary must have Rome, Venice, Florence and Pompeii. If you have a bit more time, probably you'll also include other well-known destination, like Verona, Matera or Cinque Terre, even the Dolomites if you're into active holidays. But, let me tell you, if you stop exploring Italy after seeing the classics you're missing out! From stunning wine regions to postcard-like villages, the country has many many stunning places.
In every trip to Italy I try to add at least one new small town, lake or national park, because I truly believe there is where you experience Italy at its best: away from the crowds, with fair prices, meeting people that have been living there their entire lives, tasting locally produced food and wine… And I have discovered amazing treasures throughout the years! Together with talking about my personal favorites, I asked some fellow travelers for their choices on the best off the beaten path places in Italy. If you truly want to experience the country away from crowds and souvenir shops, this is the only list you need!
I can guarantee two things: you've never heard of these places, and now they're all in your bucket list! Besides the novelty and the peace, visiting these unknown places you'll also be a more sustainable traveler, no contributing to overtourism in the classic destinations.

RELATED POST:
The Ultimate Guide to Sustainable Travel
Sustainable Travel Photography
Sustainability and a plant-based diet (+ the most veg friendly destinations)
Best Italy off the beaten path destinations: the most beautiful villages
La Morra
Founded in the 12th century atop of a hill surrounded by vines with the Alps in the background, La Morra is a must if you visit the Piedmont region.
Located about 50 kilometers (31 mi) southeast of Turin, this town sits in the middle of wine country. The whole Piedmont region is known for producing one of Italy's best wines, Barolo. Here you'll also find famous white truffles and hazelnuts. *Fun fact: Nutella was born in Alba, a city only 16 km (10 mi) away.
To fully appreciate the valley around this town, go to Belvedere di La Morra, a panoramic viewpoint overlooking across the Langhe and the Alps. Defining the town's skyline is the San Sebastian Baroque church with its 18th century bell tower (although you can still see in its base the pre-existing medieval tower) and the Torre Campanaria di La Morra, a 31 meters high tower that can be climbed for even more stunning views.
At the foot of the hill, there are two unmissable sights. The first one is the Cappella delle Brunate (or Cappella del Barolo), a colorful chapel that seems out of place, but unites the modern with the classic. The other is the Museum/Cantina Renato Ratti, featuring tools and wine presses of different types and ages and a tribute to the men that contributed to the history of viticulture. Of course, the visit can include a tour of the winery and a tasting of some of their labels.
Actually, wine is the soul of the town, so you can find an abundance of wine shops. If you only have time for one, go to the Cantina Comunale di La Morra, where they showcase a broad overview of the regional wine production, including Barolo, Barbaresco, Barbera, Dolcetto d'Alba and Moscato d'Asti.
Side trip: Since you're there, don't miss nearby Neive (photo in the cover of this post) and Barolo (yes, it's a town as well as a wine variety).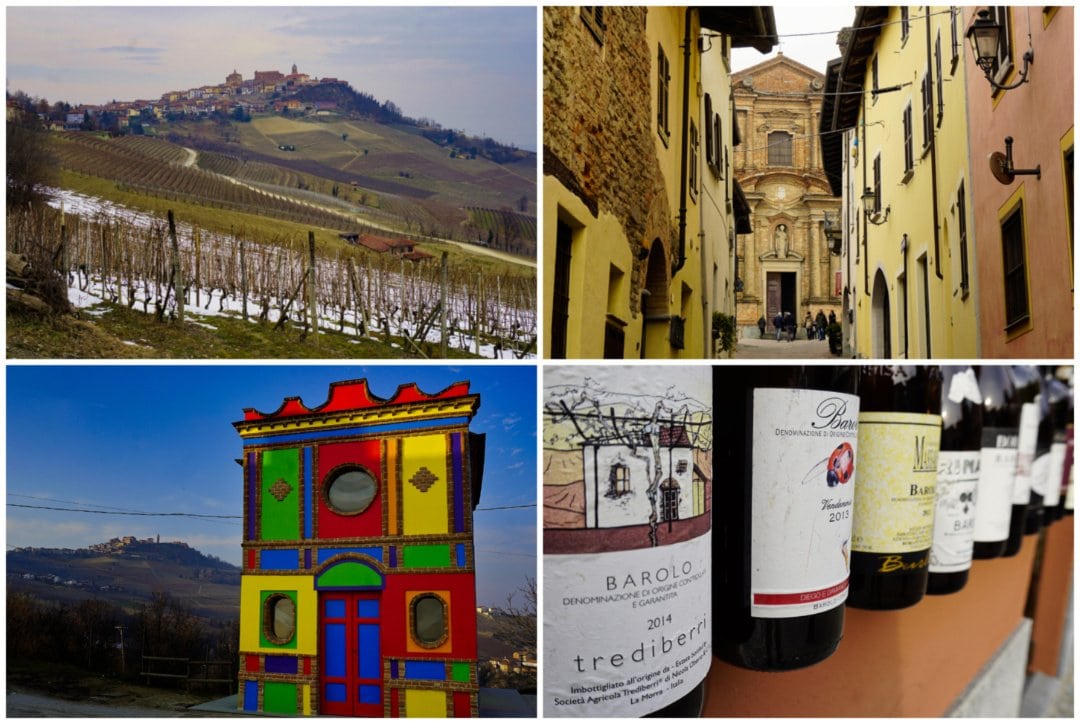 Trevi
While on a train* to Ancona I passed by a small village that looked dreamy. I marked it on my map, and I made a point to stop on my next trip. I was so right! This postcard-like little town is charming and full of history.
Sitting in a hilltop in the Umbria region, Trevi is densely inhabited and medieval looking.
It was founded by the Romans, and still preserves Roman constructions, as the walls that surround the town, built in the 1st century BC. It has about twenty old churches, including the beautiful Romanesque Duomo of Sant'Emiliano and the Gothic church of San Francesco.
In between medieval buildings and Roman ruins, you'll see plenty of olive trees. The town lives mainly out of the production of olive oil, and one of the local specialties is oil bruschetta.
* I always advocate for the use of trains, and this is one of the reasons why! You get to see a whole lot more of the destination you're visiting, which means you'll get a better grasp about the geography, you'll get to do people watching, and maybe even make some new friends. I always pick a window seat and enjoy the views. Every now and then I get a gorgeous surprise, like Trevi.

Castellina in Chianti
At the heart of the Tuscany region there are many villages that are worth a stopover. Usually people visit the more known Greve in Chianti, which overshadows smaller Castellina, but don't leave it out of your itinerary. The town is charming, and the drive there takes you through a lovely panoramic road, which is reason enough to visit.
Tucked away in a bed of hills between two of Italy's gems, Florence and Siena, sits this packed with history small town. Its origins go back to Etruscan times, which can be seen today in its Archaeological museum and excavation sites.
The town was fortified by the Florentines in the 15th century, and even today the quadrilateral shape of a medieval fortification remains. The main bastion, called Rocca, with its huge 14th century tower, is the main sight of the town. Many other protective towers have been incorporated into contemporary buildings, which coexist with beautiful Renaissance Palazzos. Don't miss the neo-Romanesque Chiesa di San Salvatore and its early 15th century fresco of Madonna with Child.
A trip to Castellina wouldn't be complete without tasting a Chianti Classico in any of the wineries of the area, like Maremma Vini, or at a wine bar like Cantinetta del Belvedere di San Leonino or Fattoria La Castellina.

Foreste Casentinesi
I always love to think back to my adventures in Italy. A special place in a beautiful and diverse region was to Foreste Casentinesi.
Being located in the south of Emilia Romagna, it's ideal to combine it with cities like Bologna, Ravenna or Comacchio or even the oldest republic in the world –San Marino. Foreste Casentinesi is actually a National Park and one of my favorite ones since not many travelers know about it (yet). It's a prime location for different outdoor activities. Choose from more than 150 different hiking trails with a combined time of more than 250 hours –now that's impressive!
If you prefer to move a bit quicker, then discover the biking paths. One of my favorite ones is from Ecomuseo IDRO up to the Ridracoli Dam. If you come during the warmer months, you can join a kayaking tour on the turquoise waters –well worth it!
Make sure to book a room at Agriturismo Biologico Poderone, which is family-run. Do yourself a favor and try their beetroot pasta with Aglio e Olio –I swear you won't regret it! This guide about active holidays in Foreste Casentinesi will help you organize your trip.
Suggested by Viki from Chronic Wanderlust

Serdiana
The lovely village of Serdiana is located at about 20 minutes drive from Cagliari, the capital of Sardinia. Charming as it is, it really doesn't get much tourism. This means that it still remains off the beaten path and, should you decide to visit, you are likely going to be the only tourist around.
Serdiana is in the Parteolla region –an area of Sardinia famous for the production of olives and olive oil, and for wine. There are 5 different wineries in Serdiana. This is a considerable amount if you think that no more than 3000 people live there!
Among the places to visit in Serdiana, don't skip the beautiful church in the center of the village, Chiessa del Santissimo Salvatore. Make sure to also do a wine tasting tour. Cantine Argiolas is probably the easiest one for that, as it is the most established, with English speaking staff. Needless to say, they serve excellent wines.
Also stop by Santa Maria di Sibiola, a small church in Romanesque style that dates back to the 10th century. It's a bit outside of the village, completely immersed in the countryside. Not far from it, you can also reach Su Stani Saliu –a salted lagoon. It's a small lake where you can admire some local wildlife, including pink flamingoes.
The best way to reach Serdiana is by private car. Alternatively, you can opt for a guided tour departing from Cagliari.
Suggested by Claudia from My Adventures Across the World

Varallo
In the province of Vercelli, the small town of Varallo is home to a fantastic UNESCO World Heritage Site called the Sacri Monte de Varallo. The collection of 45 chapels were the vision of a Franciscan monk, Bernardino Caimi, whose idea was to develop a series of oratories that would be a life-sized museum with scenes from the Bible. During the 16th century, Varallo attracted pilgrims from all over, who flocked there to admire these works of art. The craftsmanship is impressive, and the hundreds of life-sized terracotta sculptures will make your jaw drop. The chapels depicting colorful stories from the Bible are considered the best in northern Italy. 
Although the chapels are the town's main attraction, exploring the rest of Varallo brings other joys. There's the Pinacoteca Civica Museum and a couple of lovely churches, including Santa Maria Delle Grazie and San Gaudenzio. The best time to go is during the Carnival of Varallo (between January and March) when there are masked balls, dances and other events.
Varallo can be reached from Milan and Turin. It'll take you about an hour and a half by car, or around three hours by train. A top spot to stay is Albergo Italia, a cute inn on the main street.
Suggested by Christina from Travel 2 Next

Trani
One of the best places to visit in Italy is Trani, a city in Puglia that is just a short distance north of Bari. Not many people realize what a gem of a city Trani is because it often stands in the shadows of other great places to visit in Puglia such as Monopoli, Ostuni and Polignano a Mare. But Trani has so much to offer that it can rival any of those cities!
Getting there is pretty easy –just get a train from Bari. There are many structural highlights in the city but my favorite thing to do there is eating! They have delicious figs, almonds and olives… but perhaps none are as famous as their local Moscato. You can even partake in an organized Moscato tasting. There are worthwhile restaurants nestled all along the harbor front and they all serve really tasty pasta and other local delicacies.
Another main sight in Trani is the Svevo Castle, a structure dating back to 1233 that you can visit and take a tour of. The best part about the castle is the amazing views over the sea that it offers. The Trani Cathedral is close by and its juxtaposition offers a fantastic photo against the greenish-blue water behind it. 
Another thing I loved to do in Trani was to walk the promenade of Villa Comunale di Trani –a long park and walkway that goes along a cliff on the water. It's relaxing and you'll find cafés, dogs playing, and a lot of locals just hanging out enjoying their severely underrated city. I definitely think that heading to Trani will give you a taste of Puglia without the crowds and escalated prices. 
Suggested by Megan from Megan Starr

Erchie
The 50-kilometer stretch of coastline known as Amalfi Coast in Campania is one of the most touristy regions in Italy. However, for visitors looking to steer clear of the beaten track, it is still possible to enjoy the beauty of the Amalfi Coast without going near horribly popular villages, like Positano. One such hidden gem is the beach town of Erchie.
With a permanent population of only 83 people, mostly fishermen, Erchie is one of the smallest settlements on the Amalfi Coast. It's located in the eastern half, between Maiori and Cetara.
What does Erchie have that others don't? For starters, the village is tucked away in a highly picturesque valley facing the sea, with a gorgeous stretch of beach dominated by a watchtower dating to 1278. While Napolitano beachgoers surely know about Erchie (the beach does fill with tanned local bodies in summer), tourists almost never go.
The main reason is that none of the ferries plying the coast stop in Erchie, nor do any buses drive into town. Instead, you'll have to walk down about 10 minutes from the bus stop in the highway, enjoying panoramic views along the way. 
But it is Erchie's inaccessibility that makes it special. There's no traffic anywhere near the beach, there are only a handful of restaurants and shops in town (if they decide to open that day), and pretty much nothing to do besides kicking back on the beach and admiring the views.
If you're the kind of person who loves to get away in a local, no-frills environment, then Erchie may be the place for you! 
Suggested by Nick from Spiritual Travels

Valle dei Laghi
Not many people include Trentino on their Italy travel itinerary, and that's because it's not so known among foreign travelers. Located in the far north of Italy, Trentino is an autonomous region with stunning mountain scenery, bordered by Lake Garda in the south and the Dolomites in the north.
Besides visiting Trento, the capital of the region, one of the most beautiful parts of Trentino is Valle dei Laghi. You could spend an entire week there and not see everything. Hiking among vineyards is a common activity, with well-marked paths crossing hills and passing through little family owned wineries. You can always stop and try the local wine, Nosiola, made out of the grapes with the same name which only grow in Valle dei Laghi. You'll also find Vino Santo, a sweet dessert wine which is pressed only during the Holy Week. There are also many small distilleries around, which produce the famous Italian grappa.
The gastronomy in Valle dei Laghi is unique, a combination of Italian and German flavors, so expect large and filling portion made with delicate ingredients. You must try the zelten, a rustic spices fruit cake usually served at major holidays. 
If you love nature, then going up mount Bondone in the evening, to stargaze, is a must. On top there's a small astronomical observatory which has powerful telescopes through which you can look at the moon or the other planets from our solar system.     
Suggested by Joanna from The World in my Pocket

Santa Maria al Bagno
The small village of Santa Maria al Bagno is located between the better-known Puglian towns of Gallipoli and Taranto on the Ionian coast. Despite its privileged position, foreign travelers touring the deep south of Italy's heel often overlook it in favor of the more touristic areas on the Adriatic Coast. But its relative remoteness just adds to its appeal and it's well worth taking the time to explore.
The main attraction here, like many coastal towns in Puglia, is the beach. And although the main beach is on the petite side, it's a pretty slice of sand to sunbathe on, and the entire cove is an absolutely stunning place to swim. The unspoiled coastline provides plenty of (albeit slightly rocky) places to jump into the crystalline water.
Don't miss a trip to Salsedine Beach Bar to sunbathe with Puglia's jet-set on cushy loungers, drink in hand. When you get hungry, simply wander over the road to one of the trattorias that hustle for space on the main square. If it's not quite swimming weather, head into the Museum of Memory and Hospitality to learn about the village's role in helping the holocaust survivors, visit the Torre del Fiume that played a key role in protecting this coastal area, and take a walk through the protected forests of the Porto Selvaggio nature reserve.
To closest airport is in Brindisi, and it's an easy hour drive to the opposite coast. Alternatively, you can take the bus from Brindisi to Lecce, and then on to Santa Maria al Bagno. Stay at the modern Grand Hotel Riviera, or nearby in Nardò at The Aia.
Suggested by Nadine from Le Long Weekend

Lake Idro
Are you looking to visit the Italian lakes but are keen to avoid the crowds? Look no further than Lake Idro in Valle del Chiese! Located in the mountainous province of Trentino in Italy's far north, Lake Idro is a quiet and tranquil paradise, even in the height of summer. It may be just a stone's throw from Lake Garda, but it doesn't attract the same crowds. So be sure to visit Lake Idro whilst it's still a hidden gem!
Most of your time in Lake Idro will happily be spent relaxing, soaking up the sun and enjoying Trentino's local wine. For beautiful views of the lake, and even better food, head to the Miralago Terrace, which overlooks Baitoni Beach.
For those who prefer their holidays a little more active, Lake Idro is also a great spot for watersports. Whether you fancy a swim, canoe, kayak, stand up paddleboard, sail, surf, or whatever else your heart desires, this lake has got you covered. However, the best way to see Lake Idro is definitely from above! Thrill-seekers will love tandem paragliding over Lake Idro with Idroland Fly Zone. A 10-minute tandem flight with a 600m (1970ft) drop costs 80€, whilst a 20-minute flight with a 1200m (3940ft) drop costs 120€. 
The easiest way to travel to Lake Idro is from Verona Airport which is 100 kilometres (62 mi) from the lake. Either hire a car or hop on board a couple of buses and soon you will find yourself in the paradise that is Lake Idro. For clean, modern interiors and beautiful views of the lake, stay at Rocca d'Anfo Charming Lake View.
Suggested by Lucy from Far Away Lucy

*Sicily
I haven't forgotten about Sicily! As I'm spending a couple of weeks there soon, I'll update this post when I return and let you in the hidden treasures ; )
→ Have you visited any of these places? Is there a destination you'd add to this list to make it the ultimate Italy off the beaten path compilation? Let me know in the comments!
Liked it? Want to read it later? Pin it!

Did you like what you read? You can show your appreciation by buying me a coffee 🙂
Your support will ensure I keep bringing you stories and insights from around the world! Thanks so much!