Venice is one of the most special places in the world. I think pretty much everyone has Venezia in their travel bucket lists, and it's absolutely worth the spot. But the romanticism of walking alongside the canals, watching the gondolas go by, admiring St. Mark's Cathedral and Rialto bridge has a price on the city itself and its inhabitants. There's a serious negative impact of tourism in Venice due to overtourism. But don't despair! There is a lot the millions and millions that are drawn to the capital of the Italian Veneto region each year can do: visit Venice sustainably. Here are all the steps you can take to ensure Venice sustainable tourism, so the city can be preserved for generations to come.
I seriously dislike when there are thousands of people around me while traveling. You can't enjoy the place, you can't appreciate what you're seeing, you can't meet locals, you can't even take a decent picture. Now imagine how bad that is for the people that live in the place.
That's why traveling sustainably is of the outmost importance. We need to protect the places we visit, we need to be mindful of the locals, and we need to help the community with the money we spend. Venice is on top of the list of destinations around the world affected by overtourism, so it's especially crucial to be conscious of our behavior to be part of the solution and not part of the problem.
Venice sustainable tourism tips
What can you do, you ask? Simple. Follow all these suggestions and you'll be the perfect traveler!
Travel off season
If there's only one thing you do to help the cause, let it be this one. During summer you won't be able to walk, it's that crowded! Off season will still be full of people, but it'll be a much more tolerable experience, for you and the locals.
This year I visited in January and it was as enjoyable as Venice gets. Sure, you might get acqua alta, when the tide peaks flood the city. If you're flexible, you can always swipe cities around –visit Verona or Padova while you wait it out. Or if you're adventurous, embrace it and visit anyways. It'll be a completely different experience (just be careful and follow the instructions of the locals on what to do and not to do).
During winter there are also an astonishing number of sunny days, even hot ones! A few years ago I passed through Venice in February and I was wearing only a t-shirt –it get's that hot, so it's like visiting in a mild summer, but without the crowds. Perfect, ah?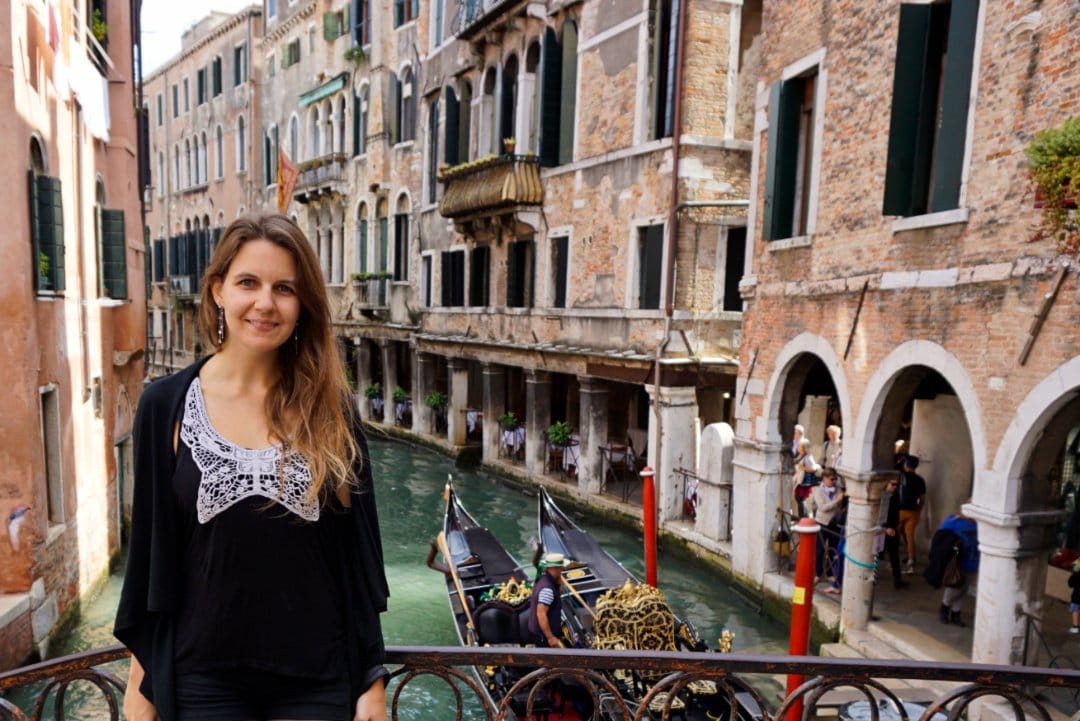 Don't go as a day trip, even less in a cruise!
I know cruises can be an excellent way of seeing more when you have limited time. They are also a comfortable way of traveling, and even a convenient one if you find a good deal. But, let's face it, from the port cities' perspectives, they're the worst! Thousands of people that don't spend a dime in the place are just an annoyance. Stay and contribute to the local economy instead. The added value for you is that you'll have the city to yourself when the day trippers are gone.
If you're staying, search for accommodation in Mestre
I know you're picturing a balcony over the canal, so you can see the gondolas before going to bed, but it's not worth it. The suitcases being dragged all over the island are damaging the streets, and you end up suffering trying to pass through the crowds looking for your accommodation.
Mestre is still Venice, only a 1,35€ and 9 minutes train ride away from Santa Lucia. You'll likely to arrive there anyways, so why not leave your suitcase/backpack behind, and go explore hassle free? Besides, Mestre itself is lovely and much cheaper!
Take a train from wherever you're coming
Trains are much more sustainable than airplanes, cars and buses in terms of CO2 emissions, energy consumption, use of space and noise levels. Together with being a more responsible traveler, a train ride will allow you to see more of the country, and it will be a perfect place to do some people watching, and even make new friends –both locals and fellow travelers. Trenitalia is not the most reliable company in the world when it comes to schedules, but I notice an improvement in every new trip to Italy, so give them a chance.
Always select a registered hotel or apartment that complies with the local laws
Airbnb has become the poster child of overtourism, so make sure that if you book through that platform, the host complies with the law. A simple way of knowing is that they should charge you a city tax, and ask for your passport or ID card to register you.
Particularly in places like Venice, it's better to go to sites like Ecobnb, that only offer sustainable accommodation. If you're staying in a hotel, go for locally owned ones instead of big chains.
Take a bag for your trash when walking around the islands
This one is self-explanatory:  you can walk for hours in some areas without running into a single trash can. Keep your garbage with you, please don't throw anything to the floor or the canals! What I do is to take a Ziploc bag, so after I throw my trash away, I quickly wash it and reuse it.
Carry your own water bottle
In Venice (actually everywhere in Italy) tap water is perfectly safe, so don't waste money and don't overpollute, top your bottle up in the morning and voila! There're some points around the city where you can refill it. Say goodbye to single use plastic!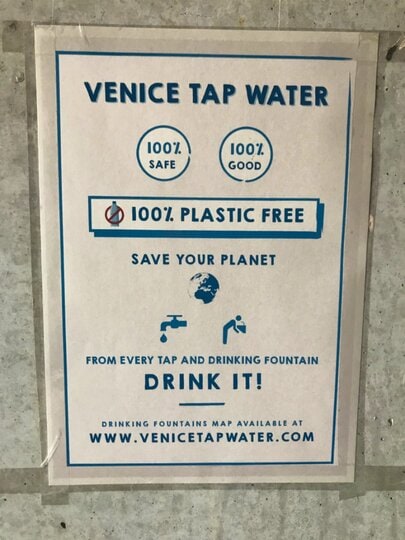 Eat locally
Find an authentic panificio (bakery) or osteria (eatery) where there's proper Italian food, with seasonal ingredients. Don't worry, there're plenty. Vegetarian options are easy, and even vegans can eat fine in Venice. Same goes for drinks. Find a bacaro (typical Venetian bar) or any restaurant that doesn't have a 'tourist menu' (the more Italian you hear, the better it'll be) and enjoy an Aperol spritz or a glass of local wine. You'll get to experience Venice as a local, and you'll contribute to the economy.
When in Venice, do as Venetians do: order cicheto (Venetian-style tapas) and ombra (a small glass of house wine).
Choose the alleys with less people
Everywhere you go in the city you'll find hidden treasures. Why not explore where there are less crowds? Just stop following everyone! Sure, you have to see the main sights eventually, but spend some time away from them too.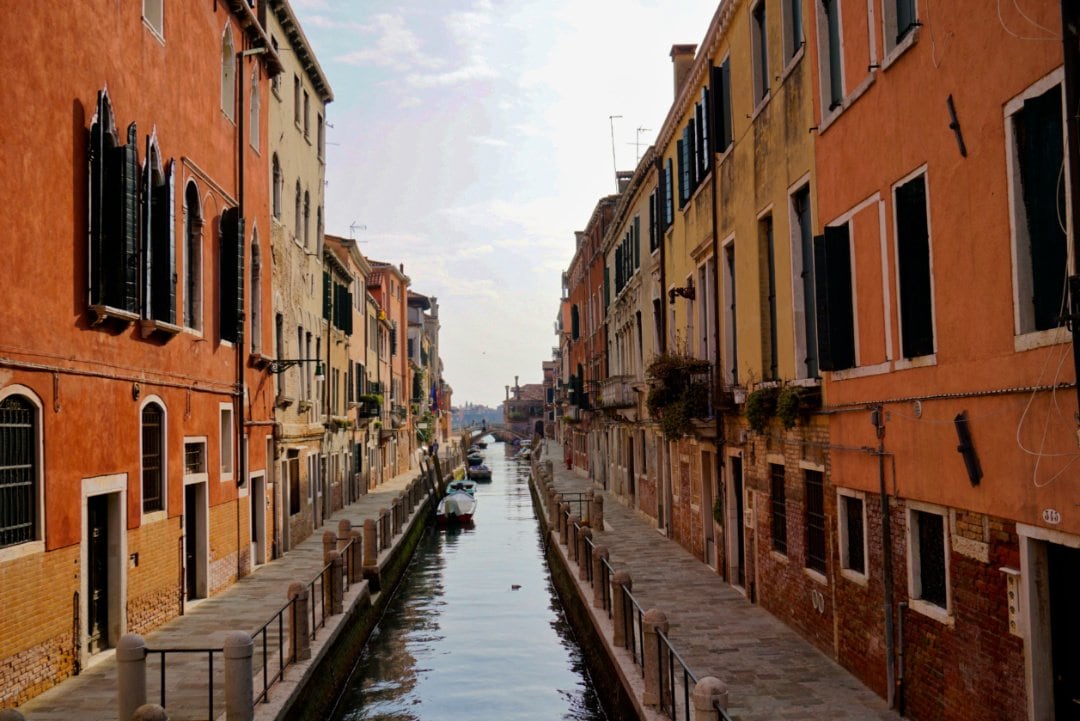 If you're unsure about how to explore the city on your own, book a tour with a local that will take you to see all the hidden gems. Here are some suggestions:
Limit the time you spend on St. Mark's square and cathedral
St. Mark is a magical place, like nothing you've seen before, so of course you'll want to spend time taking it all in. But remember that every other visitor thinks exactly the same. Go early in the morning or late in the evening to find the place with the least amount of visitors.
As for the basilica, it opens from 9:30 am every day, except from Sundays, when it's open at 2 pm. There's always a queue, but it goes fairly fast. If you have a backpack or any bulky bags, there's a free cloakroom around the corner where you can drop them. You won't be able to enter with them. Remember that photos are prohibited, and that –even though most of us visit for the history, art and architecture– it's a church in a very Catholic country. So make you visit shortly, dress appropriately, be respectful, and be quiet.
Visit other islands of the lagoon
Murano, Burano, Torcello, Lido, San Francesco del Deserto, or any of the 118 islands across the Sestieri… you have way more options than time to visit them! All of them are special in their own way –discover which one is the one for you!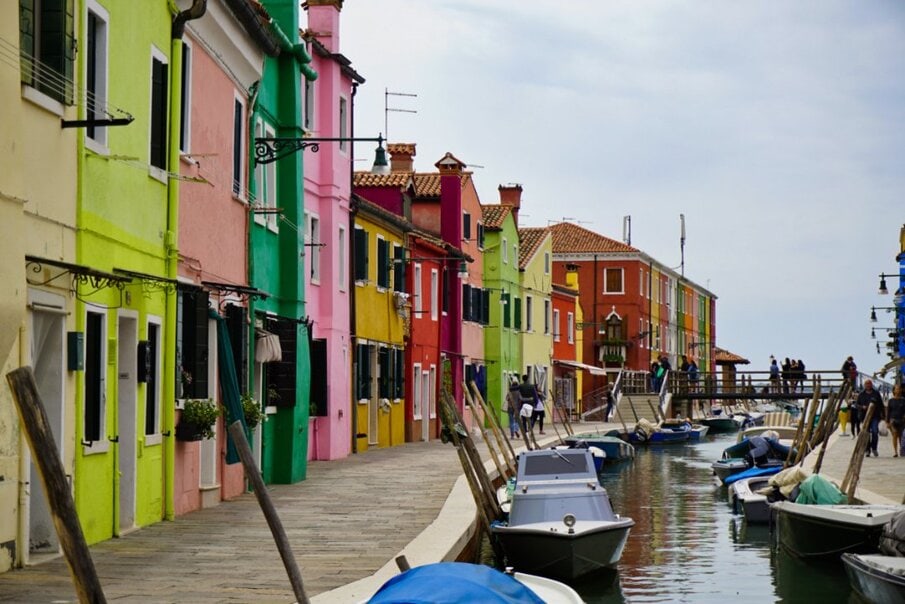 Buy original Venetian products from artisans' workshops
The artisans will be happy to teach you about their trade (the mask makers are interesting and fun to watch), and you'll get a one-of-a-kind item. Don't get anything from illegal vendors. And avoid anything made in China. You can get those souvenirs when you visit China. In Italy, stick to Italian.
If you want a more "hands on" experience for your souvenirs, I'd suggest any of these original tours:
Be mindful when taking photos
I'm the kind of person that can spend an hour just standing in a particular spot waiting for people to pass to get the perfect shot. But I know better in Venice (and in every other place that suffers from overtourism). Sustainable travel photography is important. The picture of a bridge with the gondola passing by can be gorgeous, but if it doesn't happen spontaneously, let it go. Spend just a minute in your shot and continue walking. Actually, standing on bridges can get you in trouble. The fines go from 25€ to 500€.
Don't sit on the floor or in any step
There're fines for siting in the steps of churches, bridges, wells, monuments and banks of canals. These are meant for people to walk, not for you to have a picnic or a rest. I know it's tempting to buy some food to go and enjoy it with a nice view, but in Venice it's a no-no.
All the no-nos in Venice

Swimming in canals
Making picnics in public areas
Pausing too long on bridges
Dropping litter
Riding or wheeling bikes
Standing or lying on benches
Busking or making art without a permit
Attaching "love locks" to monuments and bridges
Climbing on trees, buildings and monuments
Getting changed in public
Sightseeing topless or in swimwear
Feeding birds
Making too much noise, whether at night or during siesta time (1-3 pm)
Don't feed the pigeons
This goes for wildlife everywhere. But in Venice is banned, so throwing around a few breadcrumbs could cost you. The fines start from 50€.
Even though it used to be a Venetian tradition, the issue is that the city is a UNESCO World Heritage Site, and the pigeons are destroying facades and statues by carving into them to reach little pieces of food that got caught inside, and by pecking the most exposed parts of the marble seeking for calcium carbonate.
It's also a matter of public health. It's estimated that 130.000 pigeons live in the historical center, which is 40 times more than the optimal concentration per square kilometer.
So don't be tempted by the photo-op. There're still vendors offering breadcrumbs. Just say no.
Don't put padlocks on the bridges
I know it doesn't get more romantic than Venice, but choose a different way to display your love. Part of the railings of the Pont des Arts in Paris collapsed a few years ago due to the weight of the growing number of "lovelocks". Venetian authorities decided to put a stop to the practice before the same happened around the canals. And that's great! Lovey-dovey couples will have to create a new and more sustainable trend.
Learn a few words in Italian and always wear a smile
This tip goes for every place you visit. Basic words of the local language will take you far everywhere, and even more if you say them with a smile. But in Venice locals tend to be fed up with tourists, so you can make their day with something that's quite simple. You'll do with 'ciao' (hello), 'grazie' (thank you), 'per favore' (please), 'buongiorno' (good morning), 'buonasera' (good evening), and 'arrivederci' (goodbye).
Remember that this is actually a city, not an open-air museum
People live here. They go to school, markets, work, and, in general, go about their daily life –but with a million people stopping them with their selfies. Literally, there're about 55.000 residents in the historical center and 20 million tourists per year. Can you imagine having thousands of disrespectful visitors in your doorstep all year around?
This is even worse in some periods of the year, like Carnevale, Regata storica and Festa del Redentore when the tourism mass can reach up to 120.000 people per day.
One big consequence has been the shrinking of the local population. It's common nowadays to hear the remaining locals say that there is no other possible future for Venice than one of a Venetian-less theme park for adults.
The city itself hasn't changed in centuries. The architecture and the traditions have remained for hundreds of years. Now it's in our hands, as tourists, to prevent a theme park from happening, and to allow the future generations to witness the wonders of Venice too. Be mindful, kind, and behave properly.
If you want a crash course on the city's history (and to see how unchanged it is), visit Gallerie dell'Accademia. The paintings in the museum will let you see that the place is virtually the same as it was six hundred years ago. I'm sure that learning about the place will help you to value it even more.
Show that you care! The Comune di Venezia designed a Venice sustainable tourism awareness campaign. Use the hashtags #EnjoyRespectVenezia and #Detourism to spread the word!
Liked it? Want to read it later? Pin it!

Did you like what you read? You can show your appreciation by buying me a coffee 🙂
Your support will ensure I keep bringing you stories and insights from around the world! Thanks so much!