This article may contain compensated links. Please read our Privacy Policy & Disclaimer for more info.

You know how great it feels to find a hidden gem, a little unknown place that's amazing and not touristy? Well, this was Cinque Terre about a decade ago. Today it definitely has been uncovered. They went from unknown fishermen villages to a worldwide famous UNESCO Heritage Site. So much that the local authorities are trying to limit the amounts of people that visit.
Well, when it got to my list it was still on the 'to be discovered' category, and I visited during autumn, so I avoided the crowds. I strongly encourage you to do the same. For what I've read and heard, during summer it becomes unbearable.
So, what's this place everybody seems to want to see?
Cinque Terre, as the name states, are 'five lands' –5 small, charming villages in the Italian Liguria region: Riomaggiore, Manarola, Corniglia, Vernazza and Monterosso al Mare. They are located two and a half hours away from Florence, and only one and a half from Genoa, to the south of renowned Portofino, making it a great option for a day trip. I'd definitely recommend staying longer, though.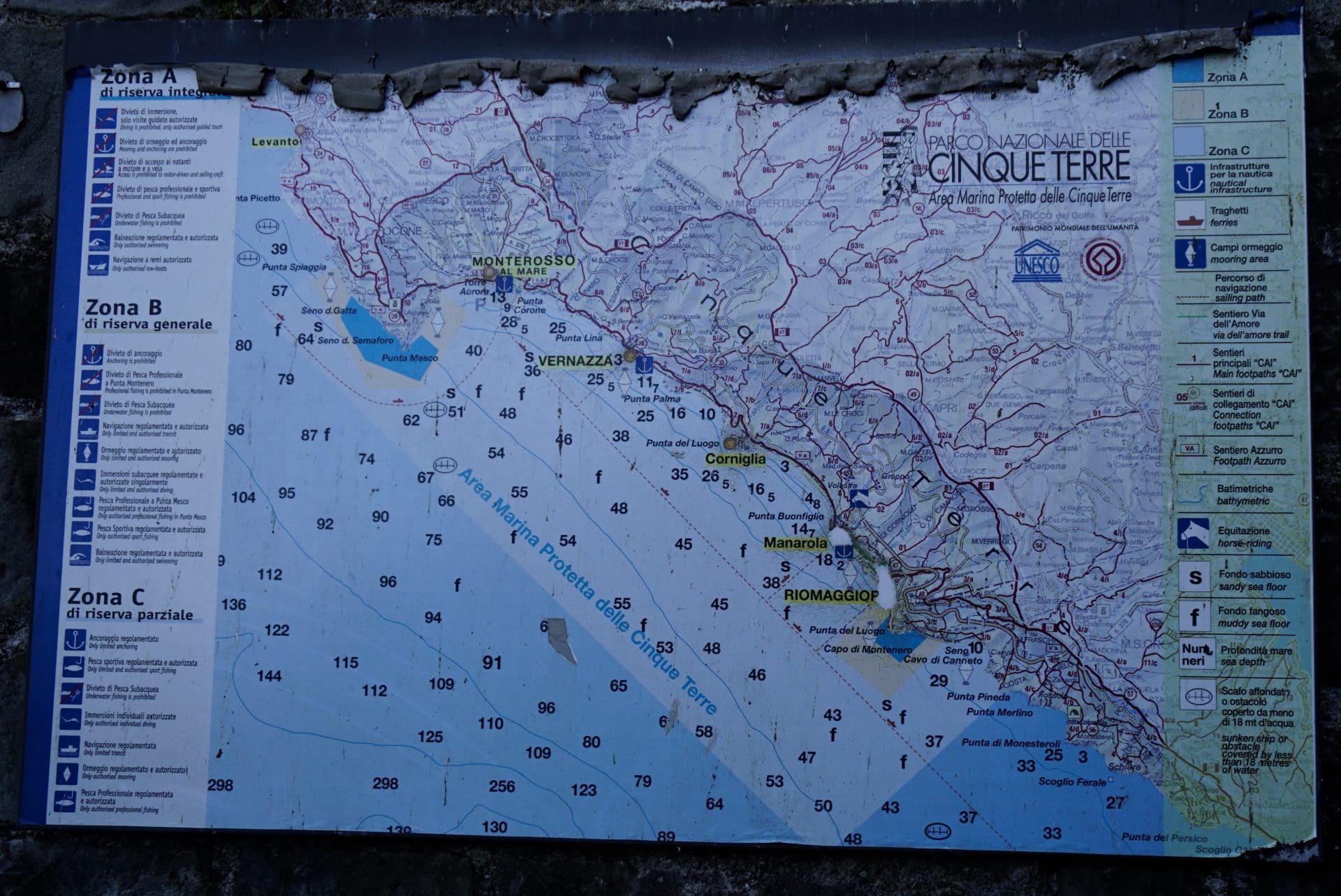 I went from Florence by train to La Spezia, and from then I caught a smaller train to the villages (but you can start even from France). The best way to see them is to get to the first town, Riomaggiore or Monterosso al Mare (depending on from where you're starting), and then either hike to the next ones, or take the local train. The whole hike is about 25 kms. Of course you can mix and match. The roads are hilly, but even if you're not too fit (like me!), as long as you wear comfortable shoes, carry some water and sunscreen, and take it easy, it's more than doable! On the way back, take a boat. The view of the villages from the water is the best one (and if you take the boat in the afternoon it's seriously discounted).
Well, boat, train or walk are the only options. As it's a National Park, cars aren't allowed – not like you could fit one in the trails, but it's still worth mentioning it 😊
The road between Riomaggiore and Manarola has been closed due to possible landslides since the flooding of 2011, and probably it'll stay closed for a few more years –in fact it was closed when I went 🙁 That part of the hike is called Via dell'Amore (the road of love), so the couples eager to walk it had to settle and only put a padlock on the gate.
As I was going to do the hike, I found myself with some extra time, so I stopped in a perfect little bar to get a glass of wine and enjoy the dramatic view. Yes, it was early in the morning. Actually wine and olives were my breakfast. Don't judge. At least not much xD
Besides great wine, Cinque Terre produces amazing pasta and pesto (could it be more Italian?)
These tiny towns are jam-packed with colorful houses hanging in cliffs, the most picturesque little churches you'll ever see, deep blue water coasts, and all surrounded by vines. It's a photographer's dream!
Vernazza, Manarola and Riomaggiore were my favorites. They have the perfect balance between authenticity and comfort.
Corniglia is the hardest one to reach, because it's on top of a hill… almost 400 steps up from the train station. Being hard to reach makes it the least touristy one. Monterosso, on the other hand, is the fancier one, where the biggest hotels are, where you find parties, and it houses of the bigger sandy beach of all the villages. It's beautiful, but it has a resort-y feel that's not my cup of tea.
Regardless of which one you like better, I recommend staying overnight. Not only to have more time to go around these lovely villages, but because in the evening, even during the crowed summer, things calm down and you can see the real character of the place.
It's strange that five little fishermen villages are placed so high on the list of towns to visit in Italy. I mean, it's Italy! But the place is well earned. Cinque Terre in one of the most picturesque places you can visit. And the mix of nature, beaches, architecture, and great food and wine turn it into a must.

Like this post? Pin it!