There's always an event coming –Christmas, a birthday, an anniversary… if the person you're shopping for suffers from wanderlust (like me!), I got you covered! If you're the one doing the traveling and you're making sure you're not missing something important, you're more than welcome to have a look too. I love every product in this list, and I think every traveler will too. So here are the most creative presents for every kind of traveler –the best ideas to keep yourself and your travel-addict friends and family happy.
A trip
Nothing could be a better present for someone that loves to travel, right? Flight or bus tickets, accommodation, excursions… Here you'll find the best tips on how to book the perfect trip.
Check out this post to start planning → Travel resources: the best travel tips and tricks
→ Tickets
If you're shopping for Christmas, keep an eye on the incredible offers airlines have, especially for Black Friday and Cyber Monday. Ryanair and Easy Jet have return tickets sometimes for only a few euros all over Europe, and even connecting Europe with Africa and Asia. In South America Latam often offers up to 50% discount. If you don't have a specific destination in mind, and you want to go 'everywhere', take a look at my bucket list for inspo and head to Skyscanner. You tell them from where you're flying and they will tell you to where and when the cheapest tickets are available (like this I managed to get tickets London–Bucharest for £7, London–Warsaw for £8, and Split–Stuttgart for 5€! Yes, those were the final prices. Pretty awesome, right?).
Also, don't rule out train and bus rides. Especially around Europe. The continent is quite small and really well connected, so within a few hours you can be in a different country. Through Omio I've gotten tickets to the next country for only a couple of euros –once I even got a ticket from Vienna to Prague for 1€. This option, especially if you use trains, will also make you a more sustainable traveler ❤️

→ Accommodation
When it comes to where to stay, Booking.com has great deals! I've stayed in dorms for only a few euros, and in hotel rooms for as low as 10€! Don't miss out! If you're in a budget and want to search only for dorms, check Hostel World out.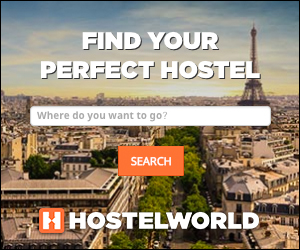 → Excursions
You have your ticket and booked a bed, now what? Activities! There's always a lot to see and do, so a good way to optimize your time is to book excursions in advance. With Get your Guide you can hire private transport, book a guided tour, get 'skip the line' tickets to attractions, and pretty much anything you can think of to make the most out of your time in your destination.
As much as I love to explore on my own, there have been many time when Get your Guide has been a lifesaver! I got a 'skip the line' ticket to visit the Vatican museum, and it was amazing to walk through literally hundreds of people waiting to get in without losing a minute. I've also gotten a few tours to quirky places, impossible to discover on my own, like Chernobyl.

The most creative presents for every kind of traveler
If what you're looking for are presents you can wrap, go to Amazon. Here are my suggestions for the best presents you never thought about before. Thank me later 😊
→ For the adventurous
A survival kit is a must-have for camping, hiking, biking, climbing, or traveling in general, to get you out of an emergency. Or to brag about being the most prepared one. Especially if you venture into the woods on your own (like me!), you have to be prepared!

Another must for adventurers is a LifeStraw. This amazing straw filters up to 4000 liters of contaminated water and doesn't need a battery. This can literally save your life! I take mine everywhere I go, because I love hiking and camping, and because I often find myself in countries where tap water is no drinkable, so with my LifeStraw I avoid single-use plastic bottles.

One very simple and inexpensive gift for anyone into adventure is a Paracord bracelet. Around your wrist you'll get a fire starter, a compass, a loud whistle, a survival LED light, an emergency knife, and 3.2 meters (10.5 feet) of seven-strand military grade paracord. You'll look outdoorsy, and you'll be prepared for whatever nature has in store for you,
Check out these posts for inspiration
→ Crossing Tanzania (twice) by railway
→ Hiking and skiing in the Italian Dolomites
→ Climbing an active volcano in the Chilean Lake District

→ For the world travelers
You have to have a universal power adapter and converter, no matter where you go. Regardless is life takes you to the US, Europe, Asia or Australia, in over 160 countries you'll be able to recharge with this little gadget. With 4 USB ports and 1 AC socket, you can charge 5 devices simultaneously.

Another vital item to go out and about in the world is a portable solar charger. It's light and easy to carry, and will keep your gadgets all juiced up.
→ For the writers
Document you journey the old-fashioned way and bring home the perfect souvenir, your memories, with a traveler's notebook that doubles as a trip planning book and a travel journal.
If you're looking for self discovery within your travels, the perfect item is the You Are Here: A Mindful Travel Journal. Through simple mindfulness techniques you'll see your journey from a different perspective.
Check out this post for inspiration → Living with the Masai in the bush in Tanzania

→ For the readers
A Kindle. I can't recommend it more. It's the best way to have as many books as you want with you (including travel guides), an carry only 160 grams. I've had the paperwhite version for years now, and I love it! Actually, my Kindle and my camera are the only gadgets I take with me to every.single.trip, no matter if it's for a day or for months.
Check out this post for inspiration → Books Full of Wanderlust

→ For the coffee lovers
To make sure you always get your coffee fix, get a Nanopresso. This portable espresso machine is the smallest, lightest and most versatile handheld espresso machine, perfect for your daily coffee needs while traveling. Now, if you're a purist and prefer to press your beverage, this travel coffee maker is the right choice for you!

→ For the tea lovers
I'm a tea addict. There, I said it. I cannot start my day without it. I drink tea when I'm happy, when I'm sad, when it's cold and when it's hot. But while on the road sometimes is difficult to have a hot cup available. Imagine my happiness when I found out that there's a collapsible electrical kettle! True, I wouldn't take it on long backpacking trips, but it's perfect for shorter ones. What's easier to carry is a portable teapot infuser set. This one is lightweight, easy to wash, it has a double wall glass (which keep the tea hot for longer), and the best part is that it allows me to brew tea literally anywhere!

→ For the wine lovers
An insulated travel wine tote bag, with capacity for 2 bottles + wine and cheese kit is perfect for a day trip, and for bringing wine back home safety in a suitcase. If you only want to be prepared to carry bottles, these reusable bottle protector sleeves are the right choice.
Check out these posts for inspiration
→ Best wine destinations around the world
→ The most underrated wine destinations in Europe
→ Booming wine destinations around the world

→ For the hostel goers
A high-tech sleeping mask, made of plush and cotton material, not only is breathable and washable, but it has integrated headphones with built-in speaker, with noise cancelling technology. Having a snorer around won't bother you anymore : )

→ For the photographers or videographers
If you're new to aerial photos and videos, with this ultralight compact drone you'll be able get your shots to the next level. Not only it'll give original angles, but you'll be comfortable carrying it –it weights just half a pound (249 grams). Moreover, because of its small size, you don't need a pilot license to fly it. I'm in love with mine!
*** The wonderful people from DJI made every light-traveler's dream come true by improving the Mavic Mini to 4K, but if you're in a tighter budget, the original one is super discounted now and it's a great alternative, so I'll leave you the link : )
Another must is a travel sized tripod. It's important that it's lightweight and easy to carry, especially if you only travel with carry on (like me!). There are some incredibly versatile ones that bend, so they can be attached to any surface -think about programming the camera/phone to take a photo, but all you have is a pole or a railing. You could also go for a more robust one, especially if you take long exposure pictures.
Check out this post for inspiration → Sustainable Travel Photography

→ For the ones that love to get in the water
Whether you go to the beach, to a swimming pool, to a water park, or snorkeling, a universal waterproof case for smartphones is a necessity to preserve the life of your gadgets and to have fun with them even underwater!

→ For the always play it safe kind
A special travel scarf, an infinity scarf with a hidden zippered pocket it's great! It won't only keep you warm, it'll also provide a secure spot for a passport, wallet and phone.
There are all sort of products with hidden pockets, from bras wallets to belts, so look for the one that feels more natural to you, and stay safe!

→ For the ones traveling with kids
Keep the little ones entertained with a travel journal for kids packed with games and activities, ideas for adventures, DIY souvenirs, and space to write down everything they see, taste, hear and more, helping them to develop their creativity and observation skills.


Another great alternative is Lonely Planet's bestseller for children: The Travel Book, where they can discover facts about the places they're visiting, as the wildlife, how people live, sports, hideous and mouthwatering food, festivals and a wide range of other quirky insights.
My latest discovery (that my niece loved!) is Anna McNuff's 100 Adventures to Have Before You Grow Up. Beautifully illustrated and full of motivation for toddlers to develop a passion for the outdoors, the book -as the title reveals- has a hundred adventures, big and small, that will even get adults ready for exploring.

→ For long-haul trippers
This is a complete extravaganza, but if you want to add a bit more glamour to your flight, a Carry on Cocktail Kit is the ideal way to get it done. Take a single-serving bottle of your favorite spirit, mix it up, and enjoy a much deserved treat.
After a relaxing cocktail, put on your adjustable neck pillow and sleep like a baby! The one I'm suggesting might seem a bit pricey, but it's worth every penny when you actually manage to sleep and arrive to your destination rested.

→ For the armchair travelers
Best in Travel is Lonely Planet's guide with the must-visit countries, regions, cities and best-value destinations of the year. They launch it just before Christmas, making it the perfect present for inspiration and to discover the up-and-coming of traveling. Other amazing titles are Epic Hikes of the World if you love the outdoors, The Travel Book: A Journey Through Every Country in the World if you want to tick off each country, Epic Drives of the World for the road trippers, and Atlas of Adventure for the ones looking for adrenaline.

Check out these posts for inspiration
→ How to travel from home (no travel required!)
→ The ULTIMATE Travel Experiences Bucket List
→ Life-changing travel experience stories
→ 30 Days Travel Challenge
Hope you make someone (or yourself!) happy with any of these presents! Let me know in the comments!
Happy celebrations and happy travels! ✈️
Liked it? Want to read it later? Pin it!

Did you like what you read? You can show your appreciation by buying me a coffee 🙂
Your support will ensure I keep bringing you stories and insights from around the world! Thanks so much!