Largely overlooked next to Torres del Paine, San Pedro de Atacama and Easter Island, the Chilean Lake District is one of the most beautiful destinations in the country. It's the gate to Patagonia, and it's full of natural wonders. You can comfortably road trip it and stay in one of the many spa resorts. Or you can wear your hiking boots and set your audacious soul free in Chile's capital of adventure, Pucón. You´ll find world class daring experiences: whitewater rafting with class III and IV rapids, rappelling down a waterfall, zip-line over magical forests, an active volcano waiting for you with lava in its crater with the most breathtaking views of the many lakes around it (which you can climb in summer or ski in winter) and much much more. Remember to thank me after you explore the Chilean Lake District and climb Villarrica volcano. I'm that sure you'll love this trip!
I ❤️ maps
I've been longing to travel since before I was old enough to know what traveling was. I remember being quite young, probably not more than 5 or 6, when I complained to my parents for never taking me abroad. My dad, being the wise man that he is, told me that I needed to see my own country first to understand where I came from, before I could see other cultures. So, even though for years we went back to the same couple of National Parks that he loved for vacation, I always convinced him to stop in a different town, waterfall, or lake. That's how my love for maps started. I was discovering places before I set foot on them. What can be more magical?
While I was fantasizing about all the places I would eventually see, I forgot to appreciate what I had around. For many years, my parents kept taking me camping to the Chilean Lake District. And even though I have incredible memories of the fun I had, I never really valued the beauty of the place. Until I came back as an adult. This time I got to hike, white water raft, and even climb an active volcano!
The best of the Chilean Lake District
The lakes (dah!)
The district, located in Chile's Araucanía and Los Ríos regions, has so much to offer. The high seasons are, of course, summer and winter. In summer you'll be treated to high but nice temperatures, and in winter the ski slopes will be groomed and waiting for you. If you want peace and quiet, go in spring or autumn.
For awe-inspiring scenery, head to Calafquén. The lake (that shares the name with the village) with Villarrica volcano in the background looks like a postcard and will be the perfect opportunity for photos. Sit in the shore of the lake and absorb the amazing views.
I'd also recommend lake Pirihueico (on the way you'll see lake Panguipulli and you'll find several stops to enjoy the view). At the end of the road you'll get to Puerto Fuy. It's a small village, home of the Hua Hum ferry, which will take you through the narrow lake almost to the border with Argentina (from there you can go to San Martín de los Andes, or cross over to Chile if your Patagonia adventure started in the neighbor country).
Huilo Huilo Biological Reserve
Stay in the area to explore the Huilo Huilo Biological Reserve. It has become more and more popular, but it was a discovery for me. It used to be privately owned, so it escaped our radar while I was growing up. Please don't let it escape yours, it's really amazing!
Hike the magical forest to find beautiful waterfalls, and maybe a fairy or an elf. Wonder at the flora, and stop to hear the birds. If you're lucky, you might see one of the many animals that live in the forest, that usually run away from humans. One of the hikes even goes through a spiritual path used by the indigenous people of the region, the Mapuche.
Check their official site for more details on the hiking trails, and take a look at all my tips on how to be a sustainable hiker.
If you want to stay in the park (which I highly recommend), consider the most magical hotels you can imagine, so much, that one of them has the word in its name: Montaña Mágica –Magic Mountain. The other amazing option is a tree shaped hotel inspired by The Little Prince: Nothofagus. They're bit of a splurge, but a once in a life time experience. If you prefer an option within a budget, check the nearby towns Neltume or Puerto Fuy.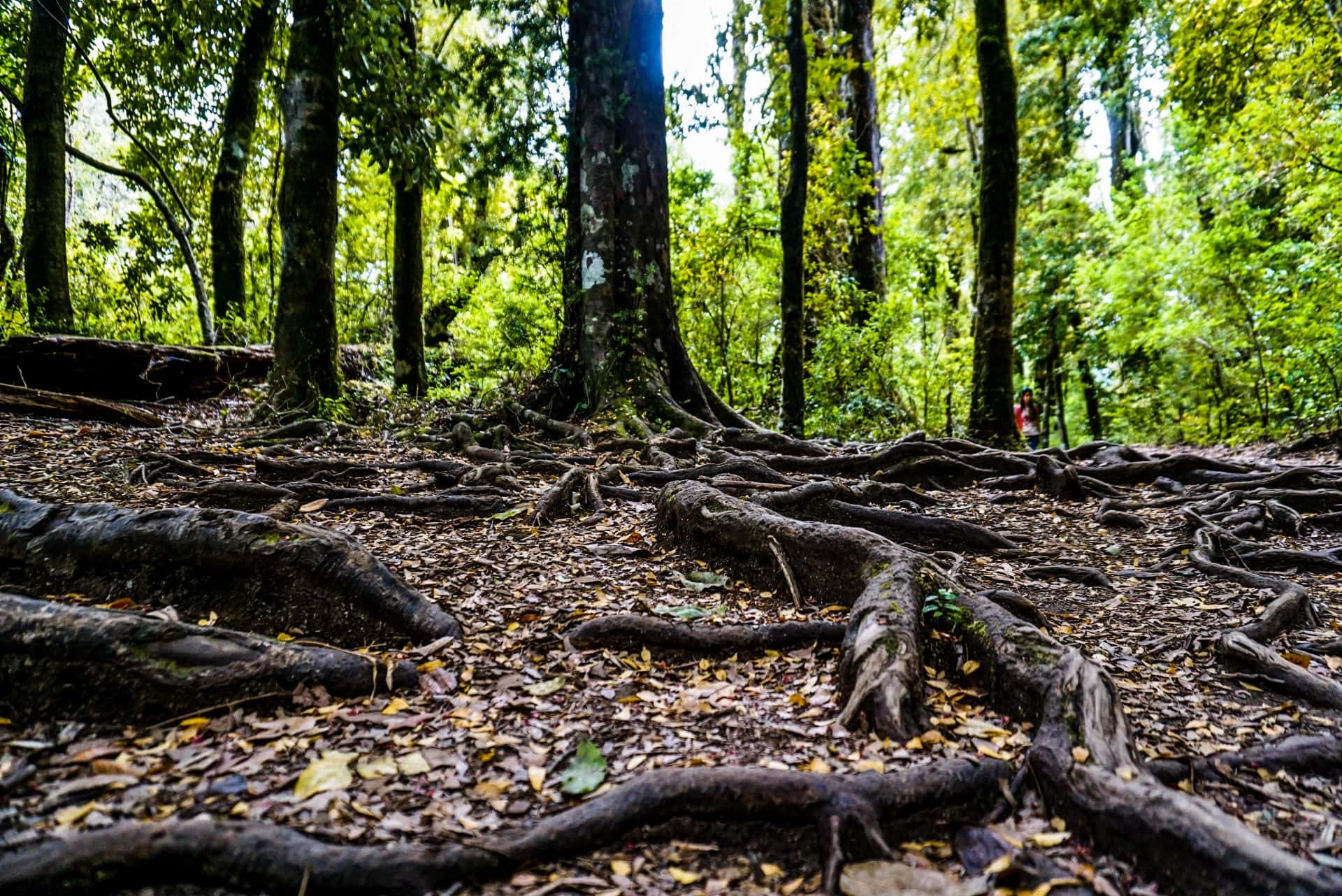 Chilean capital of Adventure: Pucón
If you seek adventure, your place is Pucón. My favorite activity in the city is white water rafting. I did it when I was a kid, and I was happy to go for another round when I went back. The Trancura river offers class III and IV rapids, which means that it's OK even if don't have experience, but you have to be prepare to do some work. The instructions are easy to follow, you just need to stay alert and paddle. It's a ton of fun! Trancura is also great for river sledging (hydrospeed). I haven't tried it (yet), but it looks fantastic!
The adrenaline junkies will be also happy with canyoning and rappelling down a waterfall, skydiving, zip-lining over a forest, exploring volcanic caves, quad riding and hiking. Base yourself in Pucón and you'll have entertainment for week on end!
Climb Villarrica volcano
Climbing the Villarrica volcano is one of the toughest things I've ever done. Don't get me wrong, if you're reasonably fit, you can do it. But I wasn't. I dreamt about summiting it since I was a little girl. It was my dad's first mountain, and I wanted to follow his footsteps. So when my (really fit) boyfriend, Sina, said he'd go, I decided to sign up too. Worst case I wouldn't get to the top, but I'd have fantastic views on the way, right?
Villarrica is one of the few volcanoes in the world in which you can see lava in the crater, which makes it quite touristy. Many sign up on daily basis to try their luck. If mountaineering is you're thing (and you have any paper work that proofs it) you can go ahead and walk up. If not, you need to hire a guide. There's plenty of options in town. You meet in Pucón early in the morning. at about 6 AM. There you are given all the necessary equipment (ice picks, crampons, helmets, Gortex snow gear, masks to breath when you reach the summit… all the works), you only have to bring your own food. They provide the transportation to the entrance of the national park that houses the mountain.
The volcano is 2.847 m (9.341 ft) high, but you can start the ascent from approximately 1.800 m. I say 'can' because you have two options. To take a chairlift that saves you about a thousand meters, or hike all the way from the entrance of the national park. Can you guess which one I took?
When we went there were easily another 50 people. Sina followed the queue, while I was trying to catch my breath. My amazing guide, Mattias Vargas, stayed behind with me and he encouraged me the whole way. He was also keeping an eye on the amount of water I was taking and he set a pace according to my ability. He couldn't have been any better!
Before you even see the top of the volcano there's a fake summit. I was aiming to get there, and then I'd evaluate if I could continue. When I reached that point I ran into the rest of the group -they were already coming back! I called Sina and he couldn't believe I made it that far. He decided to go to the summit again, so we could get there together.
This arrangement turned out to be incredible. When I did summit the volcano it was only Mati, Sina and me. I couldn't have asked for a better scenario! I didn't see lava, because at the moment there was a lot of smoke coming from the crater, but I didn't care. The views were beyond stunning, and I felt prouder than ever!
The way back is amazingly fun. You slide down most of the way through canals carved into the snow. A perfect end to a perfect experience. Thanks so much Mati, I was able to get to the top only because of you! And thanks babe for helping me accomplish a childhood dream in the best way possible <3
Pro tip: At the end of the day, soak at one of the many natural hot springs around the area. Your body will be grateful 🙂 And grab a craft beer in Pucón, you more than earn it! If you're looking for a sweet reward, try 'kutchen', an amazing pastry brought from Germany and perfected in southern Chile. And 'volcanes de manjar', chocolate covered dulce de leche. Yummy!
Other 'not to be missed' places
Caburgua lake
A nice day trip from Pucón is to Caburgua lake. Of course you can also stay there. The lake is beautiful, perfect for swimming. Also, you can hike around it to discover pretty waterfalls, or rent a small boat and paddle to them. This is one of the places where I spent countless summers as a child. It's actually quite perfect for families.
On the way from Pucón to the lake stop at Ojos del Caburgua, a lovely, peaceful, deep blue waterfall. It sits on private property, so there's an entry fee, but it's inexpensive and well worth it.
Conguillio National Park
This is my favorite place in Chile. I haven't been there in years, but I'm aiming to go visit the next time I'm in my beautiful Chile. As I'm not up to date with the info of the park, I recommend you see this site.
→ Ready to explore the Chilean Lake District? And to climb Villarrica volcano? Believe me, it'll be an unforgettable experience!
Liked it? Want to read it later? Pin it!

Did you like what you read? You can show your appreciation by buying me a coffee 🙂
Your support will ensure I keep bringing you stories and insights from around the world! Thanks so much!