Morocco can be a challenging place, but it's a rewarding one too. Visit Marrakesh to witness the magic of its medina, get lost in the souks, wonder at the architecture of the palaces, madrasas, and mosques, try the delicious local food, and drink mint tea –tons of it!
In this guide I'll show you the good, the bad and the ugly of this city full of contrasts.
Dreaming of visiting Marrakesh
I grew up thinking that Morocco was the most exotic place in the world. I imagined magical snake charmers, beautiful flying carpets and oasis in the desert that were calling my name. When my sister Marce went to Marrakesh I was still a teenager, and spent days reading over and over again a book she brought back for my dad. It was decided, Morocco would be the first African country I'd visit.
And so it was. I'm all about traveling solo, but I was a bit skeptical after all the warnings I've read online. "Women on their own could be attacked", "don't show your knees", "wear a fake wedding ring to dissuade men", "don't make eye contact with anyone"… It felt like I was going back to the middle ages! I was living in London at that moment and I managed to convince two of my friends to join, so I felt much more confident.

The ugly truth about Morocco
To be honest, I loved Morocco, but some of the thing I've read turned out to be quite accurate. We were there during a really hot week in the middle of Ramadan, so we thought it might have been because people were on edge without being able to drink or eat during the day. We were harassed on the streets, even with our knees covered, we were told we'd be going to hell for showing part of our legs, and an old man even hit one of my friends with his walking stick, only because he could.
I'm sorry to start on a negative note, but I'm going through all of this because I read a CN Traveler article including Morocco in a list of "the best places for your first trip abroad", and as much as I love Conde Nast, I think they're mistaken. Don't get me wrong, Morocco is wonderful, but you need to have a thick skin and a bit of travel experience to fully enjoy it. Is Morocco safe? Sure! It's becoming more and more touristy, so maybe things will slowly change. If you're a solo female traveler, try to avoid going during Ramadan and you should be fine : )
The snake charmers were the worst thing to witness in my visit to Marrakesh. The poor snakes (and every other animal, like little monkeys chained by their necks) were carried in potato sacks and left in the heat during the day. Just horrible! But once I got over the heartbreak of knowing there's nothing I could do for the animals (other than not take a photo to at least try to discourage the practice), I started to see the real charm…
RELATED POST: Sustainable travel photography
What not to miss when you visit Marrakesh
Ben Youssef Madrasa and Palais Bahia (Bahia Palace)
There were no magic carpets. Not even one (and trust me, I looked!). But there was the amazing Ben Youssef Madrasa. It was founded in the 14th century as a Quranic college, reconstructed in the mid 1500's, and turned into a museum in 1960. On its entry there's an inscription that reads "You who enter my door, may your highest hopes be exceeded". This welcomed its students, and fully applies today to its visitors. Because, really, expectations are exceeded.
The Palais Bahia was another beauty . The "Palace of the Brilliant" is a 19th century masterpiece of Moroccan architecture. The amount of details left me speechless. Stroll around the courtyard, pass through the arch to discover its rooms and hall, and marvel at the intricate details. Take a look at its official site for the latest info about opening times and admission fees.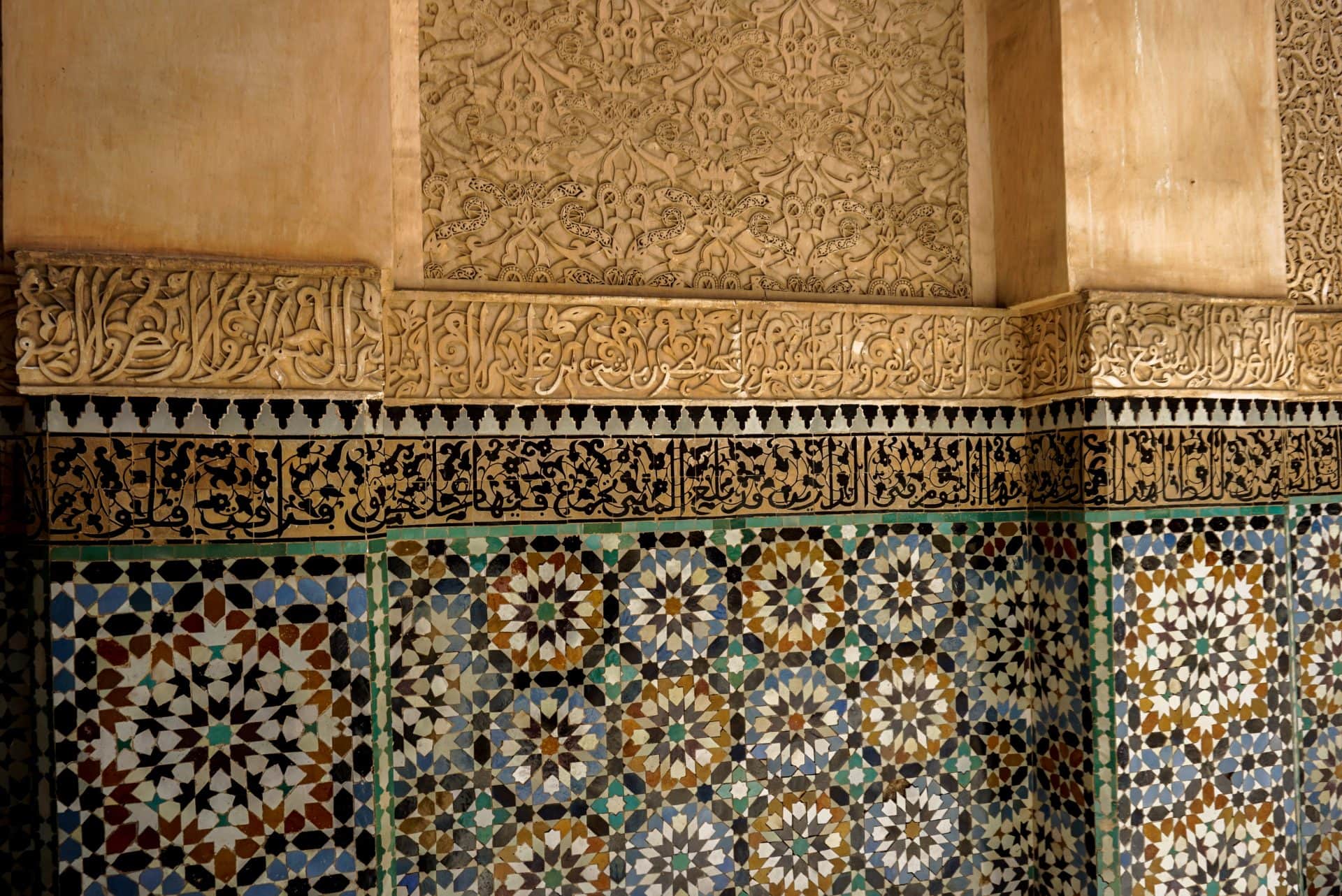 Medina, Koutoubia mosque, Djemaa el-Fna square and the souks
In some Northern African countries the walled Old Towns are called Medina. In Marrakesh the spiritual core in the Medina is the Koutoubia mosque, the largest one in the city and a trend-setter for buildings in Spain and Rabat. Life in the city happens in its souks, markets where you can find everything, from spices, to gold, to silk, to lamps, to the most incredible argan oil.
But the heart of the city is Djemaa el-Fna, the main square of the Old Town. Come for a perfect cup (well, glass) of mint tea, and visit any of the dozens of restaurants around to try one of Morocco's specialties, Tagine, a dish consisting of slow-cooked stew named after the earthenware pot in which it's cooked. A paradise for vegetarians! You can also try couscous, pastilla, harira and zaalouk. Mmmm!
Pro tip: always have a first aid kit with you while traveling, and make sure to include Imodium capsules in it. I'm a fan of street food, but you never know how your stomach will handle it. Better to be safe than sorry! : )
Majorelle garden
The last main stop in town should be the Majorelle garden, a two and half acre oasis in the middle of the desert. The park was named after a French Orientalist artist, who created it in the 1920's. In the 80's it was purchased by the fashion designers Yves Saint-Laurent and Pierre Bergé. Today you can find here the Islamic Art museum, the Berber museum and the Yves Saint Laurent museum. It's the perfect break from the hectic Medina!
Learn in one of the museums or just wander around the soothing greenery contrasting with bright Majorelle blue.
So, after seeing the good, the bad and the ugly, was it worth a spot on my Bucket List?
Yes, yes, yes! The city is overwhelming, but if you're respectful to the local culture and traditions (as you should be everywhere you go), your experience will be great. The city is magical once you overcome the initial shock. It actually ended up being an amazing girls trip destination! Dress appropriately and don't be afraid to explore. Please drink the tea and eat the local food. Thank me later.
When you're ready, keep exploring the country. There's a lot to include in every itinerary. One of the best experiences is to explore the desert in Morocco. To this trip I added a few days in Essaouira, a lovely town by the sea, and one of the Game of Throne filming destinations. More on that in a future post, but make sure you don't miss it!
Liked it? Want to read it later? Pin it!

Did you like what you read? You can show your appreciation by buying me a coffee 🙂
Your support will ensure I keep bringing you stories and insights from around the world! Thanks so much!