If you're into skiing or mountaineering, for sure you've heard of Chamonix. This famous Alpine heaven became worldwide known for hosting the first Winter Olympics back in 1924, and it still lives up to the expectations its reputation brings. Not only for sport junkies, but for anyone that enjoys breathtaking sceneries.
During summer Chamonix is the perfect base to hike around the area, or to climb Western Europe's highest summit: Mont Blanc.
Visit Chamonix all year around to see this beauty change colors, from white to green. But no matter when you go, don't miss the main attraction, must see in Chamonix: Aiguille du Midi, where a cable car will take you to the top pf Europe.
I love hiking and being in the mountains, and although climbing is not my thing (except for the occasional volcano), I wanted to see Mont Blanc face to face. That's how Aiguille du Midi made it to my list. I'm really lucky because my soul sister lives through parts of the year in Chamonix, so when I went to visit her, as a birthday present, she took me up the cable car that gets you to 3842 meters, to the best sights you can get of the highest mountain in Western Europe. Best.Present.Ever. ❤️❤️❤️
Aiguille du Midi: the top of Europe
We had the nicest crisp autumn day. With no clouds on the sky, the day was perfect to hike around and soak in the magnificent views of the Alps. From the Aiguille du Midi you have a 360° view of the French, Swiss and Italian Alps, you can take 'a step into the void', onto a 2.50 m glass cage out over a 1000 m precipice, and you can catch a ride on a gondola lift over the Glacier du Géant to the Pointe Helbronner in Italy, for more incredible views of Monte Bianco.
I think that photos speak louder than any words I could come up with to explain how spectacular this place is. But you can judge for yourself…
Ski in Chamonix: Plan Praz & Le Brévent
I was able to come back a few years later. I spent time with my soul sister and her lovely family, and this time I took my boyfriend along. He's a skier, so this trip was in winter time.
The snow all around us gave the place a completely different light. It was the perfect opportunity to explore even further. From Chamonix, you can take a gondola lift to Plan Praz at 2000m. After you get tired of taking photos, grab a coffee and sit down to enjoy the view. It's hard to want to go somewhere else, but make the effort and take the cable car up to Le Brévent at 2525m. Nothing but a big WOW will be on your mind. Its incredible views of the valley where Chamonix is placed, of the Alps all around you, make you want to stay there forever, especially if you are as lucky as me and have a sunny, warm day in mid-February. I couldn't bring myself to go down. Hours went by in minutes. It's that beautiful.
A must see from Chamonix: Mer de Glace
What I thought would be the highlight of the trip was Mer de Glace. This 'sea of ice' is a 7.5 km long valley glacier located on the northern slopes of the Mont Blanc massif. Don't get me wrong, the scenery is spectacular, but I couldn't help to be heartbroken when I got closer.
From Chamonix there's a cute little rack-and-pinion railway that takes you to the Montenvers site at 1913 m. After a 20 minutes ride surrounded by pine tree forests, steep slopes, and cute little deer sighting, you arrive to an imposing panorama of the Mer de Glace glacier, Les Drus and Grandes Jorasses. So far, so good. Actually, freakin' stunning!
From the train station, there's a gondola that takes you down to the glacier. Here's when the sadness overtakes you. The gondola was built to reach the glacier, which you could do back in 1980's. The glacier has been melting dramatically since then, so they have been building staircases to reach it. In 1990 you needed 12 steps to reach it. In February 2019 a total of 500 steep steps were needed! This means that the glacier loses 4 to 5 meters every year. Every year. Are there really still people that think climate change is not real?
Well, let's go back to the nice part. After climbing down 500 steps you're at the doorstep of the very heart of the glacier, at the grotte de glace, the 'ice cave'. Simply magnificent. Take your time to absorb the views, you have 500 steps to climb up. My technic is to stop regularly to take photos 😅
Chamonix, the town
With so much astonishing nature around, you tend to forget about the town. Leave an afternoon to stroll around Chamonix. Everything is expensive as hell, and it's full of shops, and quite crowded, but it still has some charm. My favorite spot is the bronze statue erected in the town's main square in 1887 to commemorate the centenary of the first ascent of Mont Blanc. In it you can see one of the two climbers, Jacques Balmat, and their financier, Horace Bénédict de Saussure. You can see the joy in Balmat's face. Probably the same one I'd have if I was able to climb it, even more if I was the first one to do it.
While walking around, recharge energies with a crêpe and some hot cocoa. And then don't forget to try the wine. The outdoors might make you forget it, but it is France after all!
Chamonix accommodation
Browse Booking.com for the perfect place for you. They always have options for every budget : ) Here are the current best deals!
Not enough time? Take a day trip from Geneva
Although I believe that Chamonix deserves at least a few days, if you're in the area and short on time, don't miss it! Just take a day trip from neighbor Switzerland. Chamonix is just across the border (and some mountain passes) from Geneva.
Charles Dickens visited the area in 1847 and wrote "Mont Blanc and the Valley of Chamonix, and the Mer de Glace, and all the wonders of the most wonderful place are above and beyond one's wildest expectation. I cannot imagine anything in nature more stupendous or sublime." I will just second his words <3 It is indeed one of the most amazing places to visit in France. Once you're there, don't miss a visit to charming Annecy, it's a nice detour!
Liked it? Want to read it later? Pin it!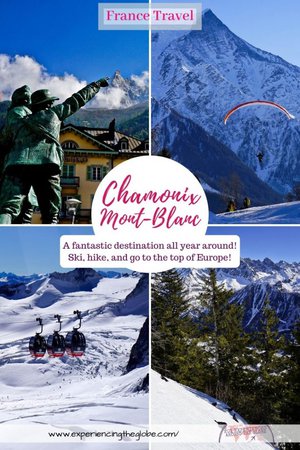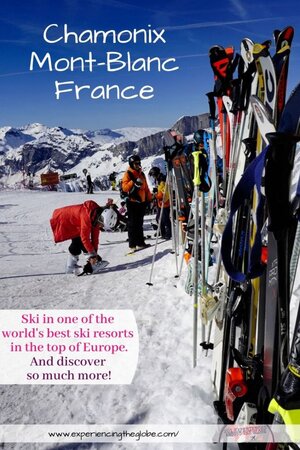 Did you like what you read? You can show your appreciation by buying me a coffee 🙂
Your support will ensure I keep bringing you stories and insights from around the world! Thanks so much!